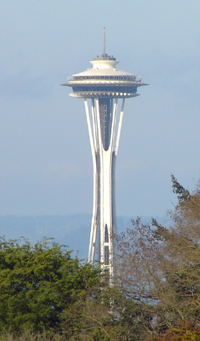 Sara and I have both jointly and independently criss-crossed this majestic country of ours, but neither of us had ever explored Washington State. As we were able to carve out a bit of free time and line up first-class babysitting for Mason (thanks, Grandma Ann!) that regrettable situation has at last been rectified. The Core Team has birded Seattle.
Actually, when we arrived, birding was hardly foremost in our minds. The deplorable state of air travel today is such that a six hour flight may require nearly as many additional hours of driving, parking, and worst of all, waiting. So, upon arrival, we were somewhat worthless. Our exceptional bed and breakfast, the 11th Ave. Inn, was conveniently located in the handsome neighborhood of Capitol Hill. Since we weren't too far from the waterfront, we stumbled down to the Seattle Center for our obligatory visit to the Space Needle. After a sorely-needed nap, we lurched over to Volunteer Park, a surprisingly well-groomed public space in Capitol Hill, for our first sampling of the birds of Seattle. Then, on to dinner and deeper sleep; the transition from Eastern to Pacific time can be grueling!
Our initial accounting of the local avifauna was fairly underwhelming. We glimpsed a Red-tailed Hawk or two on our trip from the airport. The unstoppable invasive trio of European Starling, House Sparrow, and Rock Pigeon, were firmly established in the city. Two home-grown classics, American Crow and American Robin, seemed to outcompete even these super-competitors; we spotted crows and robin everywhere in potentially threatening numbers. Volunteer Park gave up Dark-eyed Junco, not just our familiar Slate-colored race but also the Oregon Junco, which looks for all the world like an adorable little towhee with its black cowl and chestnut mantle. Our least favorite sparrow, the Song Sparrow, also takes on a darker form in the Pacific Northwest. Our dislike for this little brown job stems entirely from the fact that it has cost us tens, if not hundreds of other species. Like a speed bump, the Song Sparrow slows us down every time, its cryptic coloration requiring precious minutes for decryption.
Volunteer Park did hold some pleasant surprises. The tiny Bushtit is quite common here, as are Golden-crowned Kinglet and Black-capped Chickadee. The success of these species insures that every tree gets its own swarm of tiny twittering birds. The kinglets were especially welcome, as our previous encounters with these petite passeriformes could only be described as furtive. Every day of this trip, we enjoyed extended views of their bold black and white facial markings, capped, of course, by blazing saffron crowns.
I expected that our first new bird of the trip would be a gull and I was not disappointed. Seattle is a city of water, the most prominent body being Puget Sound. Thanks to the city's abundant waterways (and trash), many species of gull thrive here. The dominant species, the one you're probably looking at if you spot one of these raucous seabirds, is the Glaucous-winged Gull. We spotted our first of thousands on our way to the Space Needle.