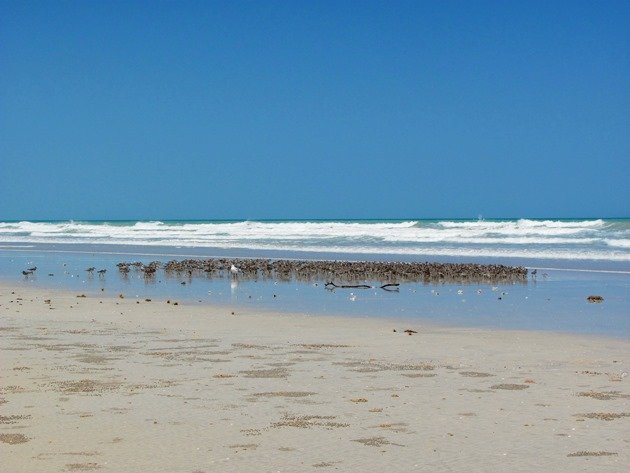 Over the last few weeks the number of people using Cable Beach in Broome has fallen and the number of shorebirds using Cable Beach has increased. It is particularly apparent at high tide each day and they also use the beach in larger numbers at night. The weather has got warmer and more humid and the tourists are leaving town. The shorebirds are returning from the north and many have travelled thousands of kilometres/miles over the last few months. Some of the shorebirds will remain with us for several months now, but others are stopping over on their way south or even en route to New Zealand. With the aid of marking individual birds, as discussed by Alfredo recently, it is possible to identify individual shorebirds that have been marked with flags either locally or anywhere in the Flyway. We have recorded shorebirds in Broome that have been marked in this way in Hong Kong, Bohai Bay in China, a nature reserve near Shanghai, Japan and various other locations. Each country has its own unique flagging system and the shorebirds can be identified down to an individual in the field with the aid of binoculars or a telescope.
We were looking for individually marked shorebirds recently on Cable Beach and discovered we had not just individually marked birds, but an individual shorebird! This had happened recently with our encounter of an Asian Dowitcher in the area, but this time it was an Oriental Plover. Sometimes when they arrive in Broome they are lone individuals on the beach in the heat of the day and other times they are in huge flocks as I discussed some time ago. This time it was stood amongst the Greater Sand Plovers and one Lesser Sand Plover that still had breeding plumage and several Red-necked Stint. At high tide the shorebirds are relaxed and often sitting on the cool, wet sand. The Oriental Plovers leg colour is a rather distinct feature as you can see.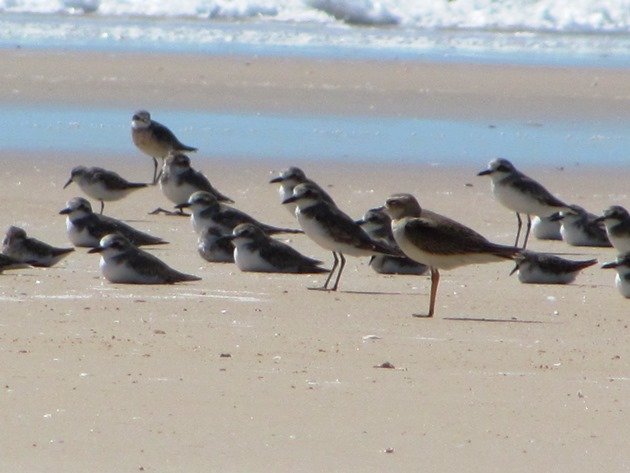 Oriental Plover with Greater Sand Plovers, a Lesser Sand Plover in breeding plumage and Red-necked Stint
On another venture out onto Cable Beach this week we discovered a lot of Sanderling had returned to Broome's shores. For those of you familiar with Sanderling you will know that they very rarely stand still and very rarely lie flat on the sand, but if you have just travelled a long distance you would surely need to rest. We were fortunate enough to record several Sanderling with yellow engraved leg flags and five of the individuals had last been seen in either China or Japan on migration. The yellow flags indicate that the shorebirds were individually marked in the local area originally. Two other individuals were marked with flags from South Australia and were obviously having a "stopover" in Broome before they continue their journey south. These birds carried an orange flag on their upper leg and a yellow flag on their lower leg. We have also had a Ruddy Turnstone in recent weeks that was marked in South Australia and is no doubt also taking a break before flying further south. Broome is an important stopover for many shorebirds and it is important to keep your dog on a leash and not let them chase the shorebirds along the beach. They are exhausted enough without the added stress of dogs chasing them along the beaches.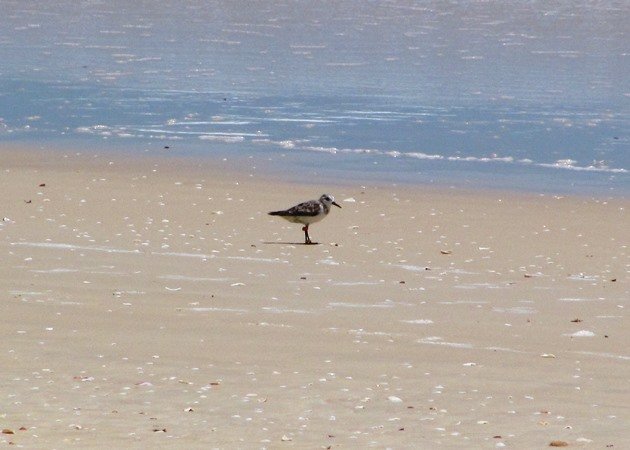 Sanderling marked in South Australia stopping off in Broome
The following day I cycled north along Cable Beach to discover a large flock of shorebirds running in as the tide came in up the beach. The majority of the flock this time was Great Knot and Sanderling and there were also individually marked birds. This time there was a Sanderling marked in Victoria and it carried an orange flag on its upper leg. Once again the bird was no doubt using Broome as a stopover before continuing its journey south.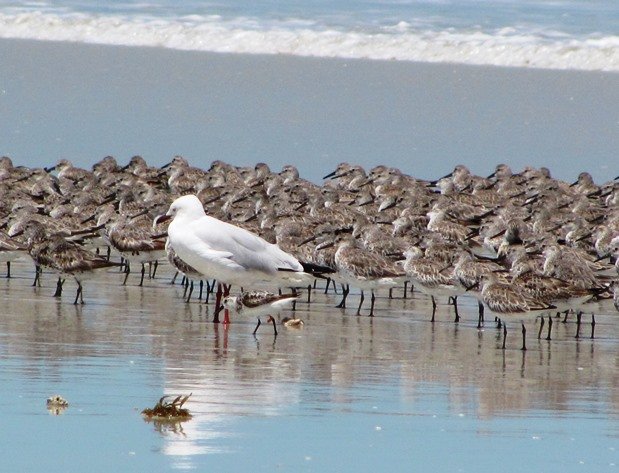 Sanderling marked in Victoria stood beside the Silver Gull and surrounded by Great Knot
As the morning warmed up the next surprise was a pair of Little Curlew landing on the beach in front of me. It is a lot cooler on the beach and it is not uncommon to see them there. Last year we had one lone Little Curlew in our local park for eight days, which is rather unusual.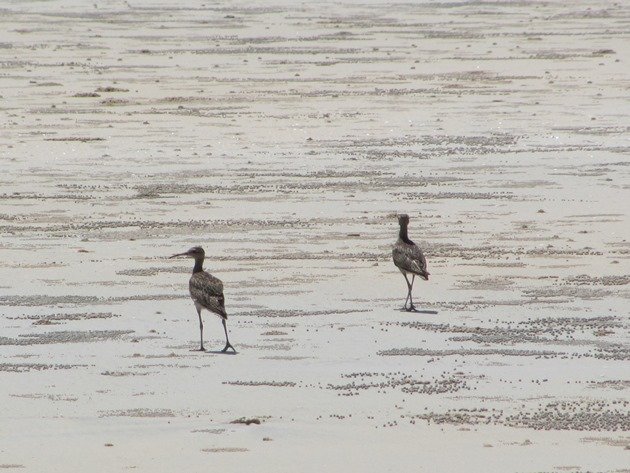 Little Curlew on Cable Beach
My next surprise as I headed along the beach on my bicycle were some really distinct tracks that led from the sea at high tide late the night before and entered the sea immediately next to me. A Flatback Turtle was just returning to the sea after spending most of the night nesting above the high tide mark. The tide had fallen rapidly whilst she still continued to first build a nest that had collapsed and then dug another nest that had been successful. The nest digging is a slow process and as a result of this she had spent many hours out of the sea and finally returned to the sea no doubt exhausted. This is the first record of a Flatback Turtle nesting on Cable Beach this season and the nest will hatch out in due course without the large female Flatback Turtle returning to shore. The baby turtles will pour up out of the sand and run for the sea to travel around the ocean until it is time for the female Flatback Turtles to return to shore to nest in many years' time.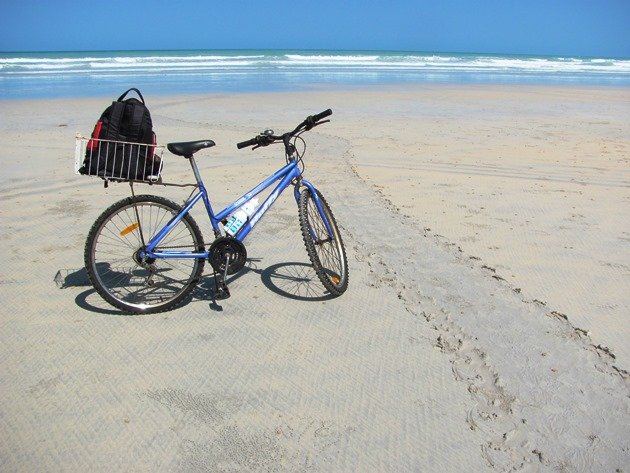 My bicycle beside the Flatback Turtle tracks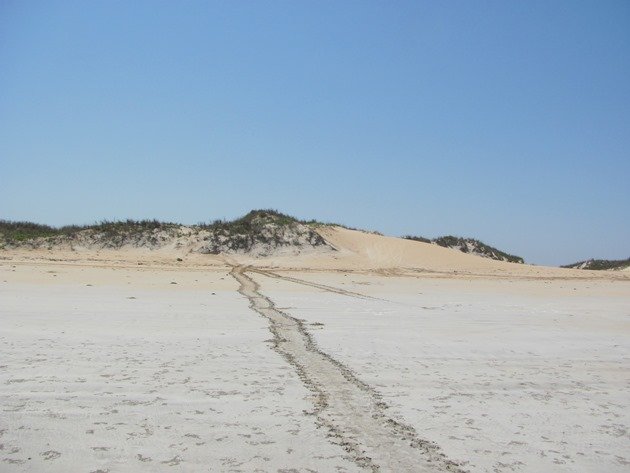 Flatback Turtle tracks leading back to the sea after nesting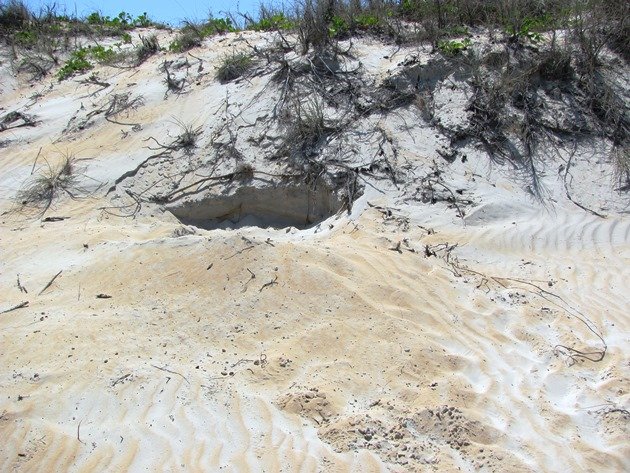 Flatback Turtle nest
We have previously watched Flatback Turtles nesting during the night and this will continue now for several months. It is important that vehicles do not park on the beach above the high tide line, because they could easily park on top of a turtle nest without realising it.
Cable Beach may appear quiet at this time of year, but as you can see it is far from not being used! Please be mindful of all that is happening and even though birds have wings and can fly……….they are most likely exhausted after the long journeys that they have just made from the northern hemisphere.