The absurdly strong storm system that moved through New York City on Thursday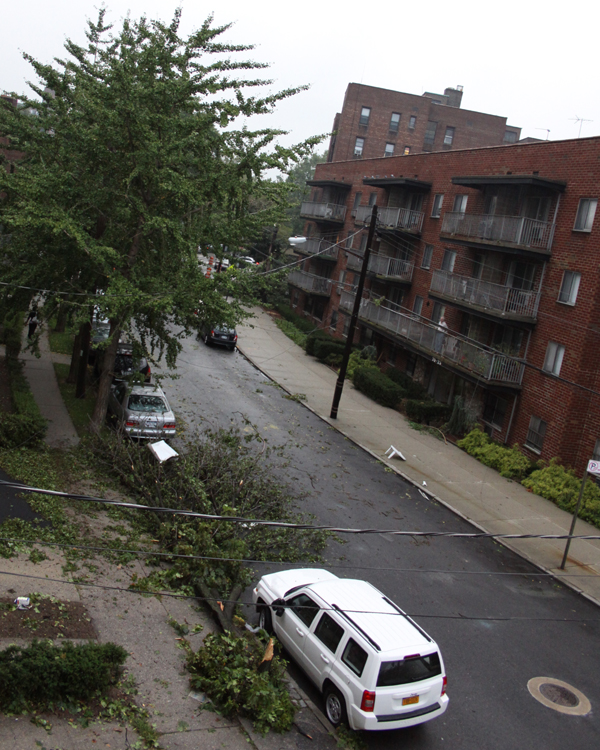 evening left a swath of destruction in its wake.  According to the National Weather Service there were two tornadoes, one in Park Slope Brooklyn, and one in Flushing, Queens, and a macroburst that blasted Middle Village and Forest Hills, Queens.  That last location, Forest Hills, is where I live, and the number of trees down, windows shattered, and cars damaged in my neighborhood is enormous.
I was at work in midtown-Manhattan when the storm went through, and my coworkers and I marveled at how rapidly visibility out of our office windows dropped to virtually nil.  Other than that, we had no idea of just how severe the storm was until the internet started exploding with images, videos, tweets, and status updates indicating that something crazy had happen in the outer boroughs.  I quickly got in touch with Daisy, who had been deep underground in the subway when the storm hit, and had emerged in our neighborhood completely oblivious to what had happened until she saw a store's giant sign on the ground and trees and branches down all over the place.  She tried calling her mom to make sure that she and Desi were alright but got no answer and therefore ran home to see the trees in front of the house down and Desi and his grandma on the balcony surveying the damage.  Whew!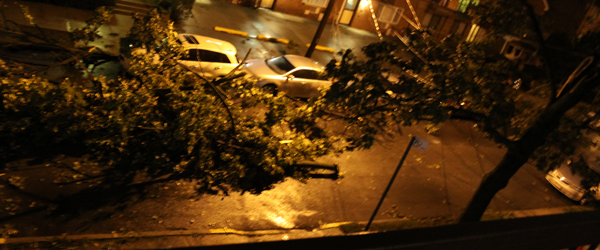 By the time I got out of work, word that the Long Island Railroad and the 7-train were out of service because of so many downed trees in the tracks had gotten out so everyone was waiting to take my E-train home.  It was a horribly packed commute that ended with a walk home in the dark and rain to the tune of sirens in the air and broken branches underfoot and the sight of flashing lights, broken glass, and shocked faces.
It was good to be with my family.  And it was also good that the only thing that we lost, really, was the tree in front of our apartment (the one in front of the house next door, or, rather, what is left of it, will likely have to come down too).  Of course, many others lost far more, including one woman on the Grand Central Parkway who did the right thing and pulled over as the storm came through and was killed by a falling tree.  It is remarkable though, that two hurricanes and macroburst could rip through 14 miles of densely populated city and only kill one person.  Small condolence to the family of that one person but still remarkable.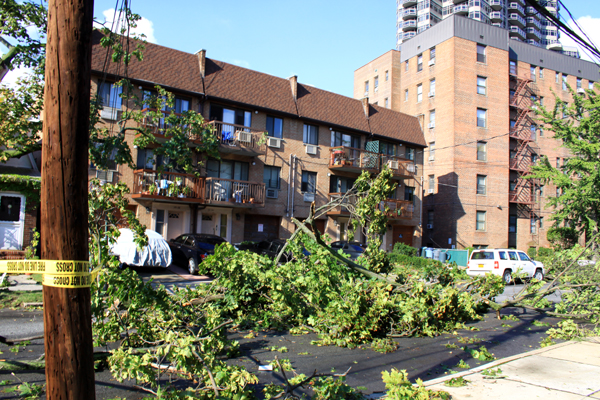 The trees are as irreplaceable as the life that was lost.  It will be decades or even centuries before saplings planted now become as large as the trees downed by the storm.  The trees in front of our house were not that large but we loved having them there from when we first moved in to the place.  They shaded us and gave the local birds a place from which to sing, a place to forage, and a place to preen.  In particular the tree that was directly in front of our balcony will be missed.  Desi and I had watched a daddy Downy Woodpecker feed its offspring there and sometimes the neighborhood cardinal would sit and sing its sweet song.
Eh, I am sliding towards sentimentality and suppose I should just be thankful that a tree was all that we lost.  I fear a heating planet where extreme weather events like these will become more and more frequent and only hope that we collectively work to curb the worst extremes.  The two tornadoes that hit on Thursday were the second and third of the year in New York, a city that has a very sparse history when it comes to twisters.  Dorothy, I think that not only are we not in Kansas anymore, but I fear that we don't even have ruby slippers with which to get home.