For the last two days our 'Parrot Month' theme has been looking at the Monk Parakeet Myiopsitta monachus (and here), a South American species that has been exported for the pet-trade in vast numbers and – through a combination of accidental escapes and deliberate releases – now has feral populations across North America. One of the best-known populations occur in Brooklyn, New York, and – despite the fearsome cold – Corey (the brave soul) decided that as he lived close by he really ought to go and see them and report back for 10,000 Birds…
Saturday the seventeenth was cold!  Very, very, very, cold.  Multiple layers of clothing and still cold.  Nonetheless, I had promised to make an expedition to Greenwood Cemetery to get some shots of the Monk Parakeets that live atop the gothic gate at the main entrance of the cemetery, so, cold or no cold, I was going.  I was joined by my friend Pam, who lives in the neighborhood and who dedicated 10,000 Birds readers have met before, and after a nice brunch at a local coffee shop we made our way down the street to Greenwood.  While we were still a block from the cemetery we could hear the raucous squawks of the flock, a strange sound on so cold a day.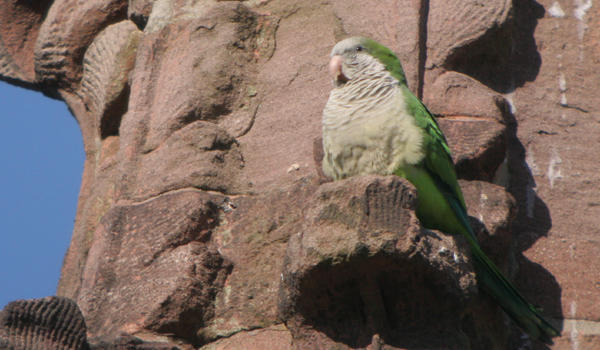 We were happy to see several of the monks perched on top of the gate, in and on their nests, and flying past us.  They were pretty fluffed up, better to stay warm, and a couple pairs stayed tightly huddled together.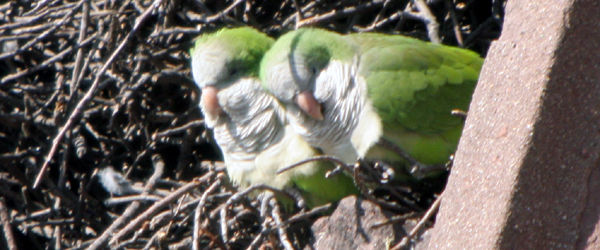 Even though the temperatures were well below freezing a couple of the birds stayed busy doing nest maintenance.  It was fun to watch them through the scope as they manipulated sticks into the exact position that they wanted.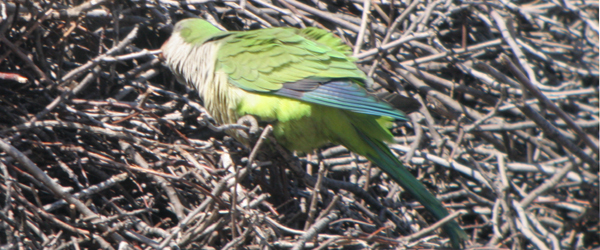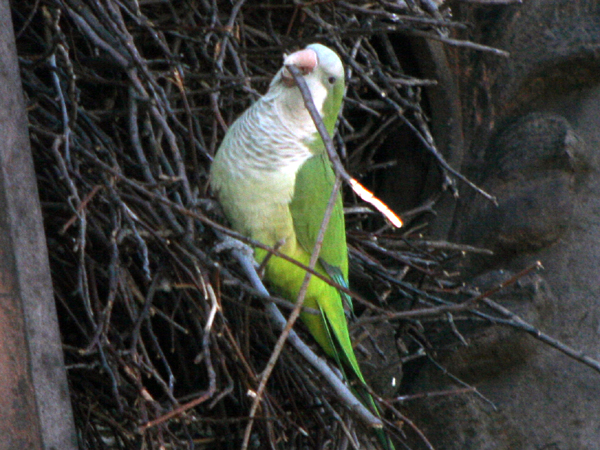 After watching and photographing them for a bit we started to get cold and decided that more walking would warm us up so we headed deeper into the cemetery and enjoyed the view from the highest point in Brooklyn.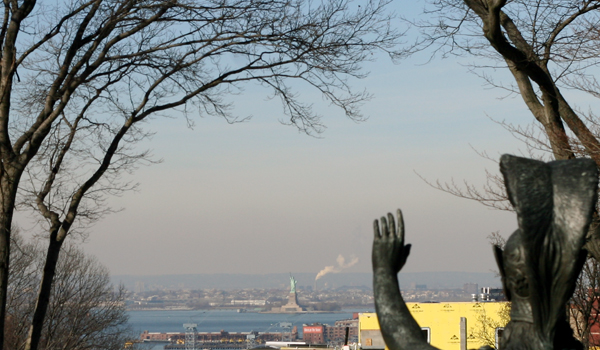 On the way back to the entrance I took this shot of the gate, just to give an impression of its size.  The nests are visible on the center and right towers if you look carefully.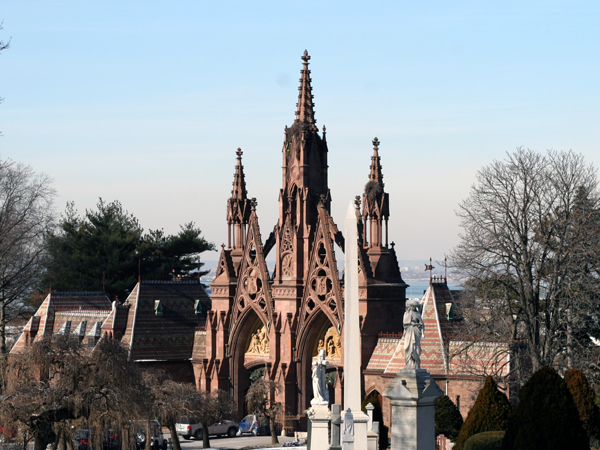 Then, back at the gate, before I could get my camera back on the scope, two birds flew by and I managed to get one shot with just the 50mm lens, not exactly the ideal flight shot but enough to give a sense of how Monk Parakeets appear in flight.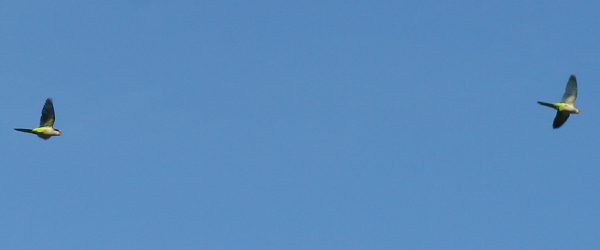 I highly recommend a visit to Greenwood Cemetery: it is easy to get too, accessible, and worth the visit for the views and history in addition to hosting Monk Parakeets.