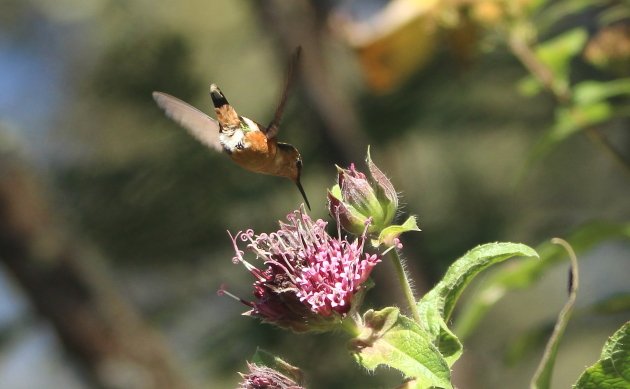 Last week, I wrote about my best birds of last year. Fortunately, by the time I wrote that post, I had already seen what is sure to be one of my best birds for this year.
The Sparkling-tailed  Woodstar is a hummingbird as beautiful as its name suggests. For several years, I had seen photos of this species posted by my friend Julio Álvarez, from the state of Jalisco, just to the west of my state of Michoacán. The first photo below is his. Then my friend Fabián Velásquez posted the next photo, which manages to capture the male hummer's dazzling colors.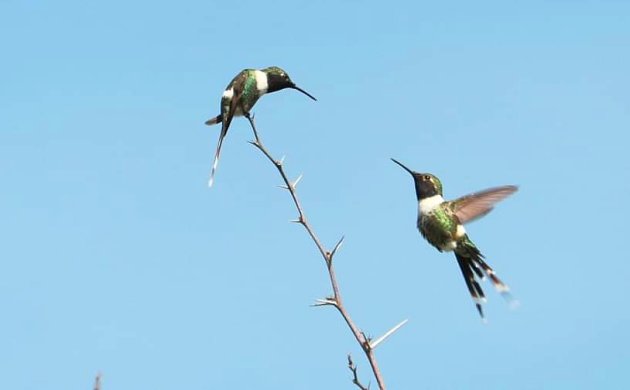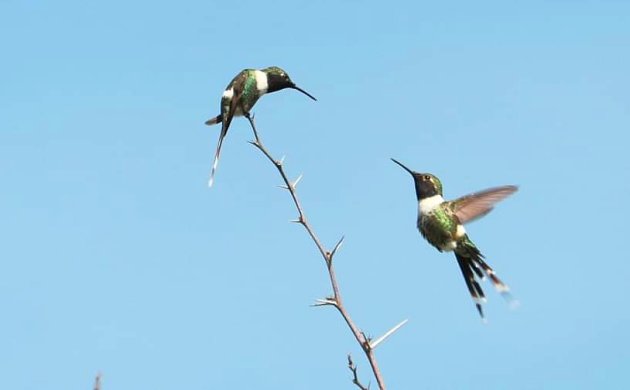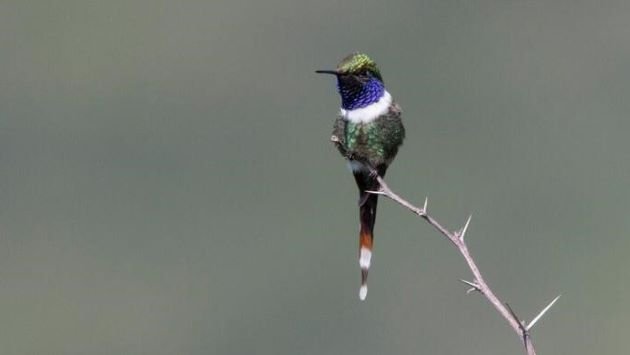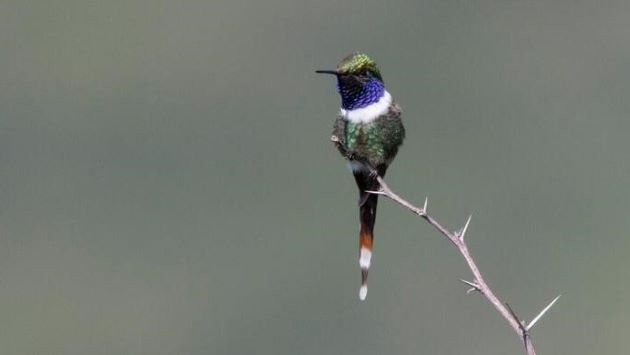 I knew the Woodstar could be found, in theory, in my state. But I had resigned myself to not seeing it until, someday, I make the trip west to visit Julio. And yet, on the first Monday of 2020, a female Woodstar turned up at El Temascal, a site that never seems to fail to bring me some surprise. It was not a male, but it was still a fascinating little creature. And it holds out the promise of a male someday turning up in my birding area.
The Sparkling-tailed Woodstar is not one of Mexico's tiniest hummingbirds, but the female is only 3.5 inches (9 cm) long. I had never seen a hummingbird move so slowly, although describing a hummer's hovering as "slow" is perhaps innacurate. It feeds by holding its body and very short bill in a horizontal position, with the female's equally short tail cocked in a more upright position. And while its wings move in a blur, of course, its body moves very slowly from one point to another. Its movement has been described as very similar to that of a bumblebee.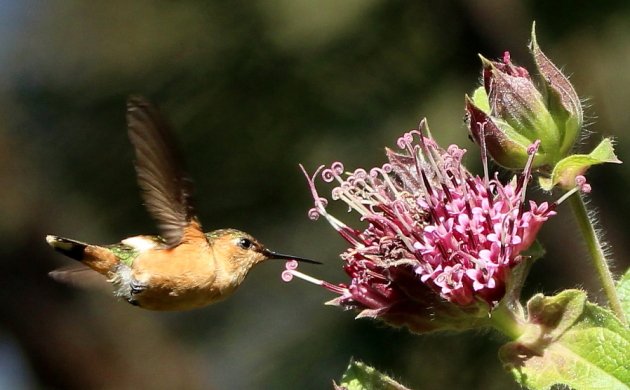 This photo is mine.
Oddly enough, El Temascal is also a site where I may see the Bumblebee Hummingbird, a species with many similarities. The Bumblebee Hummingbird is even smaller, never larger than 3 inches (7-8 cm). Both males and females have short bills tails, and they also fly holding their bodies in a horizontal position, with the tail cocked upright. But unlike the Woodstar, they zip from flower to flower in a typical hummingbird frenzy.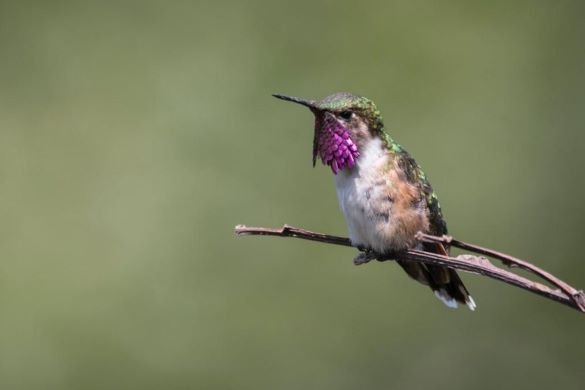 A male Bumblebee Hummingbird, also photographed by Fabián Velásquez.
The Sparkling-tailed Woodstar often feeds at mid-level, as mine was kind enough to do. But the Bumblebee Hummingbird likes to stay very close to the ground, and I have always seen it in the shade, moving among flowering plants. I have yet to take a decent photo of the species.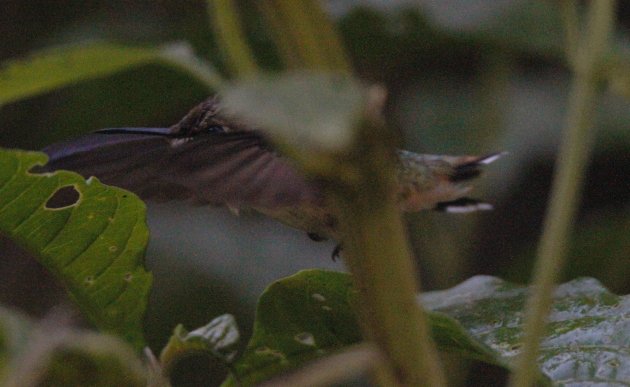 These two dreadful photos of mine show the female Bumblebee Hummingbird's short bill and tail, spotted throat, and love for dark, low, twiggy, unphotographable places.
While the males of these two species could never be confused, their are many superficial similarities between the females. Fortunately, the female Woodstar has those white patches on their rump, and rufous cheeks and throat; while the female Bumblebee Hummingbird has the white upper breast and heavily spotted throat of most of the other females of the Selasphorus genus. (Yes, it is a relative of the Rufous, Allen's, and Broad-tailed Hummingbirds of the American West.)
At any rate, I started my 2020 birding as a happy man. Of course, if I could see the male Woodstar, I might be just a bit happier!
Thanks to my Mexican friends for lending me the excellent photos I have so far not managed to take.