On October 21, a White-tailed Kite was found in part of the Forsythe National Wildlife Refuge in Barnegat Township along the NJ coast. Interestingly, this was one week after the Connecticut White-tailed Kite was last seen. The bird was not seen again until last week. Since then, it's been enjoyed by many observers. I've seen this spectacular, ghostly raptor in other states, but you bet I wanted to view it on my home turf. Plus, it's just a stunning bird worth a look under any circumstances. Although the second record of this species for NJ, it's really the first sighting by multiple observers. The first record was from a photo and was only realized some time after the photo was taken (much to the chagrin of MANY birders).
So on Saturday, I decided this would be a good chance to take my 13-month old son, Julian, on a little adventure. We packed all of the required toys, diapers, and other accouterments required for a 3-4 hour trip and headed south. Jules was so excited for his first rarity chase that he slept the whole way there. I pulled into the parking lot after about 90 minutes of driving to see a small crowd clearly looking in unison at some far-off object. I figured they had the bird. As I was getting my stuff together, I watched as all of the birders began to pan their optics right over my car. I hopped out, letting Jules still sleep, and saw the kite beautifully as it floated over my car and away. Back in the car, I headed over to a different viewing area where it was expected the kite had gone. The kite was there, about a half mile away. I wore Jules in my ErgoBaby and let him look through the scope. And by that I mean that I pointed his eye towards the scope and he looked nowhere near the eyepiece. Jules was a big hit with the crowd, wearing the owl hat that Beth crocheted for him. See below for a pic from Halloween.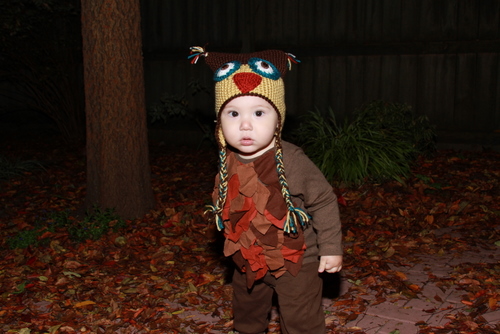 All in all, it was a very successful trip. It was fun bonding time and it gave mommy a well deserved break. Pics of the Kite, not by me, can be found on Howard Eskin's site.