You may remember that back in January I rejoined the Bloggerhead Kingbirds and competed in my second Superbowl of Birding.  You may also, if you have an absurdly good memory, remember that the day before the competition we tried to chase down some good birds.  What you are most likely not at all aware of is exactly what one of those rarities was, mostly because we were all sworn to secrecy.  What bird could be rare enough that the person whose yard it was appearing in, who, by the way, is a bird blogger by the name of Jason, that it had to be kept secret to keep out the birding masses?  Well, how about a Common Chaffinch Fringilla coelebs?
Chaffinches are normally found in Europe, though their range extends to Africa and Asia.  They are most definitely not a normal North American species, which explains why this bird was kept under wraps for so long, with information about it being spread by word of mouth and access limited, in order to prevent the home and neighborhood it was appearing in from becoming a three-ring circus.  Fortunately for we Bloggerhead Kingbirds, out fearless leader, Christopher, is well-known (and apparently, liked) in the Massachusetts birding scene and he managed to secure an invite for the entire team.
So, after seeing the Saw-whet Owl Christopher guided us to the home where the bird appears and we were escorted into the kitchen where, eventually, we got pretty good looks and horrible pictures of a-seriously-rare-for-North America bird.  How horrible are the pictures?  Well, take a look at my best: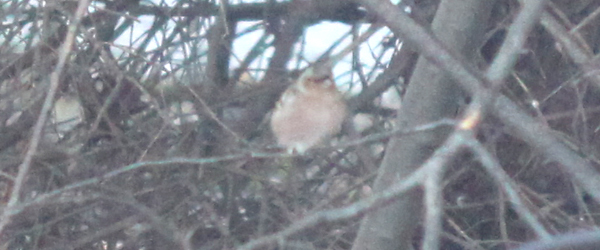 I am sure better pictures will be forthcoming now that the bird has absconded and the all clear to post about it has been granted.  Fortunately, before the bird disappeared it was banded and two feathers were taken, which should help a great deal in figuring out from where the bird came, especially if it is a wild or escaped cage bird.  For the moment I have checked it off my North American life list but someday it may have to be removed…
Many thanks to both Christopher for setting up the visit for we undeserving Bloggerhead Kingbirds and especially to Jason and his family, who were kind enough to host several hundred birders while the bird was appearing.  Go take a look at Jason's blog, Brewster's Linnet, and see if you can figure out what is in the bag.