Yes, the Superbowl of Birding was an absolute blast and I will be recounting in exquisite detail the day the Bloggerhead Kingbirds had in a future post, but for the moment it will be enough (I hope) to recount our day before the Superbowl of Birding, that is, this past Friday, 29 January.  After all, if the actual Superbowl can have weeks of breathless reporting and hype why can't the Superbowl of Birding have the equivalent of a pregame blog post?  There is no reason why not, of course, which is why you will have to wait at least another day until you get all the details…
So, Friday morning saw me standing outside in the bitter cold weather awaiting Andrew the Birding Dude who was scheduled to pick me up in order to drive me to JFK so I could pick up the minivan we had reserved both for the long trip to Massachusetts and for use during the actual competition.  I almost froze to death while I waited for him to arrive but somehow managed to survive and chalked my lonely vigil up as preparation for what would undoubtedly be much colder weather on Saturday.  We got the minivan and what a minivan it was!  A 2010 Dodge Grand Caravan* with remotely operable sliding doors on both sides to allow quick entry and exit, amazingly powerful heaters to warm frozen birders, room for seven even though our team was only six, a nice depressed "trunk" that was perfect for holding many spotting scopes, and, when I put the pedal down I could not believe the acceleration!
I followed Andrew to his home where he left his car after we moved all of our gear from it to the caravan and we were off to pick up John of A DC Birding Blog at the subway.  With the New York City area portion of our birding team assembled we headed off for Massachusetts and the Superbowl of Birding.  Well, actually, we drove to Westchester County's Pruyn Sanctuary first in an attempt to twitch the Yellow-headed Blackbird that had been coming to the feeders regularly, a bird that would have been a lifer for both John and Andrew had we not dipped on it.  After waiting as long as we could for the rare-for-New York-blackbird we reluctantly packed it in and headed off to Massachusetts where we would meet up with the rest of the team.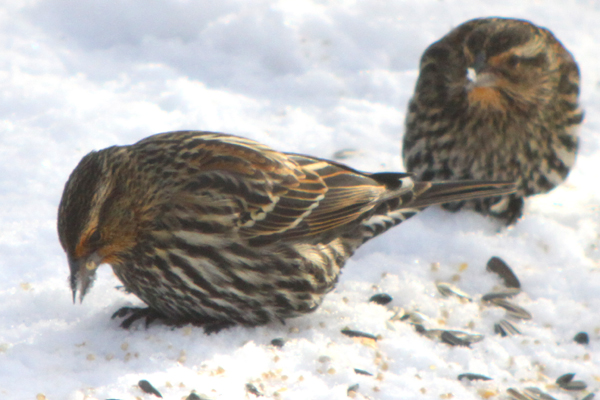 Upon our arrival at the Staybridge Suites in Burlington, Massachusetts, we patiently awaited Mike of The Flower and the Feather, Nate of The Drinking Bird, and the captain of the Bloggerhead Kingbirds, Christopher Ciccone of Picus Blog.  Once we were all together and checked into our accommodations Christopher kindly brought us to check out a Northern Saw-whet Owl he knew about and Nate and John enjoyed their life looks at the diminutive killer.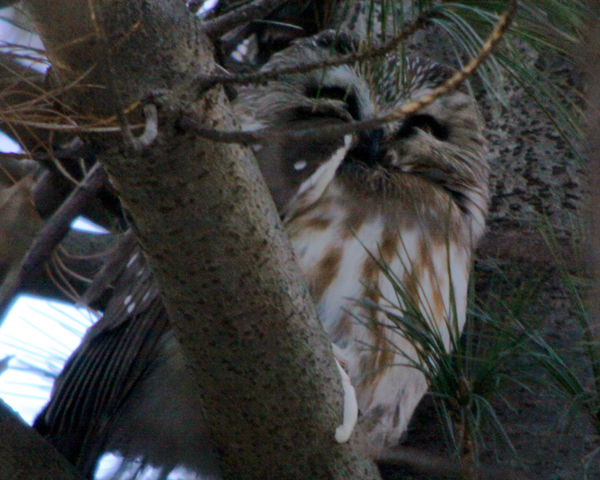 After drinking in the owl we went and got Mexican food before retiring to our suite to plan strategy for the Superbowl of Birding, talk trash about bird bloggers who were not present, and just plain relax before doing everything we could to see as many birds as possible the next day…come back soon to get the details on how we did!
*No, Dodge did not pay me to endorse their vehicle.  However, if they would like to provide us a van for use next year I think we would all be willing to write nice blog posts about how great their Grand Caravan is and how suited it is for use in a birding competition.