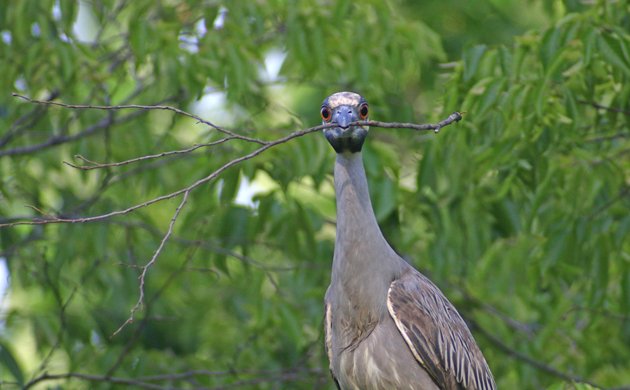 Earlier this spring I spent some time exploring some parks in Queens that I had never visited before. I know, I know, it is hard to believe that there were parks left in Queens that had never been graced by my presence but somehow a couple of locations had escaped my notice. One of those parks, Brookville Park in southeastern Queens, was noteworthy to me because I saw several early Yellow-crowned Night-Herons there, the first that were reported in the state this year. Not only that, but with the trees being free of leaves, it being early spring, I noticed several rudimentary stick nests that I suspected were night-heron nests from last year.
Fast forward to this past Sunday, 8 June, and I was having a rather awful morning's birding, with hardly a decent bird to show for having woken up before dawn. I decided to stop by Brookville Park to see if my suspicions of Yellow-crowned Night-Herons nesting there would be confirmed. Were they ever!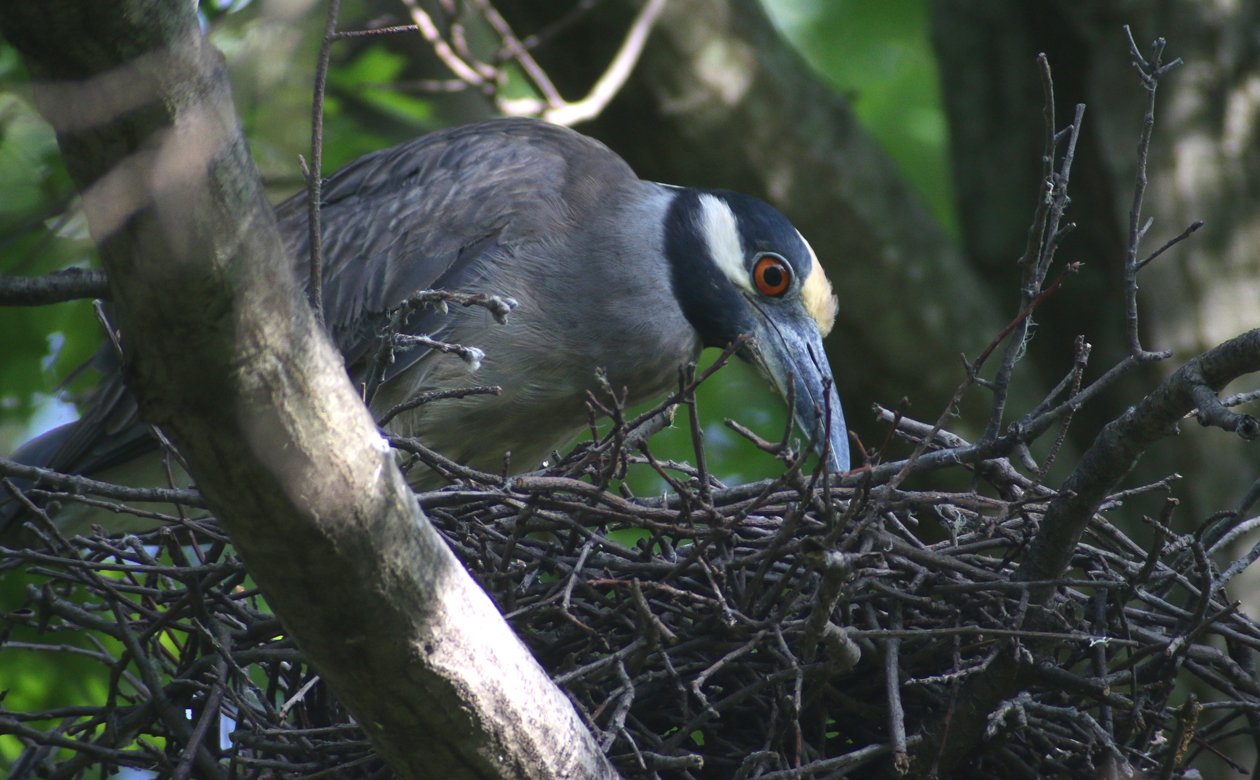 There were at least nine active nests. I say "at least" because I counted very conservatively and sometimes was confused when I switched vantage points as to if I had already counted a nest or not. Also, the nests were spread out over at least five different trees, and I imagine that I must have missed at least a couple. There were night-herons sitting in nests, there were night-herons posing nicely on bare branches, there were night-herons out looking for more nesting material, and there were night-herons sitting around not doing much of anything. Passersby, of which there were many in this busy park on a sunny June morning, were curious as to what I was looking at in the trees above the path so I would show them. Without exception, they were astounded to learn that there was a colony of nesting birds over their heads in their familiar park. How do so many people miss such an obvious amount of activity?
It's not as if the birds were hard to see. Several times while I was there individual birds flew down to low trees right next to the paved path in order to pull branches off for use in nest construction. Their efforts were somewhat comical and blindingly obvious. I mean, how can you miss this?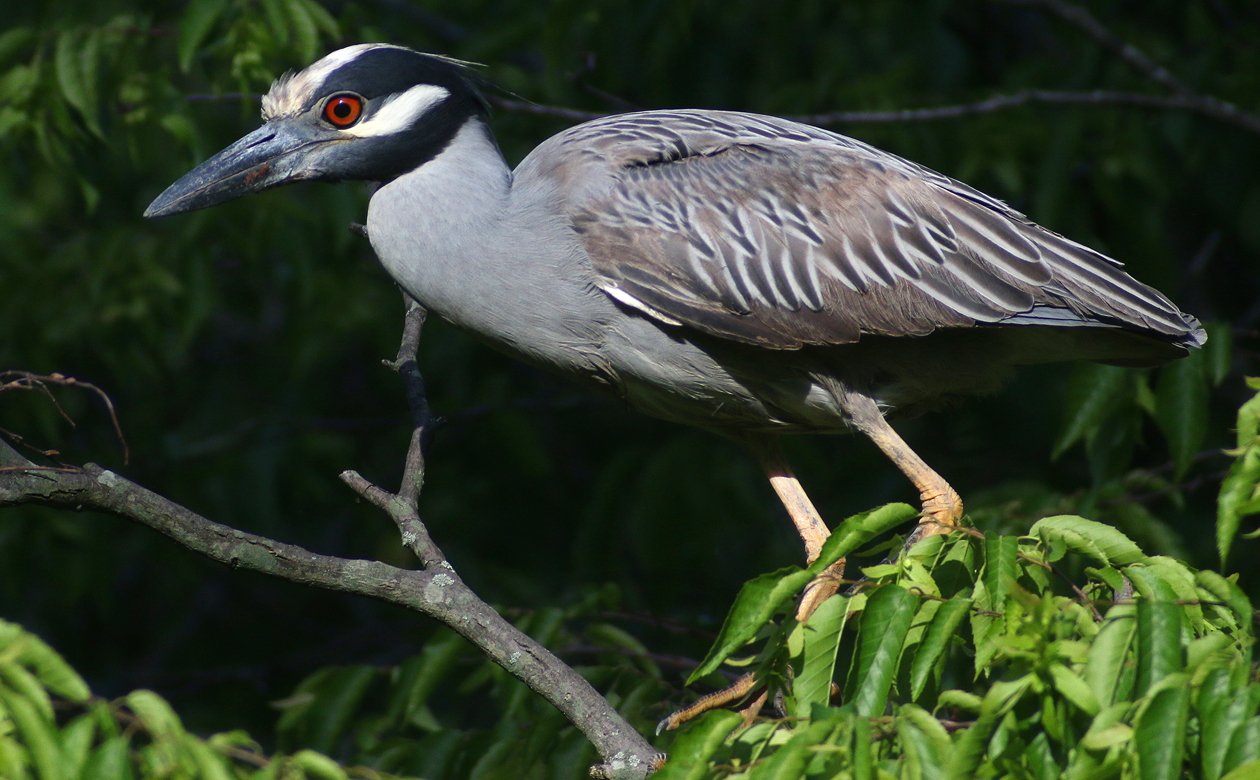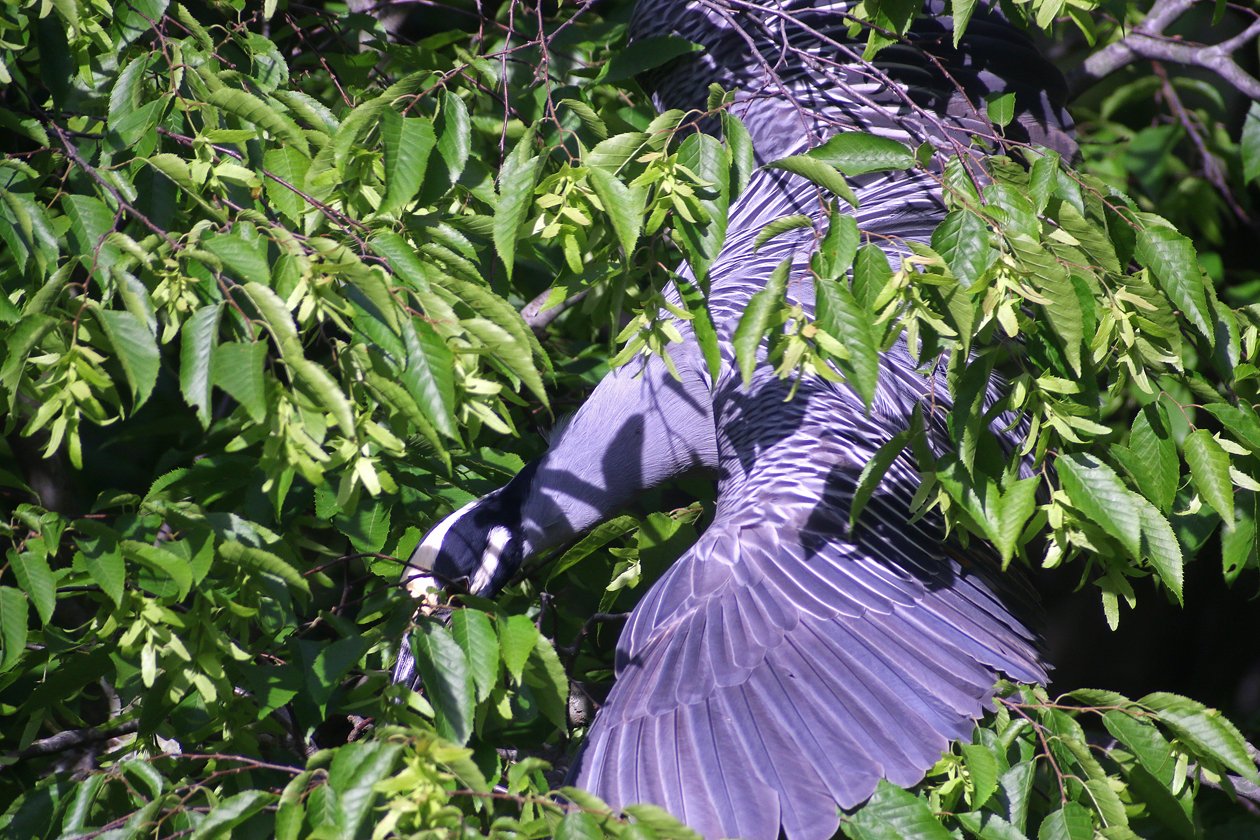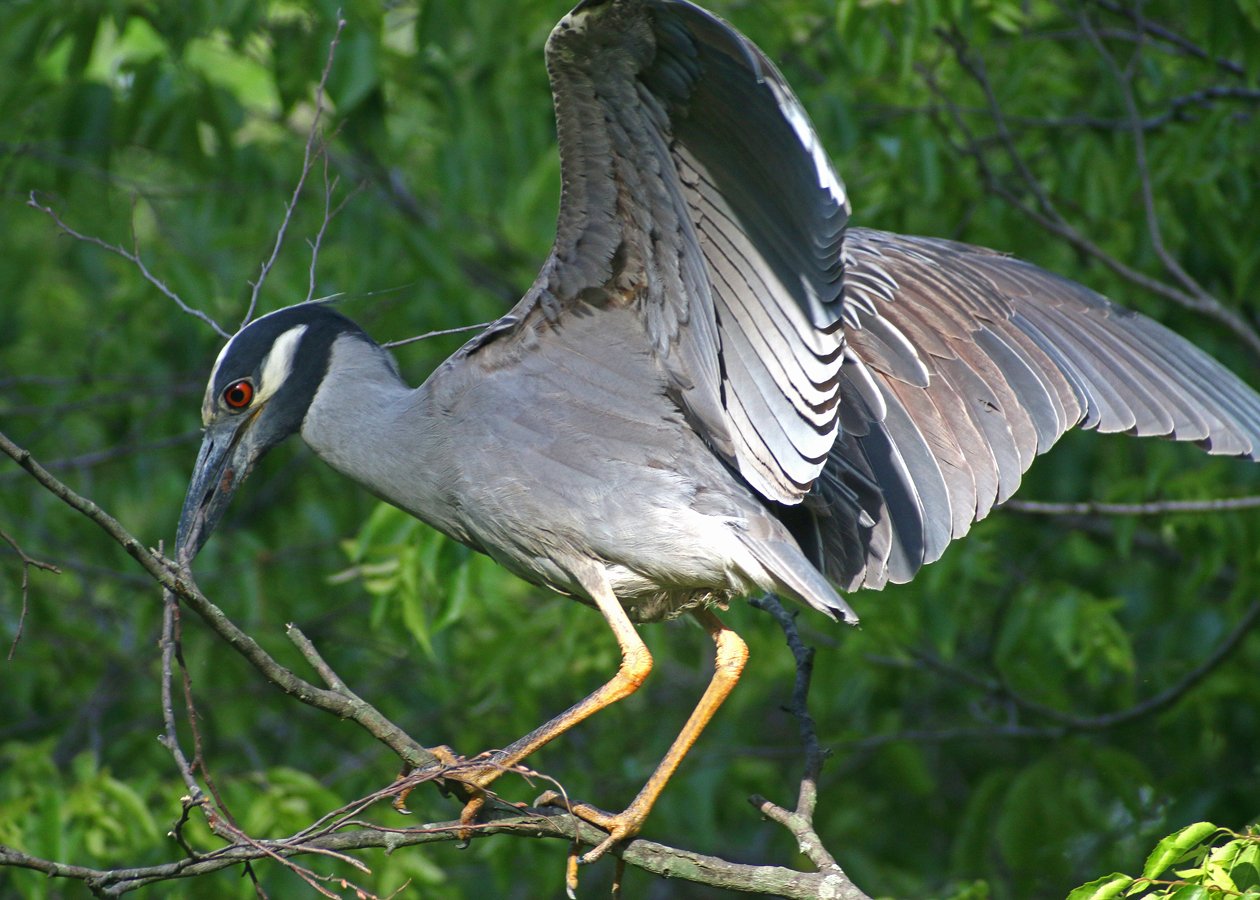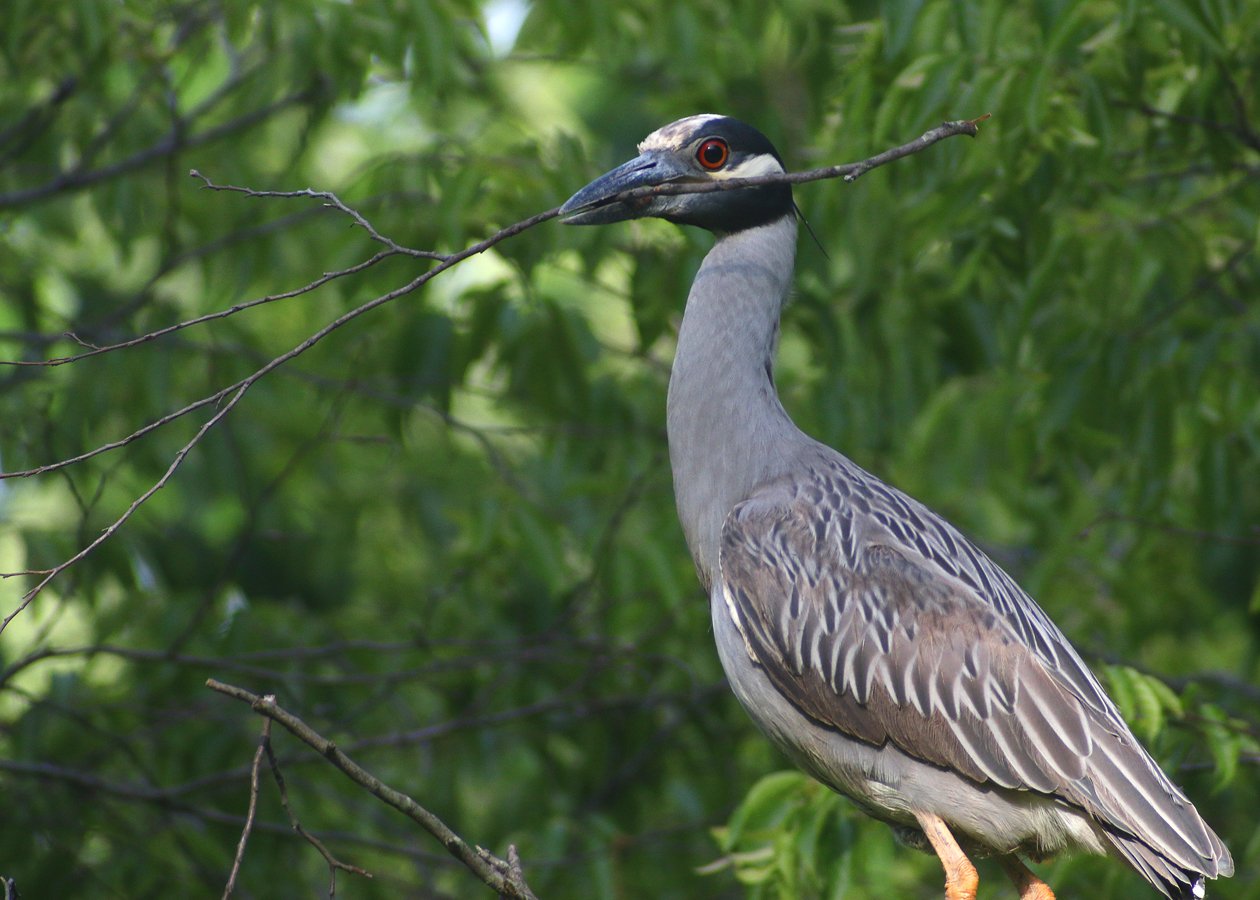 Regardless of the fact that they didn't see them on their own, everyone who looked through my scope or just spotted the birds with their bare eyes once I pointed them out thought that they were pretty cool. Hopefully, the more the locals who regularly visit the park are made aware of the birds the less likely it will be that they will accept those who would do the colony harm. How can anyone be opposed to Yellow-crowned Night-Herons nesting in a place where their poop won't land on cars? How can you not like this bird?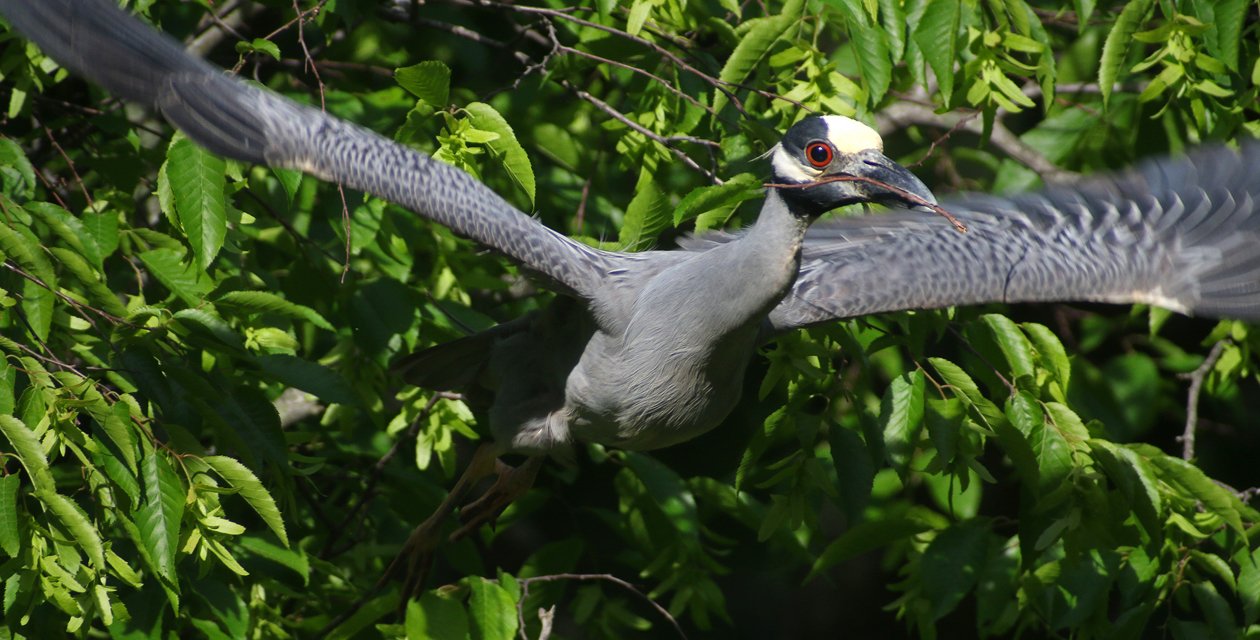 I'll do my best to get back to Brookville Park in a couple of weeks to see if I can spot any young. After all, this is a great bird to find nesting in Queens, especially in an accessible place. If you go, please remember to keep your distance and not in any way harass the birds. Though their nests are high, they do need to come down on occasion and it would be appreciated by both the birds and those who care about them that you keep your distance if you see them foraging. After all, they need to catch enough food for themselves and for their young!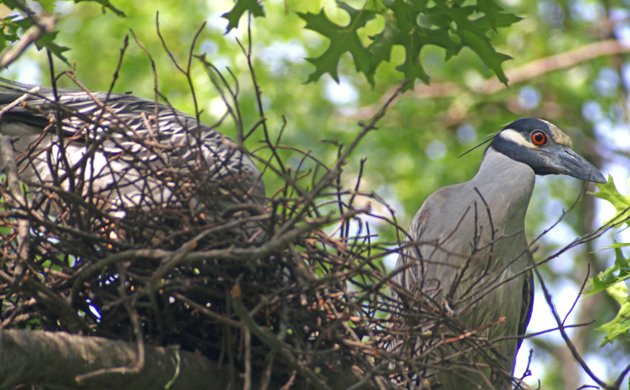 I just missed a shot of the bird on the right giving a stick to the bird on the left. Sigh…
Yellow-crowned Night-Herons on nests! Jochen, what do you think of that?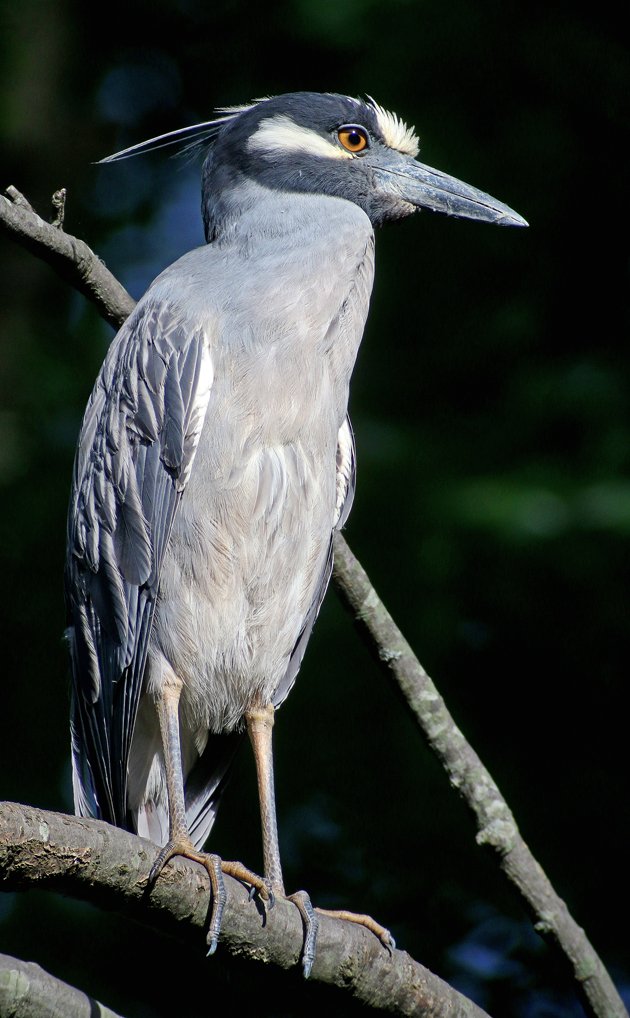 …