We three here at 10,000 Birds are pleased to announce that new voices are being added to our blog.  After several years of just Corey, Charlie, and Mike, we figured it was time to ease up on the torture that we are inflicting upon you and let someone else apply the rhetorical hot irons on occasion.  But instead of just adding random people to write about whatever random things came to mind we thought it would be great for our readers if we recruited established bloggers with great writing skills to write about specific topics and regions.  Apologies if you thought that we were going to add reincarnated versions of Ginsberg and Kerouac to the blog but, no, the beat writers joining 10,000 Birds are going to be assigned to specific beats, not be beat.  Unless they fail to produce their scheduled posts in which case they will be beaten.  Severely.
We think that having more bloggers blogging about more topics will allow 10,000 Birds to reach more readers and therefore help broadcast our twin messages of conservation and a love for all things winged to an even larger audience.  But we didn't choose just anyone to join up with 10,000 Birds.  No, we were very selective, making sure that each blogger had a distinctive voice and really had something of value to add to the blog.
Because of the technical and logistical challenges of adding bloggers to 10,000 Birds and making sure that they understand the amazing complexity of all the bells and whistles involved in posting here we are only introducing some of the beat writers this week.  In order to keep some order in the chaos of this process we decided to make this first group an all-American contingent.  In a week or two we will announce the first group of international beat writers.
So, without further ado, here is the first wave of 10,000 Birds beat writers.  Please give them a warm 10,000 Birds welcome!
Patrick Belardo, who readers of this blog will certainly recognize, will be the New Jersey and Butterfly beat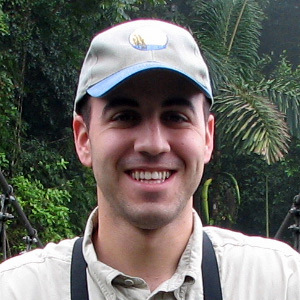 writer.  He will write weekly here at 10,000 Birds.
Patrick Belardo hails from Piscataway, NJ and is the author of The Hawk Owl's Nest blog. He's been actively involved in the NJ birding community since 1999 and is a volunteer Associate Naturalist for NJ Audubon Society. He is the regular leader of NJ Audubon's  "Beginner Birding" and "Beginner Butterflying" walks. Patrick is also a regional editor for the NJ Birds online publication, covering northeastern NJ and compiles the Long Branch Christmas Count. In the past, Patrick has participated in the NJ Grasslands Breeding Survey and Piedmont Survey, many 4th of July Butterfly Counts, and was vice-president of the Urner Ornithological Club, NJ's oldest bird club. Patrick's favorite day of the year is the World Series of Birding.
Julie Zickefoose, who could hardly need an introduction to anyone who pays attention to nature in the
United States, has the unique beat of Zickefoosean Observation.  She will be writing here on 10,000 Birds monthly.
Julie Zickefoose is an artist, naturalist and writer specializing in natural history. Her writing is based on keen observation of animal and human behavior, and she likes to interweave solid natural history information with larger philosophical themes to challenge and inspire the reader. Julie contributes three-minute natural history commentaries to National Public Radio's All Things Considered. She illustrates her books and magazine articles with her own sketches and watercolor paintings. Letters from Eden (Houghton Mifflin, 2006) will soon be followed by a memoir about the birds she has raised, healed, studied and followed throughout her life. She lives at Indigo Hill, an 80-acre wildlife sanctuary in Appalachian Ohio with her husband, Bill Thompson III, their children Phoebe and Liam, and their Boston terrier, Chet Baker.
Christopher Ciccone, who will be most familiar to 10,000 Birds readers as the driving force behind the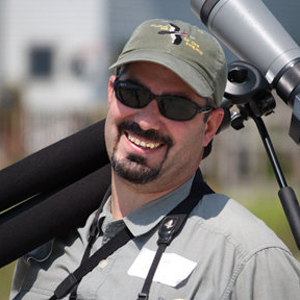 Superbowl of Birding's Bloggerhead Kingbirds, will be sharing his writings weekly as the New England beat writer.
Christopher Ciccone was born and raised in New York's Hudson Valley, educated in western New York where he acquired a few very un-interesting business degrees, before moving to New England and living in both New Hampshire and Massachusetts where he now resides.  A little late to the birding game, Christopher started casually birdwatching at Mt Auburn Cemetery in 2000, then became quite serious about birding after a week long trip to Sanibel Island in 2002 – and he hasn't stopped birding since.  A life-long interest in photography has naturally developed in a desire to photograph birds, and so in early 2008 he also started Picus Blog to share his passion for birds and photos with friends and family.
Nate Swick, the man who has recently challenged the birding world to get its collective act together, has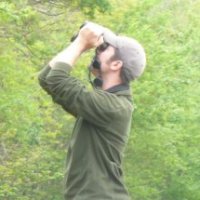 agreed to write weekly.  Like Patrick, he will have two beats – the Southeastern United States and the American Birding World.
Nate Swick is a birder.  He grew up in the midwest but currently makes his home in Chapel Hill, North Carolina, with his wife and 1 year old son, who is not yet aware that he is a birder too.  He has a soft spot for Piping Plovers and loves pelagics even when his stomach doesn't, which makes him the quintessential Carolina birder. When he's not looking for birds, which is not often, he enjoy music with banjos in it, disc golf, good beer, progressive politics and the St. Louis Cardinals baseball team and he's not particularly shy about sharing his opinion on any of those things.  Nate is also a member of the Nature Blog Network Blog team, helps lead trips for the Wake County Audubon's Young Naturalist's Club and he's the eBird reviewer for the state of North Carolina.  He writes about birds and birding at The Drinking Bird.
Carrie Laben, known for her penchant for the extinct penguins of the north, will be filling the role of beat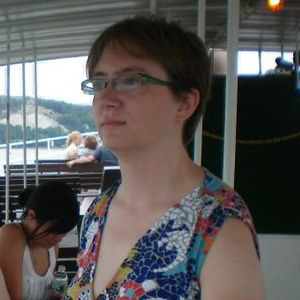 writer for the Interior West of the United States on a biweekly basis.
Carrie Laben, after years of writing and birding in New York State, moved to Montana to pursue her two great passions more effectively. She is now working on her MFA in Creative Nonfiction at the University of Montana in Missoula. When she is not cranking out essays and specific stories, or wandering around on mountains failing to see the birds she is looking for, she is likely to be drinking one of the many fine local microbrews or attending a potluck with something from the local farmer's market in hand. Or, to be perfectly honest, playing games on Facebook, but let's not talk about that. You can read more of Carrie's work at Great Auk – or Greatest Auk?
Finally, Jory Langner, well-known to longtime readers here as our Avian Quizmaster, who has been on a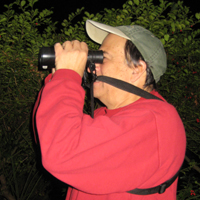 rather extended hiatus, will be returning to write a monthly brain-buster that will definitely leave you scratching your head, hopefully with a smile on your face.
Jory is a native Long Islander living just outside of Albany, New York. In 2007 Jory became the "least consistent birder" to see three hundred birds in New York State in one year's time.  He has birded the world over but maintains his birding "beginner mind," of which he is inordinately proud.  Just ask him.   Jory is the 10,000 Birds Avian Quizmaster and he spends his time coming up with ever more diabolical ways to stump his legion of devoted, and possibly somewhat deluded, fans.
On behalf of Mike and Charlie let me say welcome to Patrick, Julie, Christopher, Nate, Carrie, and Jory!  This is going to be the start of something absolutely beautiful.
…