Though it may sound like Dick Cheney's fondest dream – putting fifty-plus fanatics on a boat for eight hours in the Atlantic Ocean in the middle of winter with a storm coming – in this case it was not torture.  In fact, this specific group of fifty-plus fanatics not only wanted to be on a boat for eight hours in the Atlantic Ocean in the middle of winter with a storm coming, but they had all paid one hundred and thirty perfectly good American dollars to do so!  What bizarre crowd of people would be willing to spend money in order to be on a boat for eight hours in the Atlantic Ocean in the middle of winter with a storm coming?  Why, birders, of course.  What else did you expect on 10,000 Birds?
Though it may sound like torture to many people in addition to Dick Cheney, a winter pelagic trip can be a marvelous experience, even in the northern climate off the coast of New York, and especially when one goes on a trip organized by See Life Paulagics.  We hardy and mildly deranged birders had hopes of seeing a host of alcids and flocks of rare gulls, to say nothing of plunge-diving Northern Gannets, and this is what drove us to plunk down cold hard cash for the privilege of freezing for eight hours in the cold and wind of the Atlantic Ocean.  At least it didn't start raining until after noon…
Anyway, with the exposition out of the way, now you know why I was standing on the street waiting for Andrew, the Birding Dude, early Sunday morning instead of sleeping in my warm bed.  He arrived, we drove to Freeport, and were boarding the Captain Lou VII, an 85-foot long, two-decked boat (from which I have seen many seabirds) in no time!  I was pleased to introduce Andrew to Carrie of Great Auk – or Greatest Auk? and to see a host of familiar faces from the New York birding community.  While everyone was still greeting each other and comparing year lists the boat got underway and we were looking for birds!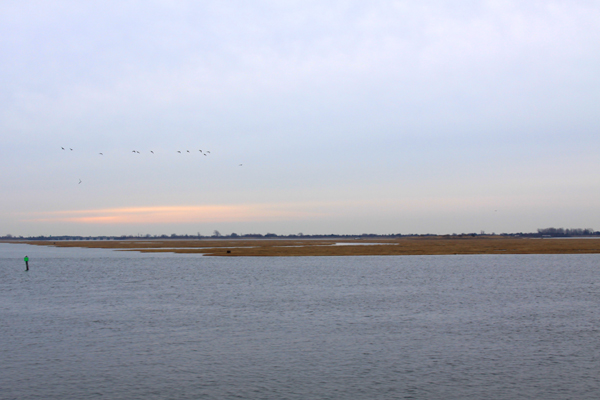 The voyage from the dock of the Captain Lou fleet through Jones Inlet and past Point Lookout and Jones Beach allowed me to add a species that already should have been on my year list, a Great Blue Heron.  Also spotted was a Northern Harrier hunting one of the several nice marshes like the one above that we steamed past.  Ducks galore were around, so the day list was rapidly padded with American Black Ducks, Long-tailed Ducks, Brant, Red-breasted Mergansers, Common Eiders, White-winged Scoters, and, best of all, a fly-by Great Cormorant, another bird I needed for my year list and a bird that can be tough to find for a birder who lives in Queens and does not own a car.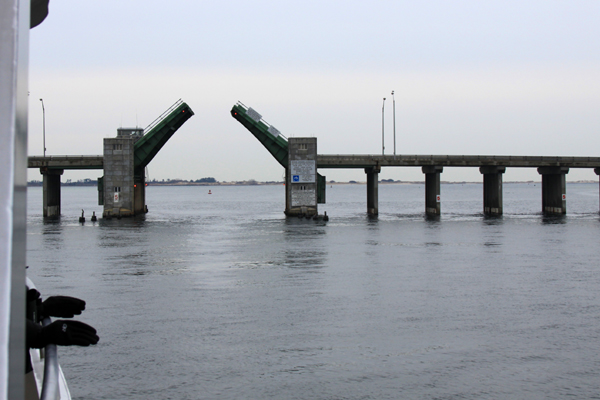 As always, it was great to take advantage of the drawbridge on the Loop Parkway and be the boat causing motorists to be delayed rather than being delayed as one of the motorists!  It was also entertaining to try and spot the Harlequin Ducks that hang around Point Lookout's jetties in winter, but we had no luck spotting the gaudy divers.  We did, however, have lots of luck spotting one of our target birds, Razorbills Alca torda, once we lost sight of land and were out to sea!  In fact, we would see scores of the chunky alcid during our trip, in flocks of up to twenty-five birds!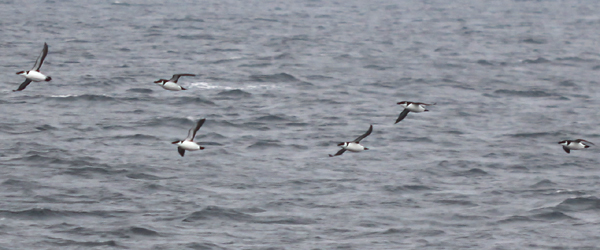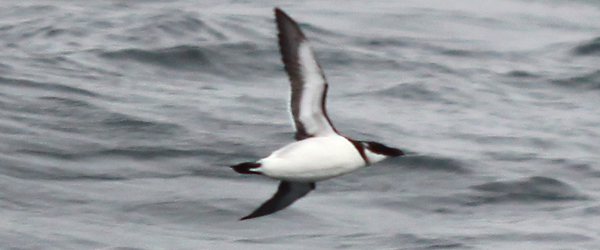 Not only did we see Razorbills, but we were also treated to a total of thirty-three Common Murres Uria aalge, and some were even close enough to get recognizable photos!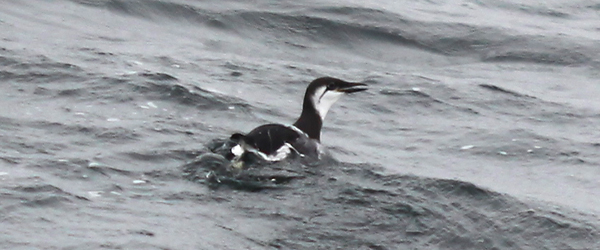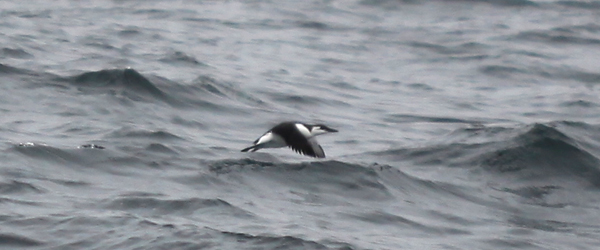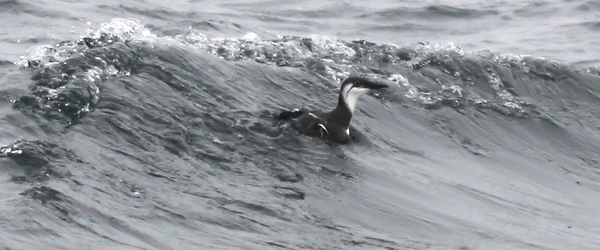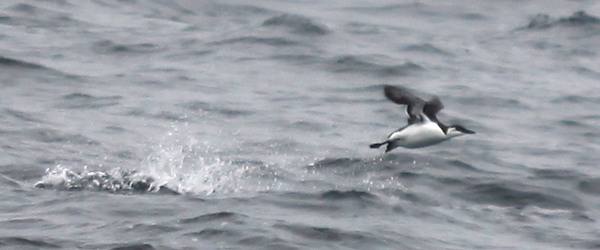 Of course the trip wasn't all good looks at alcids!  There were long periods during which none of the flying penguins of the north were nearby and the only birds available to look at were the gulls in the chum scrum at the back of the boat.  For those who haven't been on a pelagic before, well, there is a person who has the unenviable job of chopping up fish and tossing them overboard continuously in order to attract a cloud of gulls behind the boat.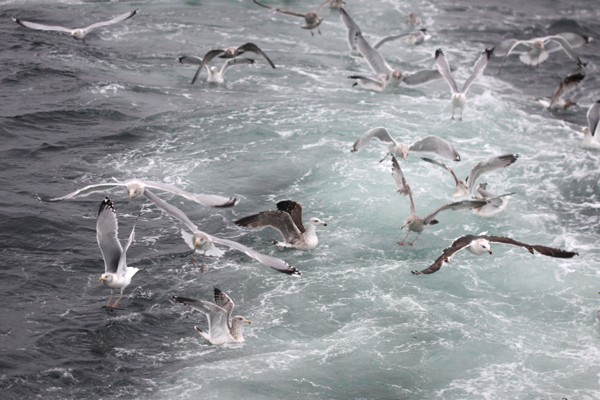 Why throw fish overboard other than to sate the appetites of birds that would surely have no problem finding their own food?  No, the answer is not that chumming is a sadistic, Cheneyesque attempt to cause seasickness in pelagic birders who come too close to a bucket of chum.  The answer is that without chumming one will not likely get looks like these at an Iceland Gull Larus glaucoides.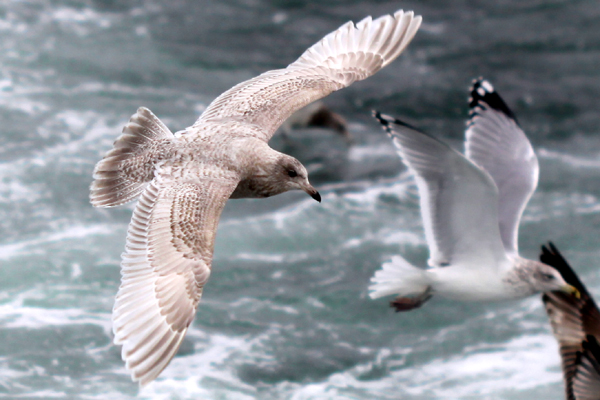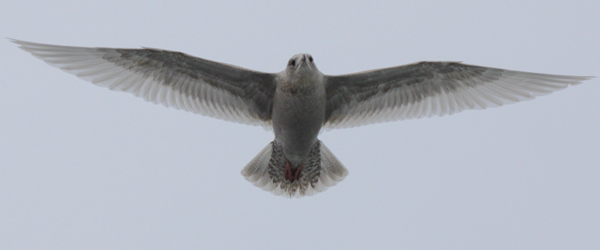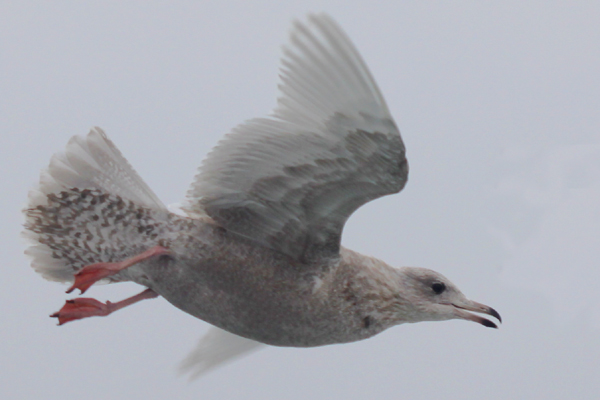 Nor is it likely that one would get a Black-legged Kittiwake Rissa tridactyla to come in this close without chum, to say nothing of the Northern Gannet Morus bassanus beneath it (keep an eye out for full galleries of both birds in the coming days).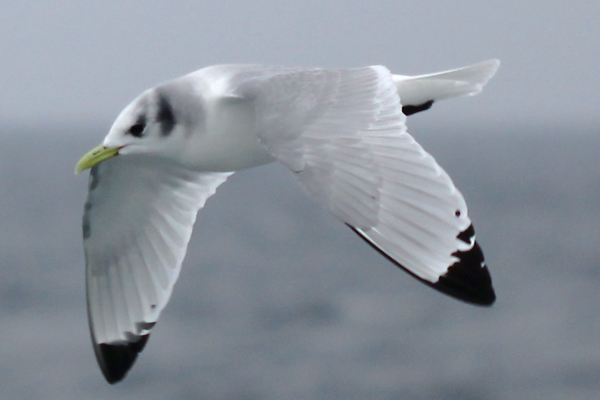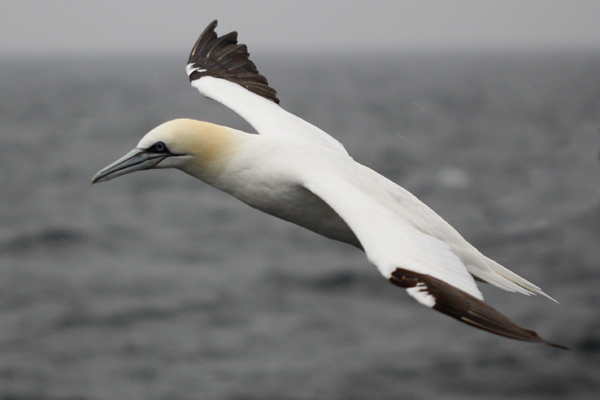 An adult Iceland Gull also joined the chum scrum for a bit but never cooperated enough for me to get shots like with the first-winter bird.  And our alcid sightings were rounded out by two young Atlantic Puffins Fratercula arctica, but they also did not cooperate for very god pics.  As the day wore on the rain started, and though we were under cover on the second deck the fact is that between rain and spray and wind there was no way to stay completely dry.  Eventually, we turned tail and made for home, though we took time on the way back to get as close to the jetties at Point Lookout as the captain dared, and we were rewarded for his efforts with a nice male Harlequin Duck, a Purple Sandpiper, and Sanderlings.
Our return to harbor, nearly eight hours after we cast off, was welcome, as I wanted to get home and warm up and spend some time regaling Desmond with tales of pelagic birds.  And, despite the rumors, his middle name will not be changed to "Murre."  It was day well-spent, with good company and good birds, and I highly recommend going on a pelagic trip at your first opportunity.