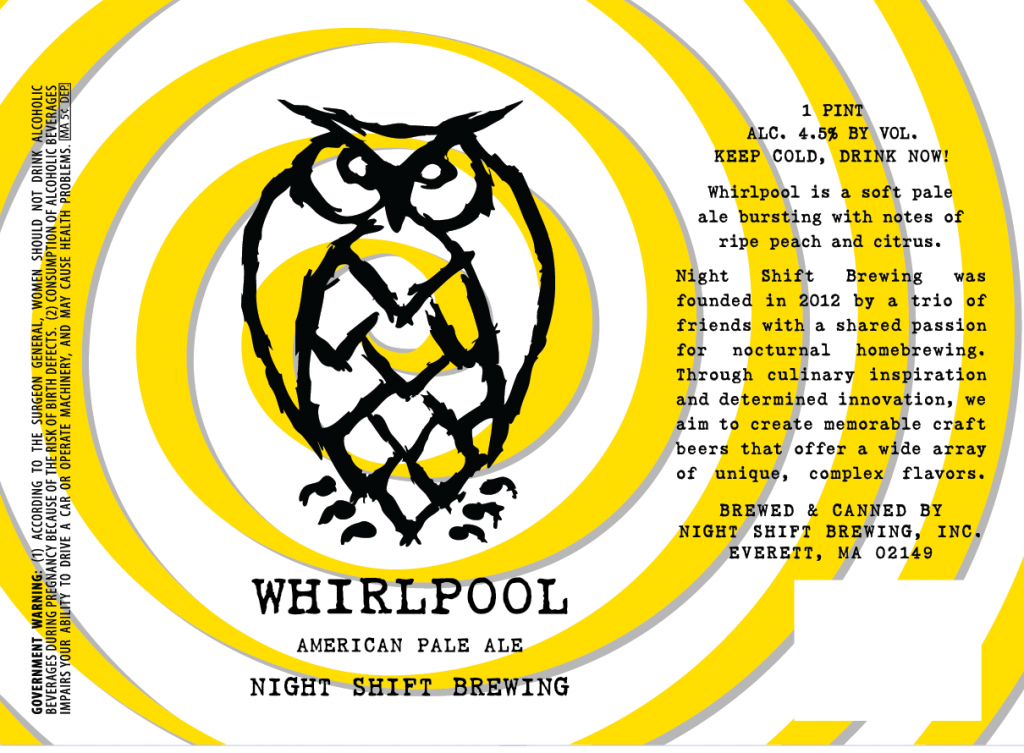 I was ready to say goodbye to summer for good with last week's sour and boozy pumpkin ale review, but after four consecutive days of record high temperatures here Albany, New York this week, I've postponed reviews of brown ales, oatmeal stouts, barleywines, and other autumnal brews for at least one more week. As the mercury climbed into the 90s this week, I headed to my neighborhood bottle shop in search of some sudsy and refreshing relief from this unexpected heat wave. I found it in Whirlpool, a hoppy American pale ale by the popular Everett, Massachusetts brewery Night Shift Brewing. Night Shift was founded in 2012 by three homebrewers whose devotion to their craft necessitated many late-night, after-work brewing shifts, and the decidedly grim owl logo that festoons each of their beers is a tribute to their nocturnal brewing schedules. That's the extent of the birds-beer connection this week, but never mind that, because this week's beer will certainly hit the spot whatever the weather's like where you are.
Whirlpool doesn't call itself an IPA, but it is from New England and followers of recent craft brewing trends will recognize elements of the beer that fit the sometimes-contentious "New England IPA" style. At least that was my impression after the first whiff of this stuff. New England IPA has been the biggest story in the world of American craft beer in the last two years or so, and I hope to explore New England IPAs in future reviews – as soon as I get my hands on some that one that's named for a bird. But for now, I'll mention that when you hear the term these days, it's not just referring to any old IPA brewed in New England, but a distinctive style that's been brewing for the better part of the last decade. Sure, New England IPAs are hop-driven pale ales that emphasize a sensational – even overwhelming – hop aroma, and in that, they're not much different from traditional American IPAs. But where conventional hop-bombs seek to pile on the hops at every opportunity during the brewing process, New England IPAs save the best for last, relying mostly on late hop techniques like dry-hopping and whirlpooling (the latter being a process for adding hops after the boiled beer has cooled somewhat, allowing a gentler extraction of the most delicate hop aromas). These methods produce a massive hop aroma without the crippling bitterness that often characterizes the biggest IPAs, double IPAs, and imperial IPAs. Hop selection is another important characteristic of the New England style, with brewers favoring newer, hugely aromatic varieties like Citra and Mosaic, which deliver potent bouquets that recall ripe tropical fruits, citrus, stone fruits, and berries in no uncertain terms. The piney, resinous hop aromas often found in West Coast IPAs are generally avoided. And unlike conventional IPAs, of which even the hoppiest display a token concern for balancing malt flavors, New England IPAs are unapologetically one-dimensional vehicles for hop aroma, entirely relieved of any obligation to offer toasty or caramelly grains in a supporting role. The result is a hoppy, but not too bitter pale ale that drinks as easily as a cool glass of fruit juice – not an unappetizing prospect on a sweltering late September day.
Whirlpool is a hazy, straw yellow ale that's about as pale in the glass as a beer can get (New England IPAs are usually a bit cloudy from all the late-hopping, and from the use of grains like wheat and oats). The nose is an intoxicating barrage of ripe fruit aromas, with pineapple, passionfruit, and peaches in syrup in the forefront, followed by touches of citrus, melon, and berries. The flavor is sweet, citrusy, and downright mouth-watering, with refreshing waves of tangerine and even blueberry, backed by a modest hop bitterness and the merest suggestion of cracker-like malt. Like many beers in this style, Whirlpool features a soft, almost creamy mouthfeel that remains refreshing and even sherbet-like. The finish is crisp and slightly puckering, with a persistent grapefruit aftertaste. In short, an utterly refreshing beer.
Whirlpool is packaged in 16-ounce cans – a popular format for New England IPAs – but weighs in at only 4.5% alcohol by volume, in addition to being extremely drinkable. After all the heat this week, a cold front finally moved through upstate New York on Thursday, and I could knock back two of these for my review on Wednesday evening and still get up before sunrise to look for that next push of fall migrants.
I hope to move on to more seasonal offerings next week, but we'll see what the weather has to say about that.
Good birding and happy drinking!
____________________________________________________________________
Night Shift Brewing: Whirlpool American Pale Ale





Four out of five feathers (Excellent)