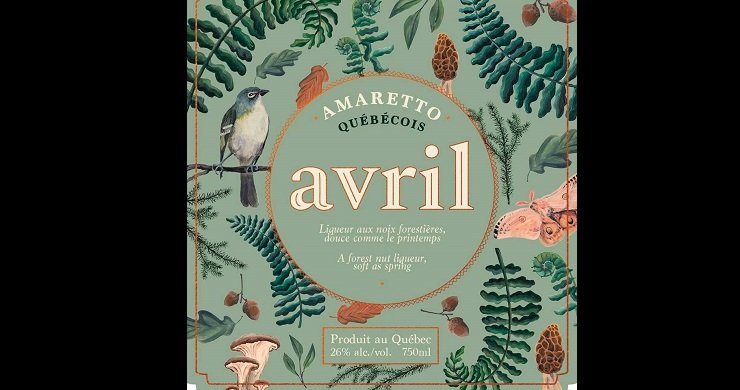 "Oh, sweet Canada, Canada, Canada" is perhaps the best-best known of birdsong mnemonics in North America, familiar to birders as an aid to remembering the voice of the White-throated Sparrow (Zonotrichia albicollis). There are some who claim that the thinly whistled tune of this boreal songster also fits the line "Old Sam Peabody". And while that works too, I've always preferred the Canadian version, if only because the bulk of the White-throated Sparrow's breeding range lies north of the border. And no one's ever been able to explain who this Sam Peabody is anyway.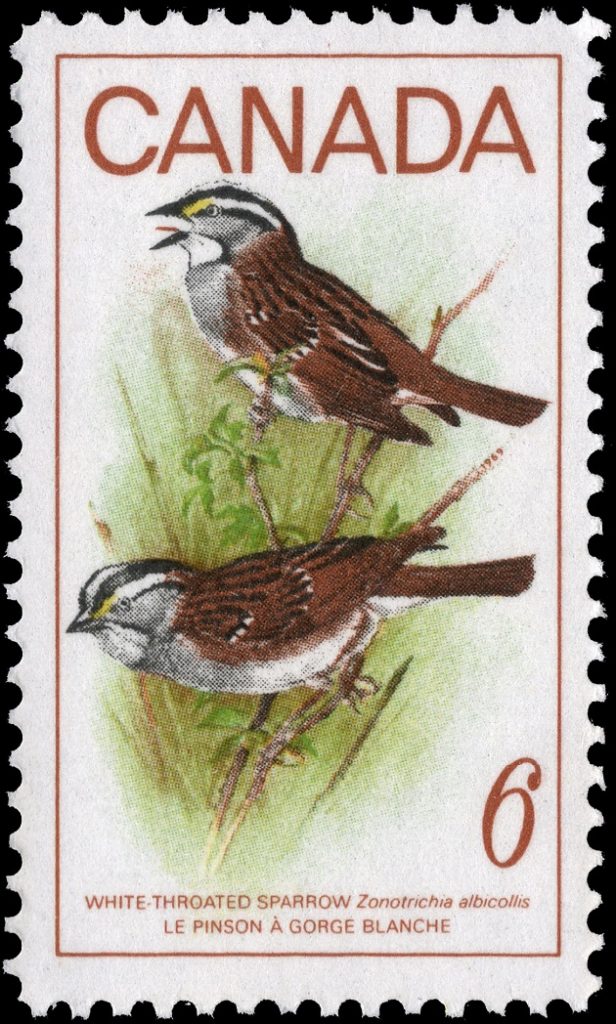 Canada is a pretty sweet place – and not just because of all that maple syrup its vast forests produce. Canadian cooks understand that the best remedy for the long, harsh winter is enjoying plenty of warm, sugary treats, desserts like butter tarts, Nanaimo bars, pouding chômeur, pets de sœurs, tarte au sucre, and beaver tails (to be clear, that's Canadian for fried dough), to list just a few. In the hot, sweltering summers, cooler sweets like saskatoon berry pie, flapper pie, and the orange and licorice "tiger tail ice cream" are popular ways to beat the heat up north. I'm sure none of this is what the White-throated Sparrow has in mind as it belts out its song about sweet Canada, but it's nice to be reminded of such refreshments during a long, invigorating morning of spring birding, nonetheless.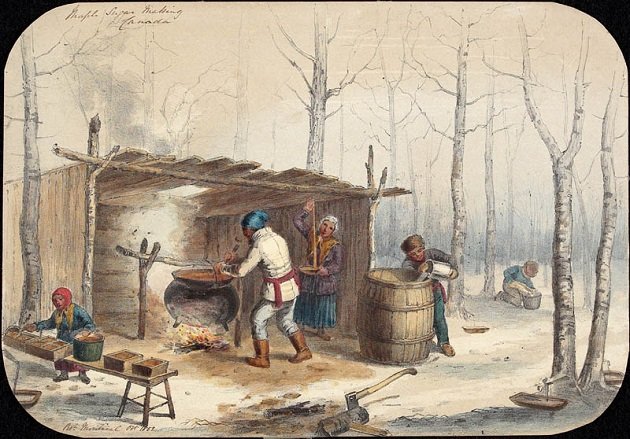 "Oh, sweet Canada…"
Sugar Making in Montreal, October 1852 depicted by Dutch-Canadian painter Cornelius Krieghoff (1815-1872).
It's prudent, however, to balance all that sweetness every so often with a taste of something a little bitter. Something like an amaretto might do the trick, a traditional Italian nut liqueur whose name literally means "a little bitter". Poor amaretto is often overlooked these days, a dusty bottle at the back of the liquor cabinet perhaps best remembered by some readers as a source of painful high school hangovers, never to be touched again. It's an unfortunate reputation, but happily, a new generation of spirit producers are having another look at amaretto, playfully imbuing this old Italian warhorse with fresh and local flavors, often far from its Italian homeland. Such is the case with this week's feature, a Quebecois interpretation of a classic amaretto, tinged with a bit of Canadian sweetness: Avril Amaretto Québécois from Distillerie Mariana, produced in collaboration with Les Spiritueux Iberville.
Located in Louiseville, Quebec, Distillerie Mariana is named for the black spruce (Picies mariana), which in turn takes its name from the Virgin Mary, possibly on account of the tree's bluish leaves, the color in which she is traditionally portrayed. Notwithstanding Quebec's deeply ingrained Catholic culture, all devotion implied here appears reserved for the black spruce, a widespread native conifer found in all ten of Canada's provinces. Founders Jean-Phillippe Roussy and Jonathan Couturier grew up in Gaspé, the rugged, wooded region of seaside cliffs and mountains where the Saint Lawrence meets the sea, and the spirits they now make at Distillerie Mariana evince a deep reverence for the native forests of Canada, playfully employing a veritable backwoods pantry of foraged, boreal botanicals to imbue classic liquor recipes with a distinctly Quebecois terroir.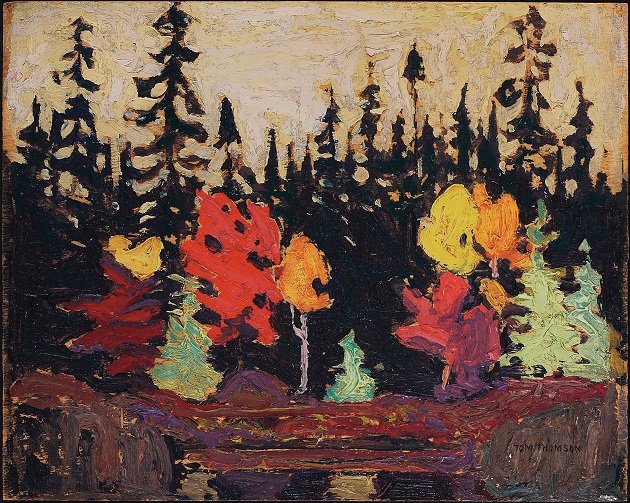 Black Spruce and Maple (1915) by Canadian painter Tom Thomson (1872-1917).
The original amaretto from the town of Saronno in Lombardy was made from bitter almonds, a variety that contains potentially lethal doses of prussic acid requiring careful treatment. But these days, amaretto is just as likely to be infused with the stones of other drupes, like apricots and peaches. On its label, Avril acknowledges maple and roasted "forest chestnuts" as distinctly Canadian ingredients, while other sources suggest the use of balsam fir and apricot pits as well. The identity of the "forest chestnuts" remains a mystery for now, but the nuts of several native trees of Canada produce likely candidates for use in a Quebecois amaretto: the nearly vanished American chestnut, the American beechnut, shagbark hickory, butternut, black walnut, as well as more familiar oak acorns and pine nuts.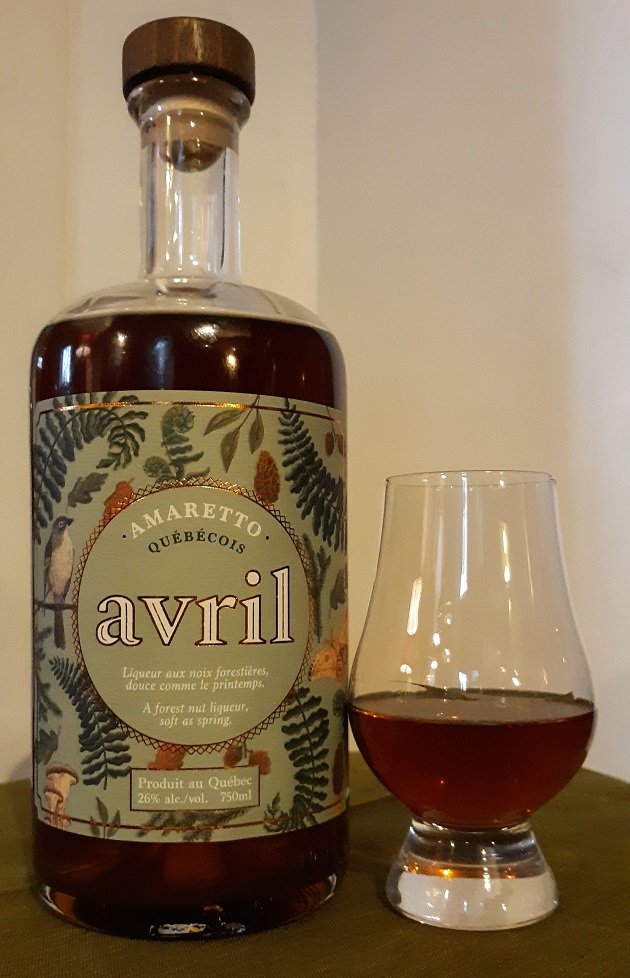 Whateverer its secret ingredients may be, Avril Amaretto Québécois provides a distinctly Canadian take on the classic Italian amaretto recipe, perfect for mixing into cocktails like the timeless amaretto sour, or for sipping as rich and warming digestif or nightcap. Avril is a deep, burnished copper, thick and treacly in the glass. The unmistakable aroma of almonds abounds, along with sweet nutty, notes of shortbread and vanilla-laced cake icing, a woodsy, almost smoky dose of maple syrup, and light, sprucy hints of citrus. The palate is full of marzipan, brown sugar, maraschino cherries, warming spices – and in keeping with the name – the mildest stone fruit bitterness in the finish.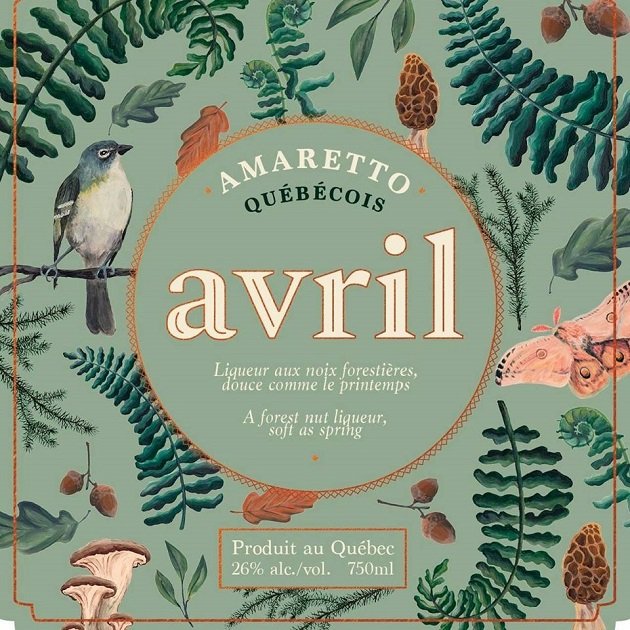 Lastly, the hand-painted label that adorns Avril is an absolute delight. Befitting its name – "April" in French – celebrates the rebirth of spring with some of the iconic flora and fauna of the Canadian forest. There are acorns and oak leaves, spruce sprigs, bracken ferns (both mature fronds and fiddleheads), morel mushrooms, a spectacular cecropia moth (Hyalophora cecropia – North America's largest) with fuzzy red feelers, and one bird – a Blue-headed Vireo (Vireo solitarius). It could've as easily been a White-throated Sparrow instead – both sparrow and vireo are often found nesting in the same forests – but perhaps Distillerie Mariana didn't want to oversell the sweetness of this "little bitter" amaretto. Oh, sweet Canada indeed.
Good birding and happy drinking!
---
Distillerie Mariana: Avril Amaretto Québécois





Four out of five feathers (Excellent).