On the fourth and final day of field trips for the Mesoamerican Birding Festival I was seriously psyched: I was going to a cloud forest!  The cloud forest in Santa Barbara National Park, to be precise, and I had visions of Resplendent Quetzals dancing in my head.  And what birder wouldn't have visions of a bird with "resplendent" in its name?  The hour-long drive to the preserve was a mere nuisance that would soon give way to a muddy hike and wonderful birds.  On our drive to the park, someone mentioned the lack of traffic coming towards us on the same road.  It was a mystery until we arrived at a line of trailer trucks idling in front of us and learned that the road had suffered from a landslide the night before and would be impassible for hours.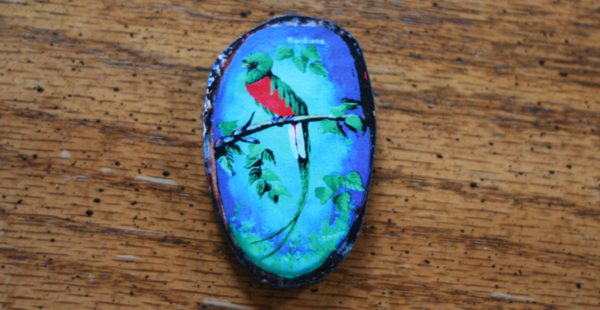 So ended my dreams of seeing a quetzal on the trip to Honduras (10,000 Birds has had a rather poor run where quetzals are concerned).  The Santa Barbara trip was the only time we were scheduled to be in a cloud forest and one is not very likely to see the species without also being in its habitat.  Sigh…but the indefatigable Robert Ridgely, our trip leader, improvised once we got turned around.  We stopped at the Agua Azul hotel to take an attempt at luring Ruddy Crakes from the marshy area there with tapes, but bombed on that effort for the second day in a row (we had tried on the way back from the Finca El Paraiso trip).  The crakes responded but would not show themselves so I spent some time becoming better acquainted with a Chestnut-headed Oropendola instead.  And what a bird is the Chestnut-headed Oropendola!  Members of the icterid family, like blackbirds, orioles, grackles, and cowbirds, they are truly a magnificent species to see and it took quite some to get accustomed to seeing them in flight with their yellow tails trailing (to say nothing of how loud the wind in their wings is).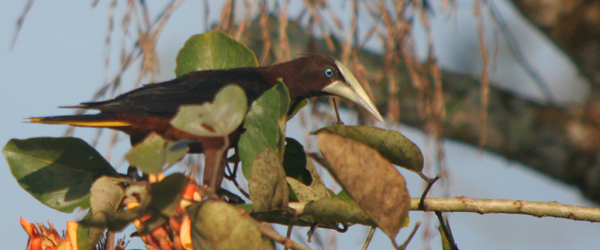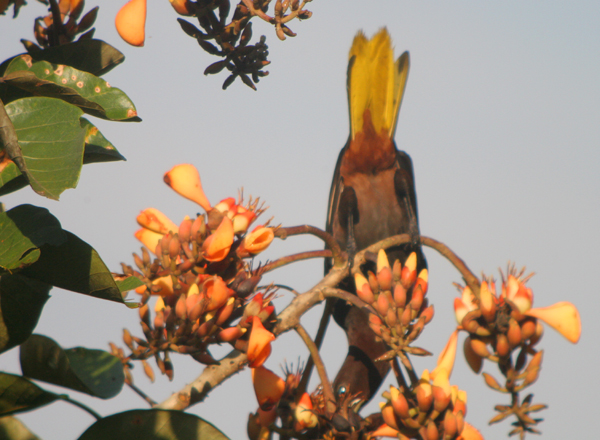 Once everyone had given up on the crake we made the decision to return to Cerro Azul Meambar National Park where we had all enjoyed the hummingbirds and other birds earlier in the festival.  This time, though, we decided that instead of hiking down from the parking lot we would hike up and try our luck at finding everyone's third motmot species of the trip, the more retiring Keel-billed Motmot.
Before reaching the park proper, however, we stopped along the entrance road to see what birds we might find in the area around the small lake created by a huge earthen dam.  It turned out to be a great stop!  In addition to the expected species we saw a Short-tailed Hawk (lifer) soaring, a flock of Green Jays (lifer) moving through the forest, a distant perched Pale-vented Pigeon (lifer), a Violacious Trogon (lifer), and a Sungrebe (lifer) swimming away across the lake.  In addition to the beauty of life birds we also had the beauty of the lake itself.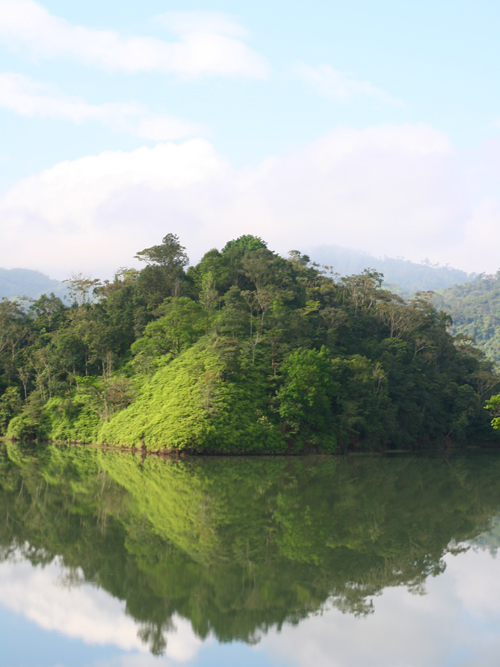 Once we got to the park there was a bit of time while people got their gear together, used the bathrooms, and just generally milled about the area.  I decided to head up the trail we were going to take a little way and see what I could find before everyone else crowded the narrow rain forest trail.  Was I ever glad I did because I came across a mixed flock of foraging birds that included my first ever Golden-Olive Woodpecker, Sepia-capped Flycatcher, and Tawny-winged Woodcreeper, to say nothing of the accompanying warblers and tanagers.  Once the rest of the group caught up we moved on until the sounds of Golden-crowned Warblers were heard.  They were taped in and everyone got pretty good looks at what was another life bird for me!
As we continued up and up and up on switchback after switchback after switchback the difficulties of birding in a group on a narrow trail in the rainforest became more and more apparent.  One birder might have a clear view of a bird through a window in the foliage that was blocked for everybody else.  As the group becomes strung out based on people's hiking speed and interest (or lack of interest) in various plants, bugs, and what-have-you it becomes more difficult to communicate what is being seen.  And it is not as if one can just yell "Hey I have a Gray-chested Dove!" because that would scare said dove away and no one would get to look at it.
Eventually on our upwards hike we came upon an old tower in rather poor condition.  A couple of us dared to climb it, despite the rather obvious holes and rotten spots.  But when we reached the top the view was marvelous!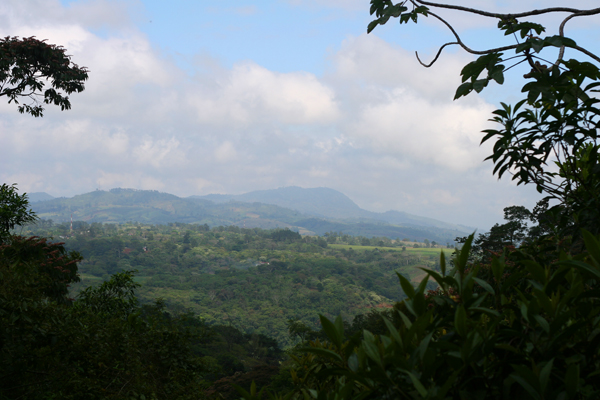 On we went, continuing to gain in elevation, until, eventually, a distant "mot" was heard (at least, that is what it sounded like to me, though one field guide describes the call as a "Nasal, ringing ohnng").  Immediately the excitement level of the group rose as adrenelin was released at the announcement, by those who knew, that we had just heard a Keel-billed Motmot.  A tape was played, and the bird responded!  It sounded like it was still up above us quite a ways so we moved up another switchback and heard the bird again.  At this point, with the bird so close and the trail so full of fellow birders, I found a spot to put the scope down until we got a good look at the bird, so I could stop worrying about accidentally bashing people with the tripod.  Of course, it ended up taking two more switchbacks before we realized that we were hearing two birds, and then Byron, a wonderful birder who works for Nature Trek, spotted the Keel-billed Motmot high up on a bare branch.  Everyone got good looks, but there was no way I was going back down two switchbacks to get the scope and lug it back up.  Heck, I was afraid the bird would take off at any second and I wanted to enjoy seeing the thing!  And, to be honest, while the Keel-billed Motmot is inherently cool just by being a motmot, it is not in any way more cool than other motmots, so it is no great disaster that there is no picture to share (or so I rationalize anyway).
The walk back down to the parking lot was relatively uneventful, though we did spot a couple more species.  What was amazing to me was that I had been at Cerro Azul Meambar National Park exactly two days earlier and had seen many different species on each trip…and it makes me wonder what a third visit would turn up!  Such is the advantage of birding large chunks of relatively undisturbed rainforest habitat.