Adam Cairns is a photographer, writer and poet. He is returning to the UK after a four year spell in Qatar, in the Middle East. He posts photos and descriptions of the birds he finds on his blog, Birderlife. This is Adam's first contribution to 10,000 Birds.
I was studying a row of Black-winged Stilts on the edge of the concrete rimmed reservoir when a shadow flickered overhead. I watched, my heart hammering as a large, pale-coloured bird swept over the water and swung its legs downward to meet the surface. It was hard to take in. An Osprey had just taken a fish, here in the middle of the Arabian desert.
Qatar is a small desert state in the Middle East and it's hot, with summer temperatures above 50 degrees Celsius. It is the only country in the world with no natural standing fresh water. But there are locations where water can be found, such as on Irakaya Farm, an oasis of green in the otherwise dry and inhospitable desert. Large, circular reservoirs of grey water from the water treatment plant feed gigantic automated irrigation booms that trundle slowly over the entire landscape. This has created a scene that most closely resembles a steppe, with kilometres of lush, green fields that in the months between September and May each year are filled with butterflies and other insects and birds. Lots of birds.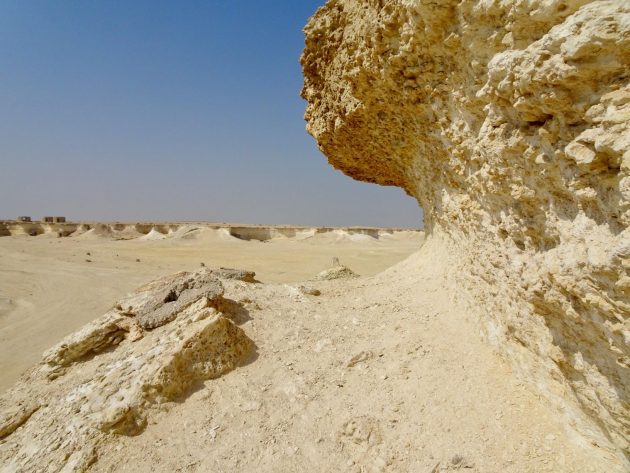 In fact, jutting out into the Persian Gulf, Qatar's peninsular provides an important sanctuary for many migrating birds. Remarkably, the Qatar bird list stands at well over 200 birds. Irakaya Farm is one of the best locations for birding in Qatar. There are no grazing animals and the fields are visited by many interesting birds. Greater Hoopoe Lark, Marsh and Pallid Harrier, Desert and Isabelline Wheatear, Southern and Woodchat Shrike and Green, and European Bee-eater are just some of the interesting birds that can be found here.
I watched the osprey alight on the roof of a nearby pumping station, it's plumage ruffling in the hot wind. After a few minutes it took off and circled above the reservoir before swooping in for another attempt. It then flapped away toward the horizon and I decided to follow it. Birding in Qatar is usually done from the car, the temperatures simply too hot for anything else. I gunned the engine and the four by four bumped over the track as I made my way over the stony terrain towards the place where the osprey had vanished from view. After a few minutes I saw what looked like a bird on top of a distant pylon. I raised my binoculars and was happy to see it was the osprey.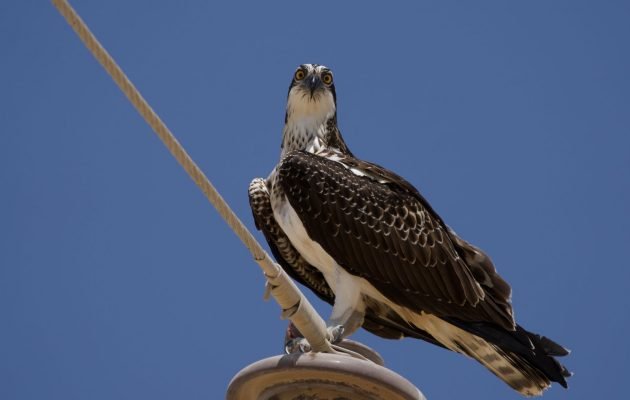 Over the next twenty minutes I gradually crept closer, until with the aid of a 600mm lens in crop mode, I was able to get some close-ups of it feeding. An osprey is always an exciting bird to see. Its pale plumage and piercing yellow eyes are very distinctive. But seeing one here, deep in the desert was a heart stopping moment.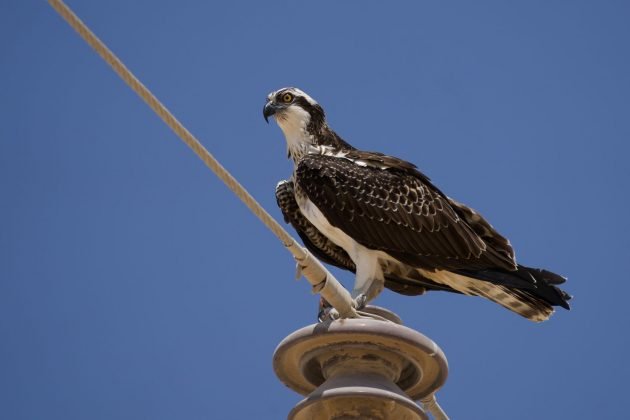 People go birding for many reasons. For me, it is a soothing antidote to the static of an always on, hyper-connected world. Usually, I'm left feeling calm and relaxed after a day out.
Not today.