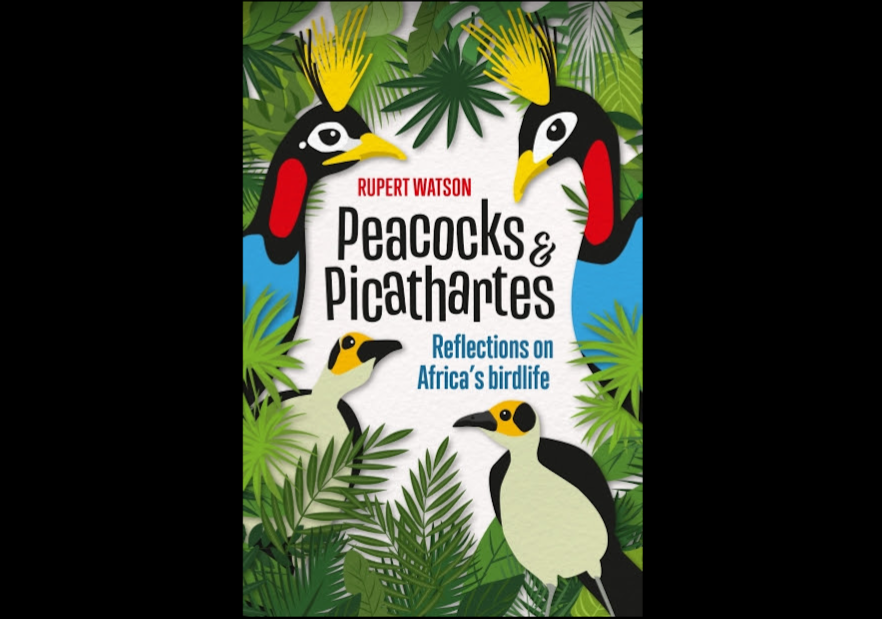 When was the last time you chose a book by its covers? I did that with Peacocks & Picathartes – Reflections on Africa's birdlife (published by Penguin Random House South Africa). In case you didn't know, yes, there is an indigenous peacock living in Africa, the Congo Peafowl. And apart from local people, primate researchers sometimes spot it, but it is a species seen by fewer than ten living birders.

This book is essentially about those birds that breed on the continent south of the Sahara, a topic few birders are familiar with. A few years ago, in the American Birding Association FB group I posted a question: Where would you go if funds weren't a problem? A lot of destinations were mentioned, with Central and South America leading the way, New Guinea, Indonesia and Australia appearing only at the middle of the list, and African countries (South Africa, Kenya, Tanzania and Madagascar) lagging at the end of the list. 

But to conclude that birders aren't interested in Africa would be a mistake: most birders know very little about Africa. Several answers were "Africa", but I did not take them into consideration because I was dealing with countries and Africa is an entire continent consisting of more than 50 countries. Simply, many birders liked the idea of birding Africa but did not know enough to choose a single country (or two neigbouring countries, such as Malawi and Zambia).

Peacocks and Picathartes's author, Rupert Watson, was born in England but has lived in Kenya for over 40 years where he practices variably as a lawyer, mediator, naturalist and writer. His work has taken him to many parts of Africa, providing every opportunity to indulge his lifelong fascination for birds. He has authored several other books and many articles, largely on natural history.

As Watson has put it in the Chapter 1, "while the focus of this book is on families of African birds, there are a few individual species that have somehow come to epitomise Africa, even though they have relatives elsewhere, and commentaries on these appear too. Some are incredibly rare and hard to find. The revelation of the Congo Peacock to the ornithological community is one of the greatest bird stories of the twentieth century… Other birds are included for the very reason that they are extremely well known.

"Madagascar, however, is beyond the reach of this book, notwithstanding its also being part of the Afrotropical region."

Apart from the geographical scope of his writings, Watson also comments on evolution and species movements: "…of about 130 species of true sunbird, over 90 occur only in mainland Africa or surrounding islands, most of the rest in the Indomalayan region, with only one, the Olive-backed Sunbird, crossing Wallace's line between the Indomalayan and Australasian regions, and making it to Australia.

"However, while Australasia is considered the home of early passerine ancestors, the real diversification of passerines occurred once they had spread away from their ancestral homeland. So, could sunbirds actually have evolved in Indomalaya and spread west into Africa?"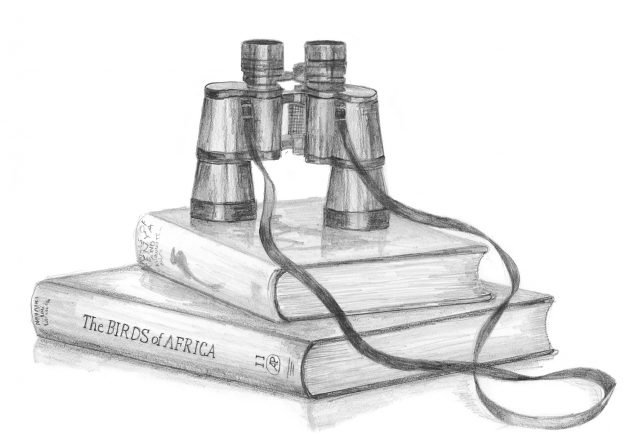 The rest of the 216 pages long book is devoted to various African bird families and half a dozen individual species. Since I already mentioned the mythical Congo Peafowl several times, allow me to extract good portions of the Congo Peacock chapter:

"In 1913, young American ornithologist James Chapin was exploring the then Belgian Congo with a zoological expedition from the American Museum of Natural History (AMNH). Near Avakubi in the Ituri forest in the northeast of the country he spotted one of its inhabitants wearing a traditional headdress adorned with a distinctive brown banded feather. Curious as to the plume's origins, the American immediately asked if he could keep it.

"Among the 23,000 vertebrate specimens collected by the six-year expedition were many birds, but on returning to New York two years later, it became clear that none of their skins sported a feather remotely like the one Chapin had acquired.

"From 1923 to 1948 Chapin served as associate curator of ornithology in the AMNH. His employers were magnanimous in granting him time to research what was to be his magnum opus, published over the course of 20 years – the four-part Birds of the Belgian Congo. In 1936 his research took him to Belgium's Tervuren Museum where, while poking around unlabelled specimens, he unearthed two large, bedraggled stuffed birds. They had little tufts on their crown, and an almost bare throat, with much bluey-green plumage that had once shone with iridescence but was now dulled by time and dust. Records showed them to have been presented to the museum by the rubber-trading Kasai Company in 1914. Victims of the staff's ignorance, the specimens had then been consigned to obscurity – the inevitable fate of exhibits for which no scientific description existed.

"But Chapin saw at once that the brown secondary feathers of the female bird, flecked with distinctive black markings, perfectly matched the anonymous feather he had carefully preserved since collecting it from the Avakubi headdress over 20 years earlier.

"The following year, having tested his employer's indulgence still further, Chapin was back in the Congo, where, from a forest mining camp east of Stanleyville (now Kisangani), he succeeded in obtaining several specimens of what he was to name the 'Congo Peacock' (Afropavo congensis, and now also known as the Congo Peafowl). As a member of the Phasianidae family (like the much more recently discovered Udzungwa Forest Partridge), the bird would rightly have belonged in Part I of his great work; but this had already appeared in 1932, so it had to wait until Part IV emerged in 1954 to be included in an addendum of 'Additional Species of Known or Probable Occurrence' (although a splendid illustration by bird artist G.E. Lodge provided the frontispiece for Part II).

"'That the Congo Peacock should escape notice for so many years is still a cause for wonder' is how Chapin opened the species description, and 30 years later the authors of BoA [Birds of Africa] endorsed his opinion. They considered that 'the discovery of Afropavo was one of the most sensational ornithological events of the 20th century, not merely because such a large and conspicuous bird had eluded discovery in an area reasonably well surveyed ornithologically, but also because of the implications of its probable Asiatic affinities'.

"Common sense dictates that, despite its name, the peacock's closest relatives should also be in Africa, and therefore are most likely to be the guineafowl, which are endemic to the continent. Nevertheless, Chapin held out against both common sense and much scientific opinion, concluding that 'it is more closely allied to the true peacocks than to any other genus of Phasianidae, and we fail to see that it shows any tendency to approach the guinea fowls, as has been suggested by others'. DNA analysis now shows Chapin's conviction to have been fully vindicated, while at the same time raising a host of questions about the peacocks' common ancestors and their distribution at a time when both the map and climate of our planet were very different from those of today."

I am skipping a good portion now, where Watson explains how he heard the peacock, but failed to spot it:

"However, there is an ornithologically successful postscript to this story. In September 2015 a group of eight intrepid bird watchers linked up with the African Wildlife Foundation and arranged for a 10-day stay in Yemi [DRC]. Day after day went by, with much sound but no sight of the peacocks. Then, a week into their stay, returning in the dark from a visit to the bonobos, three of the party found, and photographed, a roosting female some 10 metres up in a tree. Not only that, but she stayed there long enough for the three to return to camp, collect up the rest of the incredulous group, and bring them all back to enjoy the sighting for themselves."

Watson's style is dry and highly informative, the kind I would expect of, let's say, a colonial army officer with a penchant for natural history. Therefore, I did not feel like describing the book when the author did a great job himself.
I'll finish with a recent communication: a friend of mine told me that she booked a bird tour of the Okavango Delta in Botswana (the Pantanal of Africa), and asked if I think she should get a copy of Peacocks and Picathartes?

Yes. Most definitely so.