As loyal 10,000 Birds readers know I love visiting my folks' house. Not just for their company, which is wonderful, but also to catch up on the birds visiting their marvelous array of feeders which I lack in my urban apartment complex. One of the things that keep the birds (and the squirrels) coming back is my Mom's delicious homemade suet. Well, delicious for critters anyway, but maybe not-so-much for people…
See, it seems that my younger brother's fiancée, Shannon, had a hankering for a late night snack recently. She went into the garage (where my family stores stuff they want to keep fresh during the cold months, it has never been used for storing a car) and found a pan of peanut butter fudge with chocolate chips in it. Talk about enticing! She broke off a nice chunk and was she ever surprised when she realized it was not actually fudge but peanut butter suet. What she thought in the dim light of the garage were chocolate chips were actually sunflower seeds. So, if you decide to make your own suet either label it clearly or put it somewhere where food is not normally stored.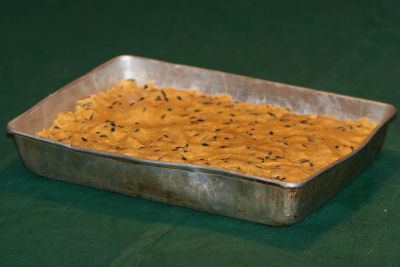 It does look tasty though, doesn't it?
I wish I could say that the suet recipe is a long-held family secret, passed down through generations of bird watchers since time immemorial so I will (let's just all pretend that my mom never googled suet and tried and modified the recipes she found until she stuck with this one). I promise it will work as well as Julie Zickefoose's famous recipe.
Homemade Peanut Butter Suet
Melt 1 cup shortening.  Add 16-20 ounces of crunchy peanut butter. Heat and stir until melted.
Add 1 cup of raisins, 1 cup of black oil sunflower seeds, 6 cups of cornmeal and 4 cups of flour.
Spoon into a 13X9 pan. Chill until it is hard. Cut into chunks for suet feeders (or stuff into cracks and crevices in logs).
People might not like it, but do birds?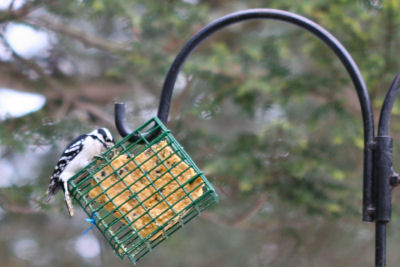 Downy Woodpecker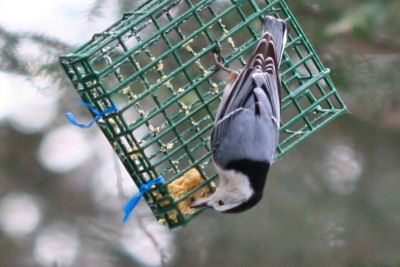 White-breasted Nuthatch getting the last bits
So go ahead, make some suet, the birds (and squirrels) will thank you and it makes a great prank to feed it to people!