Thanks to the good, generous folks at Houghton Mifflin, we had two copies of the exciting new Peterson Field Guide to Birds of North America to give away. There was an easy way and a hard way to win. We already announced the winner for the former. Now let's talk those canny, courageous souls who chose to do it the hard way, which is to say identify as many of the 32 birds on the Peterson Roadside Silhouette plate.
This contest was tough! Only seven of you even hazarded guesses and I salute every one of you. For those of you who played along at home, here are the plates along with the answer key: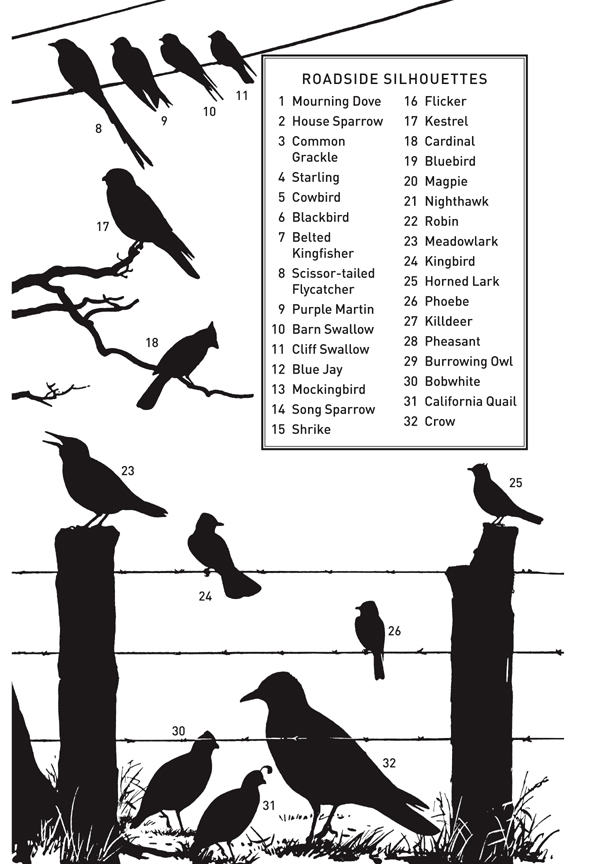 Believe it or not, one participant actually guessed every one accurately. David Ringer, living up to his surname, submitting a flawless list, even going so far as to identify bird #23 as the rare and elusive Lilian's Meadowlark of the Texas Trans-Pecos region. OK, maybe that last part isn't true but David did get every single bird right. Well done! However, David chose to participate in a non-competitive capacity, hoping that the Peterson Guide would go to someone whose library may not be as extensive as his.
So, Don Mitchell, how is your library? With a magnificent 26 out of 32 birds correct, you have truly earned your free copy of Peterson Field Guide to Birds of North America! Congratulations to you and the rest of our brave bird watching participants.
As an interesting aside, certain silhouettes caused greater consternation than the rest. For example, very few people could place the shadows of such common birds as House Sparrow, Song Sparrow, or American Robin! The outlines of Cliff Swallows seem very similar to those of Tree Swallows. Last but not least, many contributors pointed out that California and Gambel's Quail are virtually indistinguishable in profile. Considering how well you all did with these plates, I believe you.