After leaving Point Lookout behind Will and I decided to head up to a pond next to St. John's Episcopal Church in Cold Spring Harbor, NY, on the north shore of Long Island. The day before a Eurasian Wigeon and a Greater White-fronted Goose had been reported there, both of which would be lifers for us. Well, the Eurasian Wigeon would be half-a-lifer for me since I did see the hybrid below last month.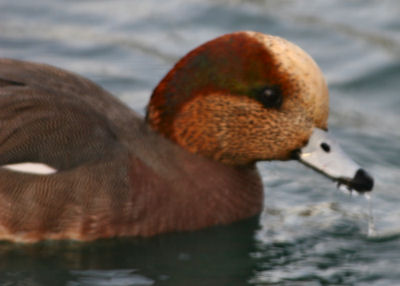 hybrid wigeon at the Temecula Duck Pond, Temecula, CA
But again we were denied, as even a church pond's holy water did not hold our target species. We did, however, see Canvasback, Redheads, Mallards, Canada Geese, Mute Swans, American Wigeons, Ring-necked Ducks, Ruddy Ducks, Common Mergansers and Gadwall. Not a bad waterfowl haul. After a stop for a very late and much-needed lunch we were off to Piermont.
Mike had given us directions that were right on the money and when we parked at the end of the long pier (really more of a man-made peninsula jutting far out into the mighty Hudson River) we saw a binocular-toting woman on her way out. "Is it there?" I asked, not needing to explain what "it" was.
"Yes," she replied, and we were off.
We quickly found the owl, not through diligent searching, but by looking where the seven other pairs of binoculars were pointing. It wasn't as close in as it had been for Mike, but it was a Snowy Owl, and closer than my only previous view of one north of Plattsburgh late last year. It was so far out that to show you the picture would be an embarrassment, so instead, here is a picture of its not-quite-completely-eaten lunch, an unfortunate American Coot.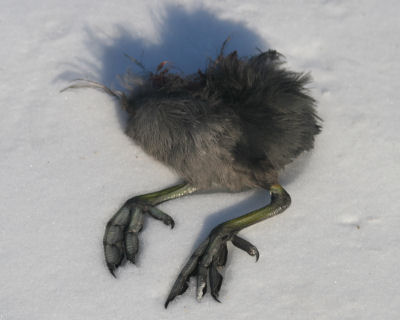 I know, I know, it is kind of a sad picture, but what I do in such situations is think of the Disney animals singing "Circle of Life" and I find I get over it. And I also restrained myself from posting the picture of the non-tasty internal organs of the coot that the owl had discarded.
Though the owl was the star of the show we still had to see what else was out there. More Canvasbacks, Buffleheads, Mallards and Canada Geese were joined by our first Common Goldeneyes of the day. When we returned to the owl-watching crowd they informed us that the owl had flown the coop, so to speak, and went off to hunt in the riverside marsh. We waited round hoping for the owls's return for a bit but thoughts of our two-hour drive home got us moving.
On the way back Will spotted a roadside Great Blue Heron and we both saw a small flock of Cedar Waxwings, bringing our day list to 55, not bad for mid-February.