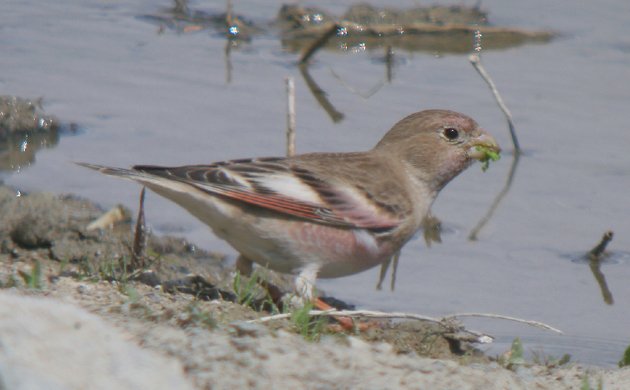 You can't really talk about pink birds without talking about pink finches. For some reason the Fringillidae, as the finch family is called if you want to be highfalutin, frequently tend toward pink. Not that I'm complaining! To the contrary, I love spotting a pink finch, and the more out of place I am or the bird is the happier I am about it!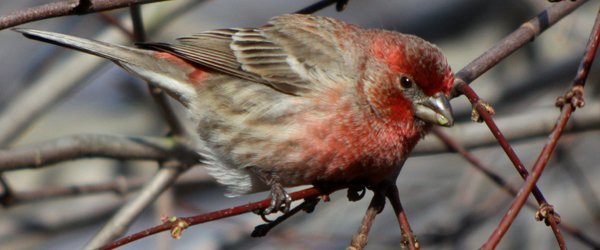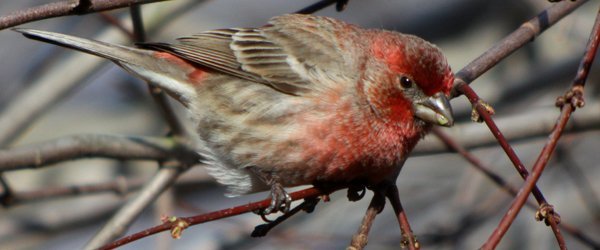 House Finch
Though its native range in the United States was just the southwest, the House Finch is now the most familiar pink finch in North America. It is rarely described as pink despite much evidence to support its place among the pink finches. Just look at the picture above of one eating a crab apple. How could that bird be called anything but pink? I am sure it was the first pink finch that I saw but, tainted by field guide descriptions, I never really considered it a pink finch until I stopped to think about as I wrote this blog post.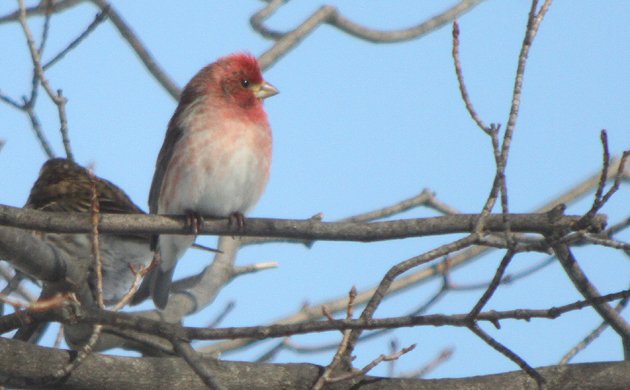 Purple Finch
Purple Finch, which are far too-often confused one way or another with House Finch, are completely misnamed. Not only are they not purple, but the field guides almost invariably describe their coloration as "raspberry." Raspberry? Try pink! Purple Finch was the second pink finch that I saw though, once again, I never really realized that they were pink until now. It is amazing what words in a field guide can do to your senses.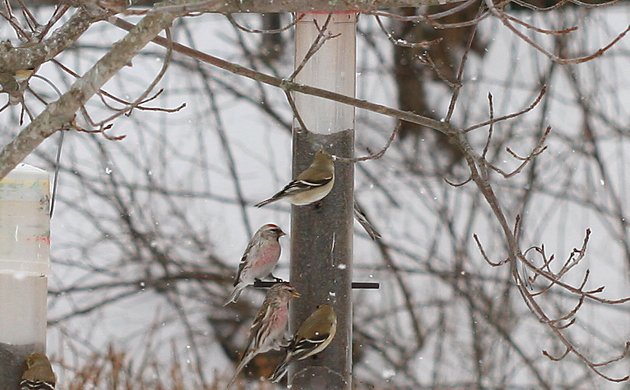 Both of our redpoll species, Common Redpolls and Hoary Redpolls, have nice pink coloration. I spotted my first Common Redpolls way back in February of 2006, when I had been birding for less than a year and was still living in Albany, New York. I had to wait two more years and go out of my way to finally spot a Hoary Redpoll, the first pink finch I had to go out of my way to see. Both species are wonderful birds and every winter I hope that it will be an irruption year so that I can spot redpolls again.
It took a trip to Kazakhstan to see more pink finches. On a single wonderful day to the semi-desert of eastern Kazakhstan I added two pink finches to my life list, the Mongolian Finch at the top of this post and the Desert Finch above. Though both birds are actually mostly brown the pink on the wings and their sheer awesomeness qualify them for inclusion in the pink finch family. Someday I hope to go back and add Trumpeter Finch to my Central Asian pink finch sightings.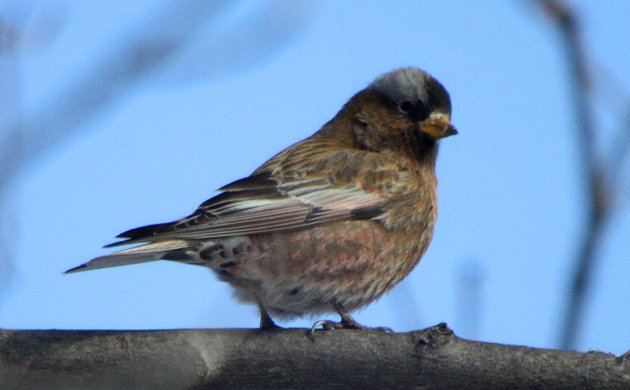 Though the Kazakhstan sightings are up there in terms of my favorite birding experiences my favorite pink finch sighting is a Gray-crowned Rosy-Finch. I put lots of effort into chasing one that showed up at the top of a mountain in New York in December of 2011 and dipped it. That made the second to show up in New York, in March of 2012, very important for me to see. The long round-trip to northern New York was well worth it, and I finally checked one of the three North American rosy-finches off of my life list.
What about you? What pink finches have crossed your path? And what pink finches would you like to see?
…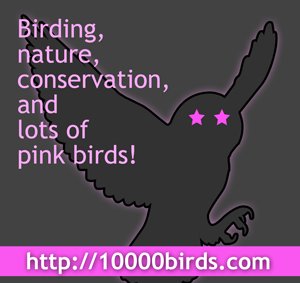 It is Pink Bird Weekend on 10,000 Birds! Whether we are discussing birds shaded roseate, fuchsia, rose, coral, salmon, blush, or just plain pink, we have them all covered on Pink Bird Weekend. Why would we bother with such an esoteric topic? To put it simply, pink birds are awesome! Think about it, have you ever seen a pink bird and not wanted to see it again? Of course not! Make sure to check back all Pink Bird Weekend long as we delve into every possible pulchritudinous pink bird we can think of…