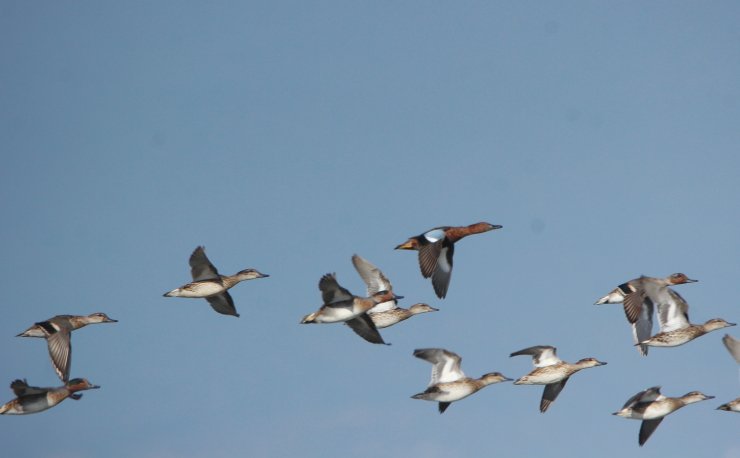 In C.S. Lewis' Chronicles of Narnia, one of the many fantastic characters is a rather human-like frog creature named Puddleglum. Puddleglum is an endlessly pessimistic, though kind-hearted, ally to the story's several heroes. By the end of the series' fourth book, The Silver Chair, he has himself become a reluctant hero.
Puddleglum could also describe my mood last week as I drove north from Morelia to Lake Cuitzeo. Would the vast lake's mudflats be wet, or bone-dry? Would the western half of the lake, which received a fair amount of rainfall during our summer monsoons, but no runoff from rivers, still have water? Would it still be deep enough for the ducks that prefer that half? Would there be enough deep water to see Ruddy Ducks and Clark's Grebes? Would this be my last chance to see many waterfowl and shorebirds, before further drying eliminates their habitat?
The answers to these questions turned out to be: There are still workable mudflats, but farther into the lake than normal. The western half still has enough water for some shorebirds, but the thousands of ducks I would usually see now number in the dozens. I saw no resident Ruddy Ducks, or Grebes of any kind, and do not know where they have gone. The western half of the lake will probably be dry before January, but the eastern half is still receiving enough runoff to be deeper than on my last visit, though not enough to spill over into the western half.
Unlike in September, when I last visited the lake, my six hours there yielded no Fulvous Whistling- or Mexican Ducks, Snowy or Semipalmated Plovers, Least Sandpipers, or Gulls and Terns of any kind. Nor did I see any Green Herons, or Least or American Bitterns. These species should all be slam-dunks for Lake Cuitzeo in the fall. Puddleglum indeed!
On the other hand, I was not at all surprised that the Baird's, Pectoral, and Stilt Sandpipers had moved on to their more southerly wintering grounds. That was to be suspected. But where do our usual winter residents go when dry years change their habitat? How I wish I knew.
Still, what is bad for one species may be good for another. There were still plenty of American Avocets and Black-necked Stilts, since they like feeding in shallow water. And the Dowitchers! I have never seen so many Long-billed Dowitchers in a single visit!
Long-billed Dowitchers in flight…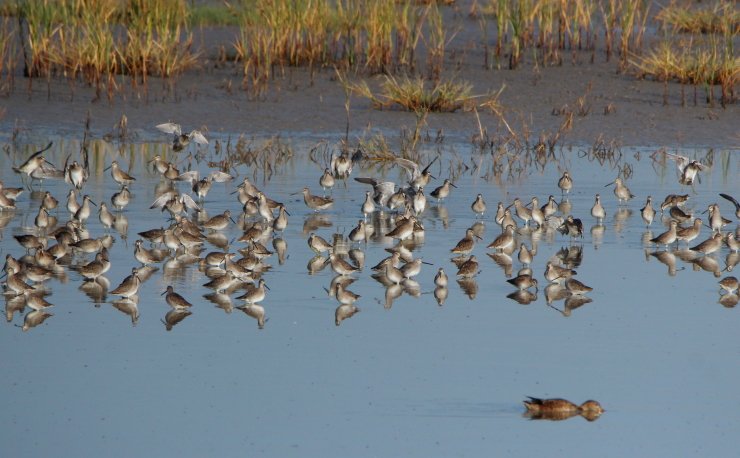 …and standing in the shallow water.
Teals seem to be less affected than the usually massive populations of Northern Shovelers and Northern Pintails, with the beautiful Cinnamon Teals being especially visible.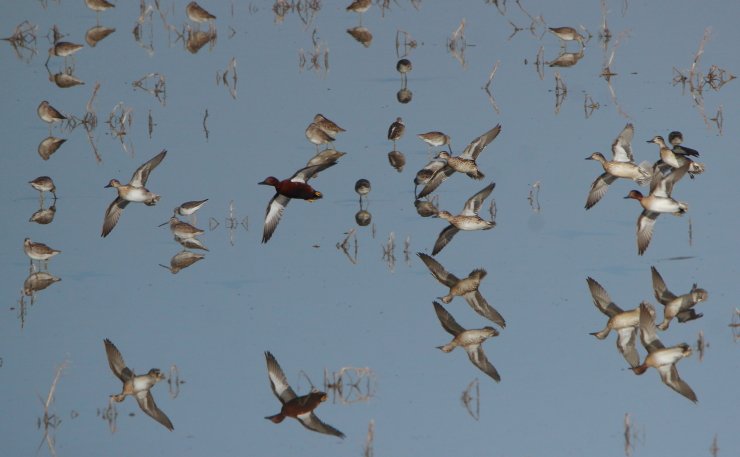 I find this image confusing, but amusing. There are only 7 Teals there; the rest are their reflections. And Dowitchers, of course.
Still, as long as the lake has some water, there will always be pleasant surprises. This American Pipit hopped onto a nearby wall as if to say "I'm ready for my close-up!"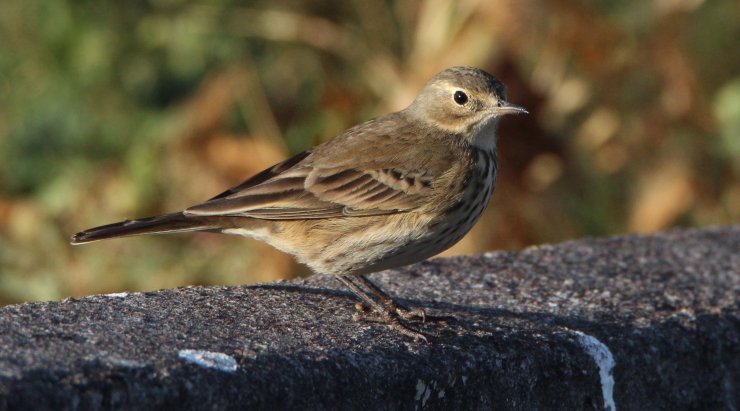 And a bit later, a Marsh Wren uncharacteristically did the same:
I see Black-necked Stilts every time I go to the lake, so I sometimes forget how fascinating this bird must be for those who cannot easily see it: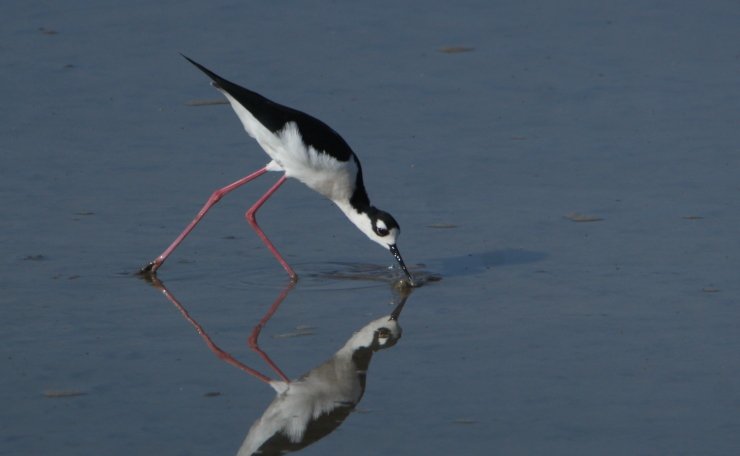 Quite a bit later, in another site, my first-of-year Vesper Sparrow turned up. I was surprised to see this normally ground-hugging bird perched in a tree: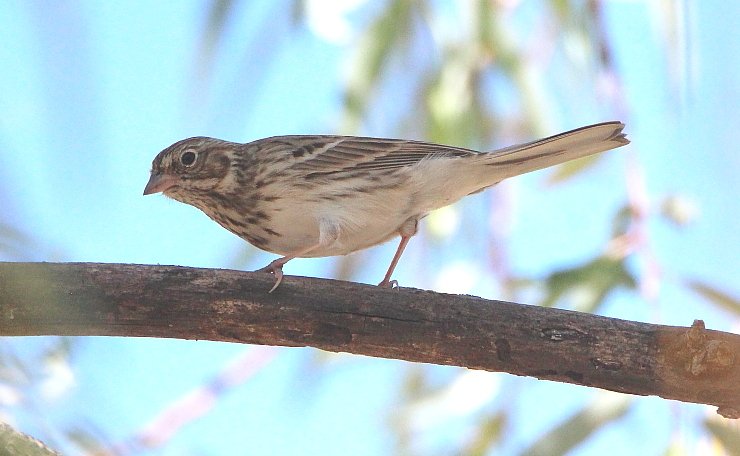 I hadn't seen any Black-bellied Plovers in almost four years, and since I read that the population of this species has been dropping, I was afraid I might not see them anymore on Lake Cuitzeo. But, as always, new sites bring new species. And by the tiny town of Capacho, where we saw many Snowy Plovers last month, it was now the turn of the Black-bellied Plovers, at least two dozen individuals! By this point the sun was at its highest point, which, along with the reflection from the water, did not allow the best photos.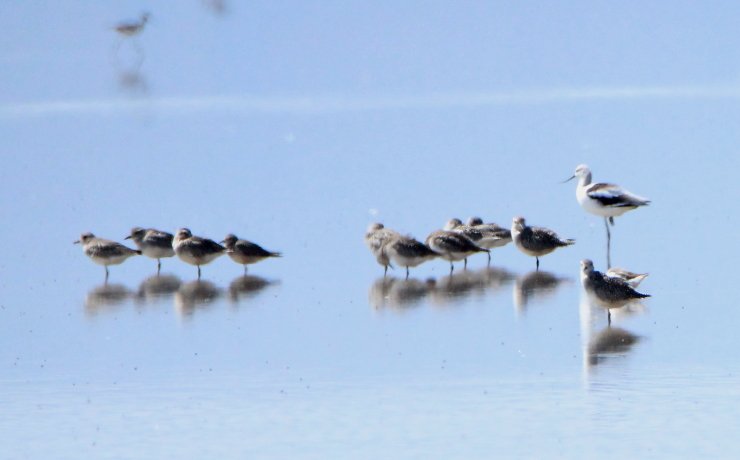 But hey, I'll take Black-bellied Plovers any time, with or without good photos!
And while I did not see any Snowy and Semipalmated Plovers this time, there were all sorts of larger and less-expected shorebirds present. The Willets and Long-billed Curlews from last month were still around. And this visit, they were joined by a pair of Marbled Godwits, which were also first-of-year birds for me.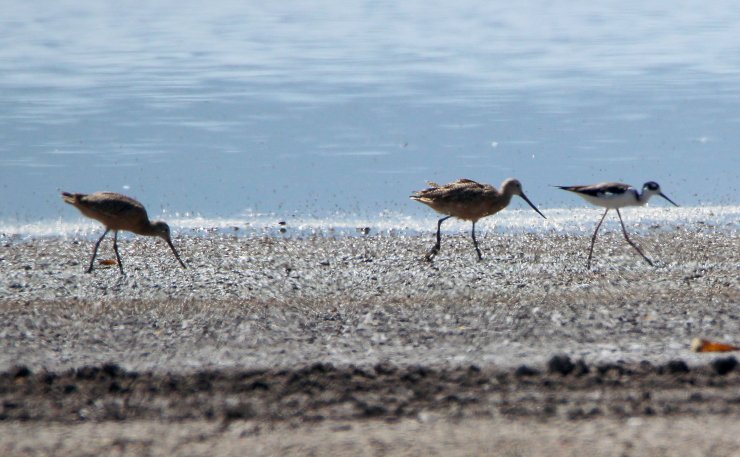 Here we are, feasting on Brine Flies!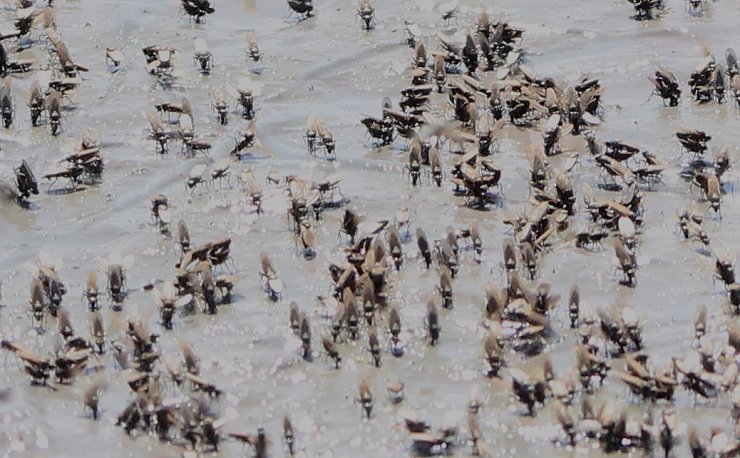 Brine Flies
Once I got home and confirmed the species I had seen, I realized that my first-of-year Godwits, Black-bellied Plovers, the Vesper Sparrow, and a couple of Dunlins have brought my total species for 2020 to 301. That means that even in this crazy year of 2020, I have seen exactly as many species in Mexico as I had at this point last year, in spite of travelling to the coast to pick up some tropical species in 2019.
So, while Lake Cuitzeo's coming dry season may be a rough one, I would say that this visit was as much puddleglee as puddleglum.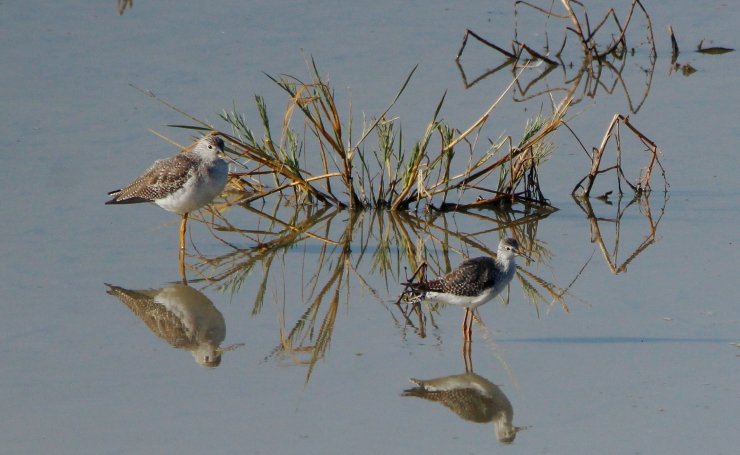 Greater vs. Lesser Yellowlegs