It was shortly after the Red-necked Phalarope that I had to make a pretty major decision. We, being Mike, Carrie, and me, had received word of an amazing array of wood-warblers in Forest Park, and were practically salivating at the idea of our first-ever Kentucky Warbler. Forest Park is only a quick drive north of Jamaica Bay, but I was on a mass transit Big Day, and Mike had a car. He was going to drive to Forest Park, of course, taking the same route as the bus I would have to take. It would be ludicrous for me to take the bus and then meet up with Carrie and Mike wherever they found parking, but I had publicly stated that I was on a mass transit Big Day. What to do?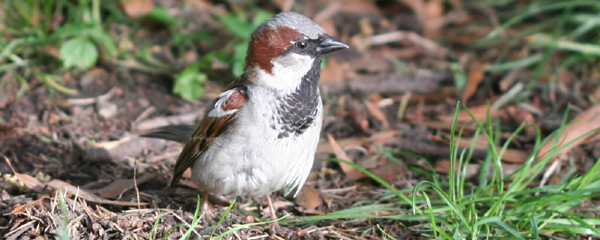 Every bird, even House Sparrows, count on a Big Day.
I got in the car. Call me evil, call me a polluter, call me a hypocrite: I don't care. I saw my life Kentucky Warbler and it was cool. It was also cool to see my 100th bird of the day, or rather, two of them, as they were a pair of circling Red-tailed Hawks high over Forest Park. Besides, I actually simulated riding on an overcrowded busby jamming myself between the two car seats in the back of Mike's car for the ride to Forest Park.
Anyway, after Mike took off, Carrie and I walked the woods near the waterhole and did not come up with anything of note. But back at the waterhole a Nashville Warbler came in to drink, and Carrie and I both got much better looks at the colorful warbler than we had previously managed. Both of us were getting hungry so we headed out of the park, stopping to find a Northern Parula and the first Chipping Sparrow of the day in the last stretch o park before we hit the streets, where we were lucky enough to hear and see a Chimney Swift as it flew by high overhead. Carrie headed to the subway and I headed home to say hi to Daisy, eat lunch, and take stock of what I still needed to see.
Both Hairy Woodpeckers and White-breasted Nuthatches had inexplicably eluded me and I was lacking a Warbling Vireo and Northern Flicker as well. My back hurt from lugging my bins and backpack all morning and I was faced with a grueling afternoon that would involve three buses and a whole lot of walking. An egg salad sandwich, some Heineken, and some Tylenol prepared me for the second half of the Big Day, the half where new birds are few and far between and exhaustion starts to make one wonder why one is doing a Big Day. But I dutifully climbed on a bus and headed east on Union Turnpike to Alley Pond Park to try to add to my tally of 111 birds that I had seen so far for the day.
Forty-five minutes of exploring the forests and ponds of Alley Pond Park later and I had found only two new birds for the day, Warbling Vireos and Northern Flickers. Sure, I had also seen American Redstarts, another Northern Waterthrush, two Solitary Sandpipers and a host of other great birds but I was focused on new birds, and new birds were not willing to show themselves to me. I was starting to drag a bit when I heard a woodpecker, and it wasn't the coughing call of Red-bellied Woodpeckers that I had heard all day all over Queens. No, it was a Hairy Woodpecker, which I quickly spotted. The woodpecker was quickly joined in its tree by a White-breasted Nuthatch honking up a storm and suddenly I wasn't so tired.
Moments later a bright blue Indigo Bunting landed on a nearby snag and I was suddenly at 116 birds for the day with more parks yet to visit!
I left Alley Pond Park feeling refreshed and ready to tackle the rest of the day. My bus arrived at the bus stop as I did and when I got off at 164th Street I had time to run into a gas station and grab some coffee before my next bus took me north to Kissena Park where I hoped to find flycatchers along the edge habitat on the north edge of the golf course and maybe some field birds in the grassy parts of the park.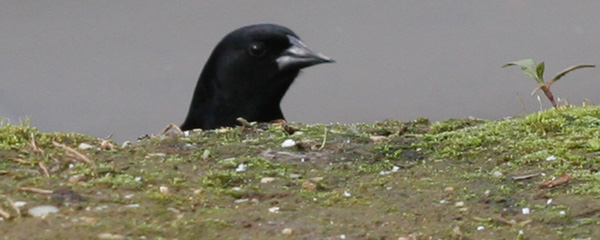 A Red-winged Blackbird at Kissena Park
I was disappointed by the flycatchers (only Great Crested Flycatcher and an unidentified Empidonax for the day, and none in Kissena Park) but was pleasantly surprised by a female Purple Finch, bird number 117 for the day. A walk around the pond in Kissena Park didn't net me any birds by eye but I did hear a Killdeer call as it flew overhead, bird number 118. The fields in the south of the park were a disappointment, and I saw nothing new, in fact, I saw little beyond European Starlings.
The next stretch of birding took me east along the Kissena Corridor Park, a narrow strip of small woods, scrub habitat, and fields interspersed with community gardens and playing fields. You can imagine my surprise when a Ring-necked Pheasant walked into the path about 100 meters away and calmly strolled along ahead of me! I had heard tales of Ring-necked Pheasants in Queens but hadn't really believed them until I saw one with my own eyes. And inquiries to other birders over the last couple of days have indicated that the birds have been present for years and breed so they are countable!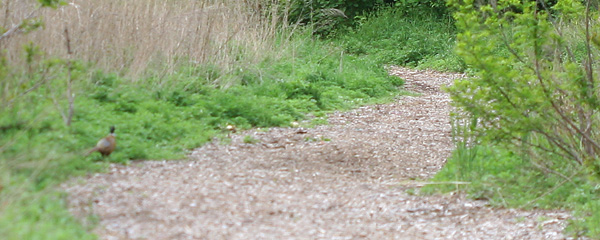 A lousy picture of pretty good bird.
Next up was the Queens Botanical Gardens, in full bloom and loaded with people taking pictures, including two wedding parties. I was amazed to hear not one but two Blackpoll Warblers singing above the hubbub. They weren't new for the day but they were pretty welcome nonetheless. The western edge of the park where there is a sedgy field, held five male Bobolinks, two Killdeer, and several Mallards.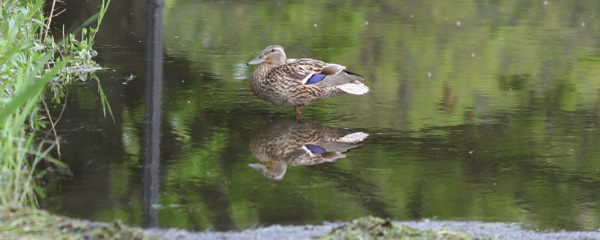 This female Mallard took the term "puddle duck" seriously.
All that was left for me to bird was Flushing Meadows Park, where I needed to find one new bird to make it to my revised goal of 120 species. Did I make it? Come back and find out…