Ecuador has three types of Quetzals, one in the Amazon basin and two in the east and west slopes.   The Quetzals in the slopes have a very limited altitudinal range restricted to altitudes above 1500 meters and below 2500 meters.   These large and beautiful birds are very difficult to find because they sit motionless during their rest periods; therefore they are often heard more than seen.   But when you see them it is a beautiful sight.   In most cases I have found them only when they are moving or by locating them while they call.   Also I have found them near feeding trees where other birds are feeding.
This Golden-headed Quetzal was photographed at Recinto 23 de Junio known for the Long-wattled Umbrellabird.   Once you reach 23 de Junio there is a road that leads to higher ground where I have seen as many as four Quetzals in a couple of hours.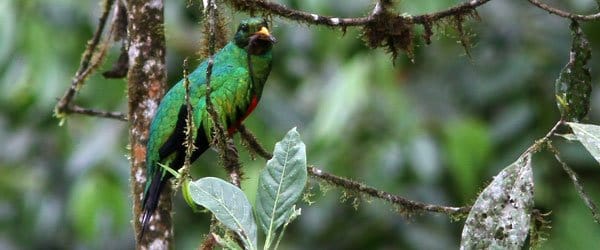 Golden-headed Quetzal (Pharomachrus auriceps)
The next photo is of the Crested Quetzal which is more difficult to find.  This beautiful specimen was photographed at Refugio Paz de las Aves which is famous for their hand-feed set of Antpittas including: Giant Antpitta (Grallaria gigantean), Yellow-breasted Antpita (Grallaria flavotincta),  Moustached Antpitta (Grallaria alleni), and Ochre-breasted Antpitta (Grallaricula flavirostris).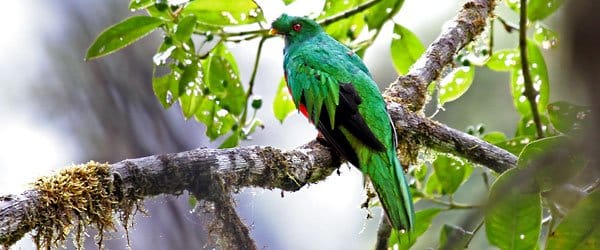 Crested Quetzal (Pharomachrus antisianus)
The Pavonine Quetzal lives in the Amazon Basin all the way up to 600 meters.  It is the only Quetzal found in the Amazon but I have not obtained good pictures of this bird.    The picture below was obtained at Gareno Lodge which is now famous for being the easiest place to find the Rufous Potoo.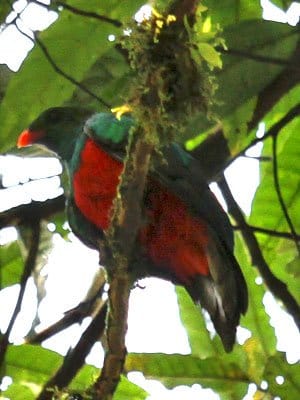 Pavonine Quetzal (Pharomachrus pavoninus)