Self-help supplicants know that the Nile isn't just a river in Egypt. But did you know that the Rio Grande isn't just a river separating the United States from Mexico? In fact, the the name "Rio Grande" has been bestowed upon waterways all over the Americas and beyond. Of course, most of these countries consider Spanish a primary or strong secondary language. One doesn't hear a lot of Spanish in Jamaica but a broad, shallow river dubbed the Rio Grande wends through Portland Parish to the sea nonetheless.
Rafting down the Rio Grande is a common activity visitors to Jamaica embark upon to soak up some rays and culture in ease and style. One does not actually exert oneself during such voyages. Rather, the raft captain propels the bamboo raft downriver using a long bamboo pole and the strength of his back and arms. Don't feel too bad for the captains for their two hour journey though… the poor gents who have to tow the rafts back to the station struggle for six hours upstream!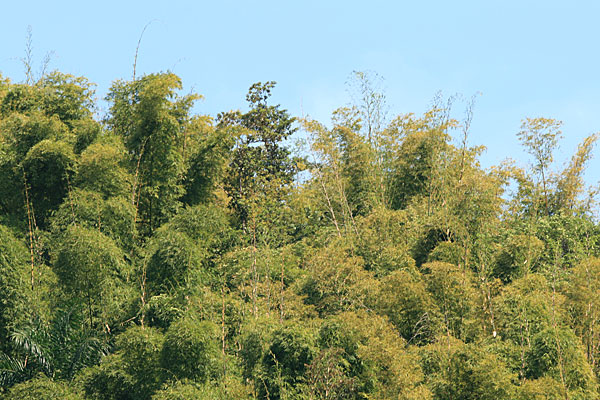 Bamboo grows thick along the Rio Grande
Since the leaves are already off the trees in my yard, I was eager to bank as much warmth and light as I could during my brief Jamaican sojourn. Thanks to the fine folks at Rio Grande Tours Ltd (this excursion was sponsored by TPDCo. — Tourism Product Development Company — of Jamaica), I could bake on a bamboo raft with a cold drink in one hand and my bins in the other.
The Rio Grande, wide and shallow with rocky banks, is an ideal location to spy the local waders. Snowy Egrets and Little Blue Herons appeared around every bend, often intent on spearing a piscine snack. These birds offered excellent close-up views, often ignoring rafts completely. Tricolored Heron, Great Egret, and Cattle Egret also made the scene.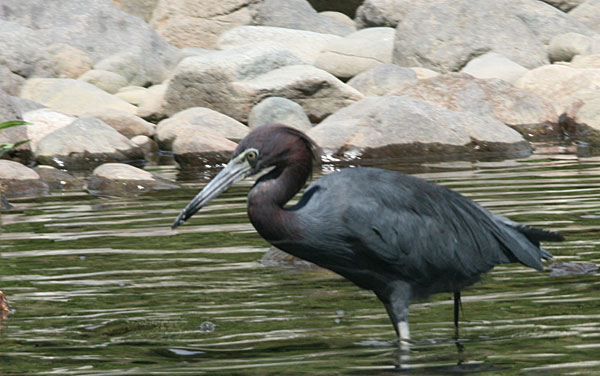 Little Blue Heron
The tale of the birds of the Rio Grande unfolds slowly as one wends down this mostly placid river. At one moment, one might spy a Jamaican Woodpecker or Jamaican Oriole in a tree along the banks. At the next, a Loggerhead Kingbird or Belted Kingfisher will speed from one promontory to another. Wheeling flocks of White-collared Swifts sometimes materialized with raucous shrieks above the raft. More often than not, the skies were filled with Turkey Vultures along with the spare Red-tailed Hawk. While we North Americans rarely put two and two together, Buteo jamaicensis is, as its name suggests, quite at home in the Caribbean.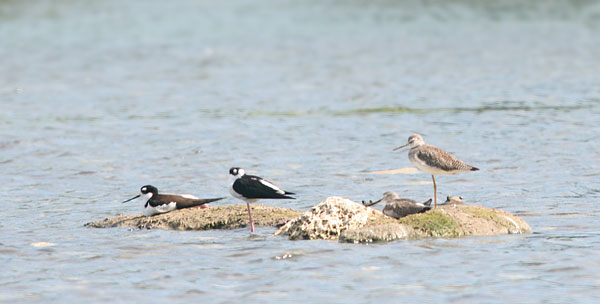 yellowlegs and Black-necked Stilts
Shorebirds such as yellowlegs, Black-necked Stilts, and Killdeer turned up towards the end of our journey. Some smaller peeps appeared as well but got away without identification as they so often do. However, it wasn't until I saw a Magnificent Frigatebird soaring with customary magnificence along the bank that I realized how close we were to the sea. Once I realized we were rafting right to the river's mouth, I felt a slight concern but I'm sure my raft captain was less than eager to test his strength against the tide. Two hours on the river and we all needed to cool off. Good thing there was a floating bar!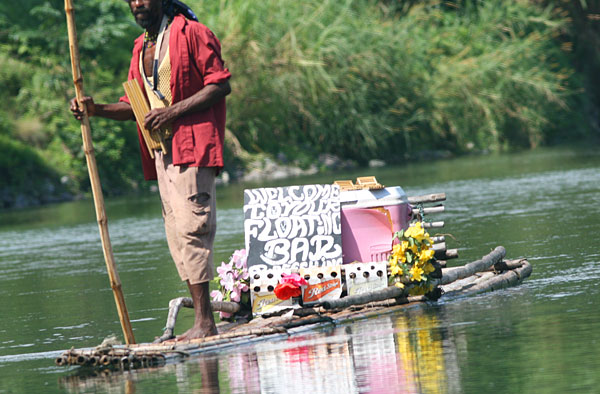 Have a drink, mon!
Unexpectedly, I stumbled upon my best bird of the journey when I wasn't on my raft. About an hour into our journey, the raft captain pulled over to a broad bank furnished with bamboo benches and a cooler full of beverages. My rafting companions, a charming Dutch couple also staying at Hotel Mocking Bird Hill, spent the break swimming. I, keenly aware of how short my time in Jamaica was, plunged into the forest in search of more birds. The exertions of a pair of Orangequits caught my attention but I was soon diverted by an scarlet ember in a nearby branch. That vivid burst of red plumage was attached to one of the cutest (yes, I sad cute) birds in the world, the Jamaican Tody. Todies are adorable grass-green flycatchers apportioned to particularly fortunate Caribbean islands. The endemic Jamaican Tody may be the brightest of the bunch, made up gaudily in red, orange, yellow, and green. What a bird!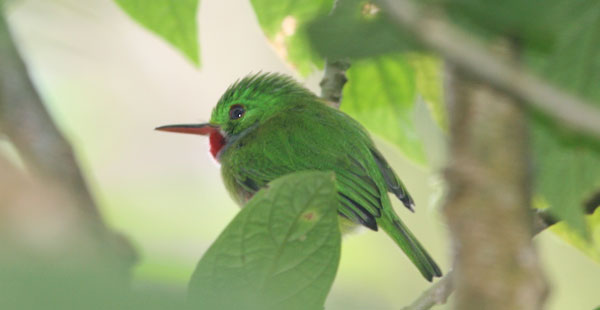 Jamaican Tody