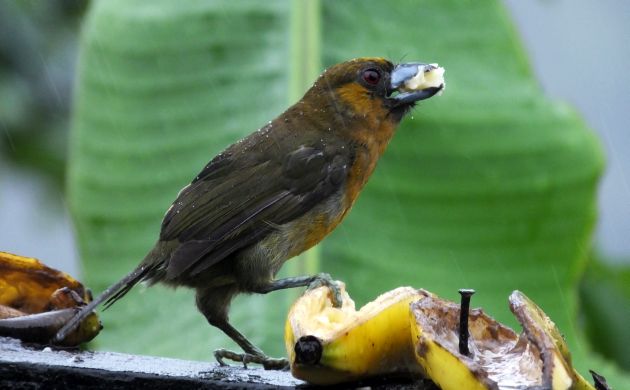 Lately, it's been raining in Costa Rica. Mike and Corey would probably say, "So what else is new?" but really, it's been raining for two or three weeks…and the rain hasn't exactly stopped. It does seem to be slowing down, though, and, to be honest, the non-stop raining part seems to be restricted to the mountains and the Caribbean slope, and yes, it has stopped now and then even in those areas. But, overall, it has been raining more than usual with resultant floods in the Caribbean lowlands, and landslides in the mountains. That can put a quick stop to birding but if you DO head into the fog, and DO happen to catch a break with the precipitation, you WILL be rewarded with a mega-burst of bird activity.
If you happen to witness such an avian nova, raptors, pigeons, and parrots are revealed as they perch in the tops of trees, tanagers and other small birds start zipping around and feeding like crazy, and everything with feathers seems to sing their little hearts out. They are, no doubt, overjoyed with the hopes of actually drying out, and us birders are likewise psyched about the avian frenzy.
Recently, I did some guiding during that constant rain. It was indeed constant but we managed to avoid landslides, and still saw a bunch of birds, some of them super close. It also helped that we spent most of our time at places with roofs and feeders. One of those was the Colibri Cafe at Cinchona. Kind of like a Costa Rican "Pattton's", the owners of this gem of a spot have been feeding the birds for years. Unlike anyone else, they have also survived a deadly earthquake that leveled their first cafe, and rebuilt on the same spot. That earthquake never stopped them from feeding the birds either. Like us, they enjoy watching them and seeing things like Red-headed Barbet, Emerald Toucanet, and big purple hummingbirds. But then again, who wouldn't?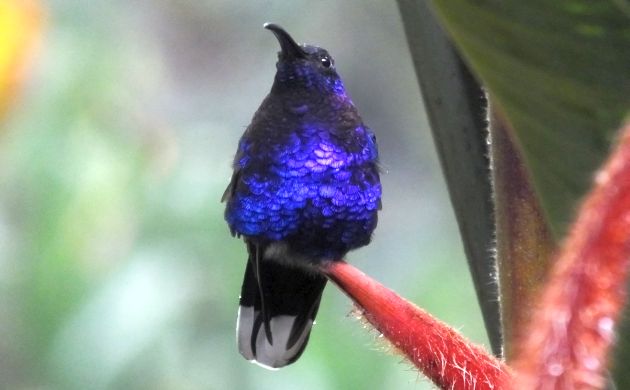 I was't kidding about the purple hummingbird, this eye-blasting crazy is a Violet Sabrewing.
The other day, the rain fell down at the Cafe Colibri but it didn't matter because we sipped fresh, hot coffee accompanied by views of: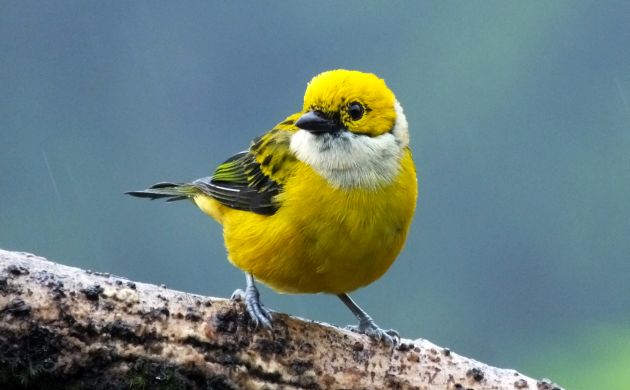 Silver-throated Tanagers– common and usually present.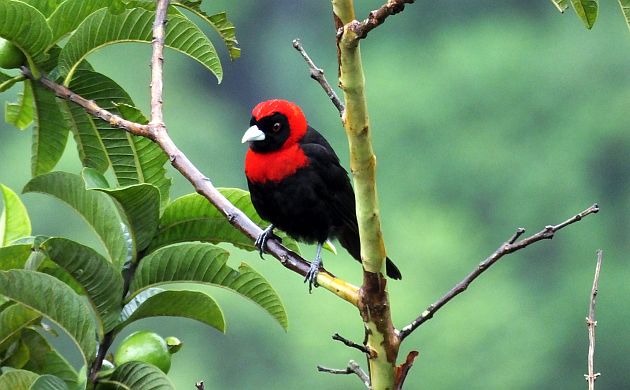 Crimson-collared Tanager– this glowing thing shows up now and then.
Passerini's Tanager– common, hypnotic black and red plumage. Like exquisite chocolate truffles, hard not to constantly stare at them.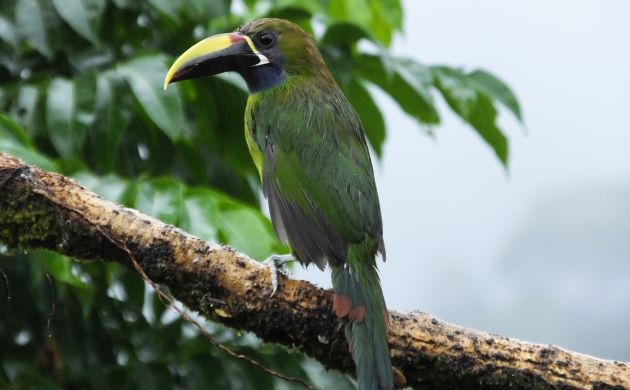 Emerald Toucanet– a toucan at a feeder, holy birding dreams come true. Shows up every day.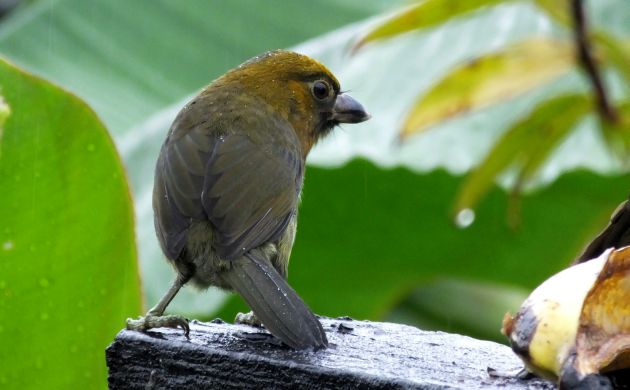 Prong-billed Barbet– endemic, weird, and wonderful, also shows up every day.
Some other birds were there too including a bunch of mad-capped hummingbirds: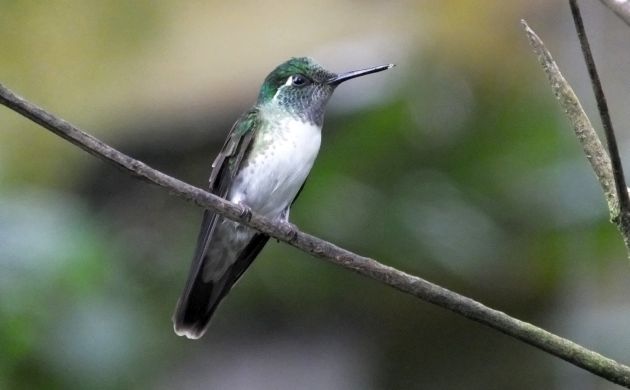 White-bellied Mountain-gem– actually more closely related to Fiery-throated Hummingbird than the other mountain-gems.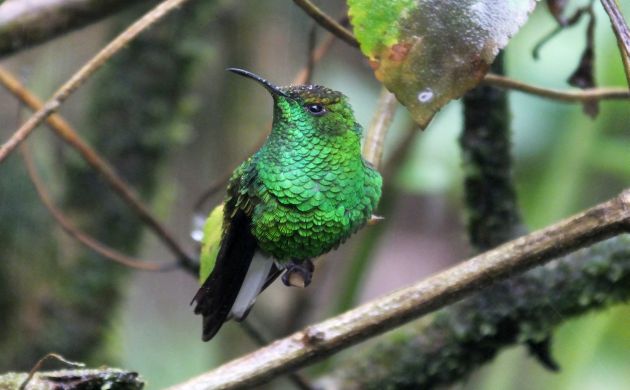 Coppery-headed Emerald.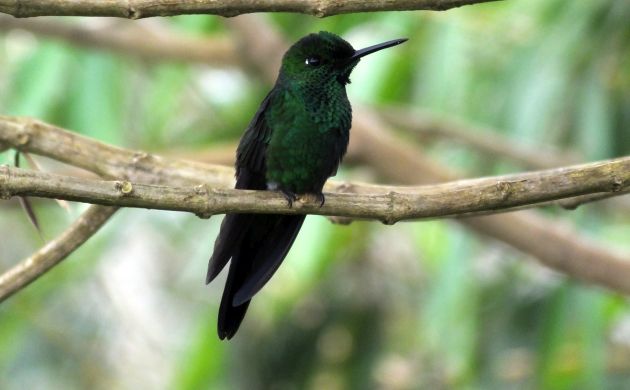 Green-crowned Brilliant.
Green Violetear.
When the mist eventually clears, it reveals a huge waterfall on the other side of the canyon. Scope the distant forest and you might also find a perched Barred Hawk and Swallow-tailed Kites (we did). As a bonus, after leaving the cafe, we also had an Ornate Hawk-Eagle next to the road.
Yeah, it was rainy but the birding was quality. If you happen to find yourself in Costa Rica, visit the Cafe Colibri. It's on the main road from Varablanca to Sarapiqui, about 15 minutes past the La Paz Waterfall Gardens. It's the only place there, is small, rustic, has home-cooked fare, and close, eye friendly birds.