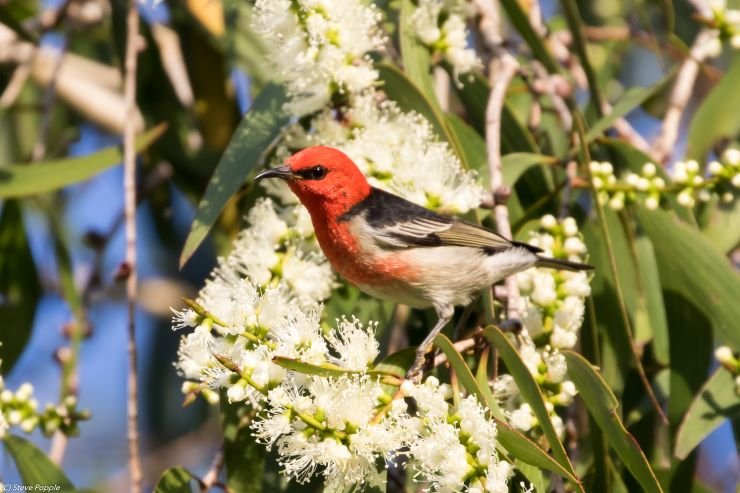 Scarlet Honeyeater male [S. Popple]
One of the great things about birding is its continuing ability to surprise. After many years pointing binoculars at birds they can still shock you with unseen – sometimes unrecorded – behaviour, baffle you with an unexpected vocalisation or just turn up in oddly unexpected places. Places, too, can surprise. Birding encourages exploration and it is very satisfying to find a new location close to home that presents an unexpected bird diversity.

And so it was last weekend when I ventured out with a few people to the sleepy village of Cooran in the northern parts of the Sunshine Coast area. A comfortable forty minute drive from home led me to a village with a pub, one coffee shop, one railway station, a few homes and little else.

Surrounded by farm land but with a reasonable well vegetated creek running through, the town looked pretty limited in terms of birding potential. I was asked by a new birder about the site's potential and I remarked we should expect between 40 to 50 species for our circa two kilometre stroll.

I was wrong.

A male Figbird upon his nest.
The walk started well with a huge tree near the carpark being home to a number of nesting species – Australasian Figbird, Spangled Drongo, Black faced Cuckoo shrike, Olive backed Oriole, and Little Friarbird. Nearby Sacred Kingfishers 'kekked' off and on in between the songs and calls of a pair of Leaden Flycatchers.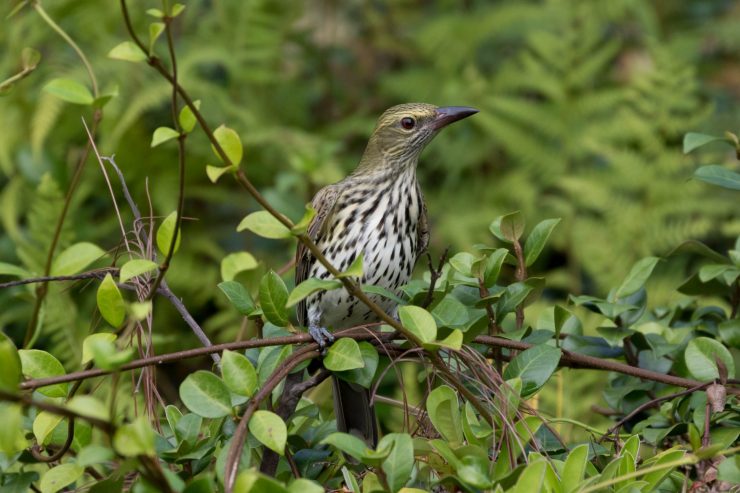 A young Olive backed Oriole [S. Popple]
The Drongo took a little offense at the Kingfisher's closeness and an interesting feud developed.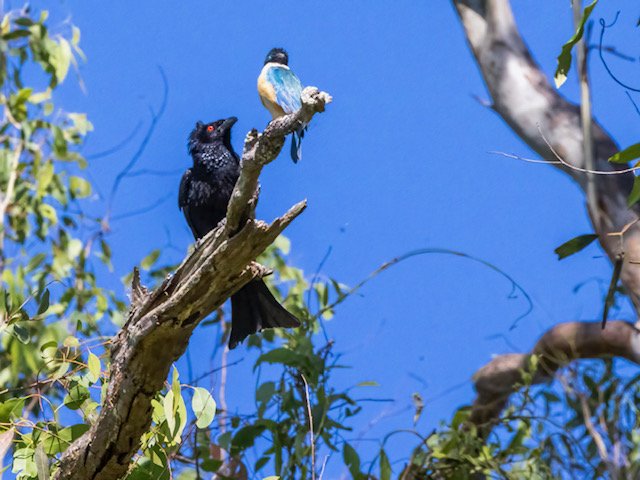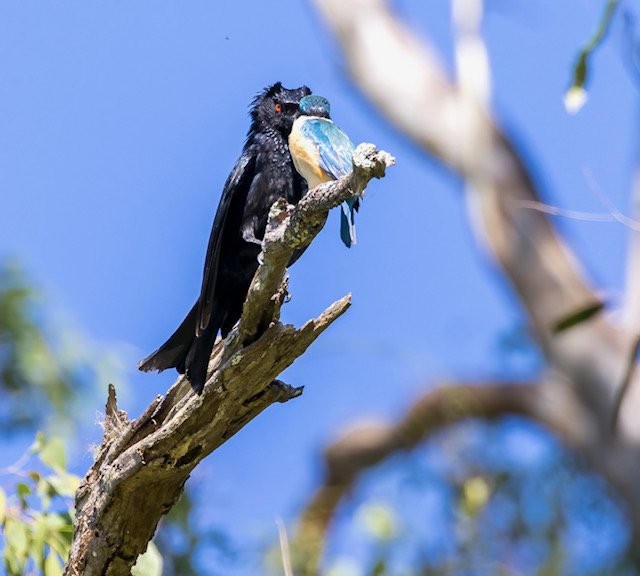 [both pics by C & G Ponter]
Laughing Kookaburras, Torresian Crows, Pied Currawongs were all seen, heard and expected.

And then we started a loop around an interesting but surprising plantation. A crop of Eucalypt trees had been planted and clearly coppiced, apparently to feed recovering koalas from Steve Irwin's [he of Crocodile Hunter fame] family's zoo and wildlife hospital.

Few birds were venturing into the planted grove but the songs from the surrounding forest were magic. Brown, Yellow-faced, Lewin's, Scarlet, White throated and Blue faced Honeyeaters sand from the taller trees while Brush and Fan tailed Cuckoos whined and trilled respectively. Golden and Rufous Whistlers whistled and Eastern Whipbirds whipped[?] A Green Catbird wailed as well.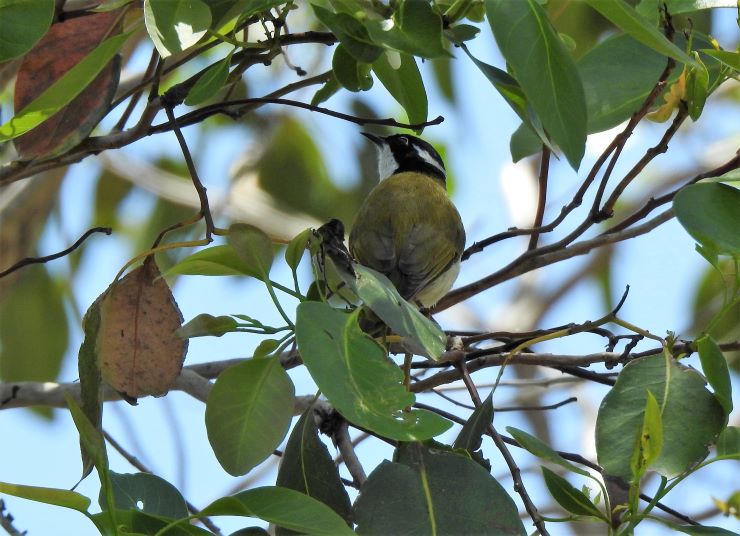 White throated Honeyeater
An uncommon White eared Monarch sounded but remained invisible; even ignoring some concentrated pishing. Red backed and Variegated Fairy Wrens reeled as they hopped through the undergrowth while a family of Grey Shrike Thrushes took to feeding.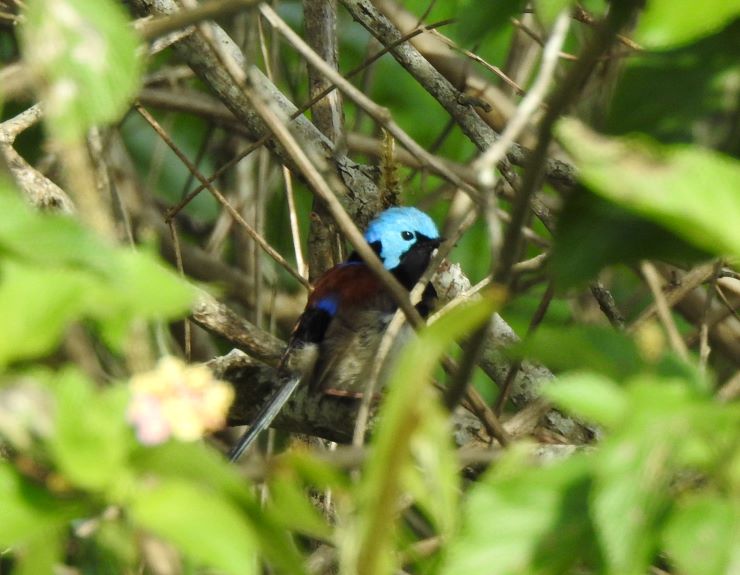 A poor picture of a male Variegated Fairy Wren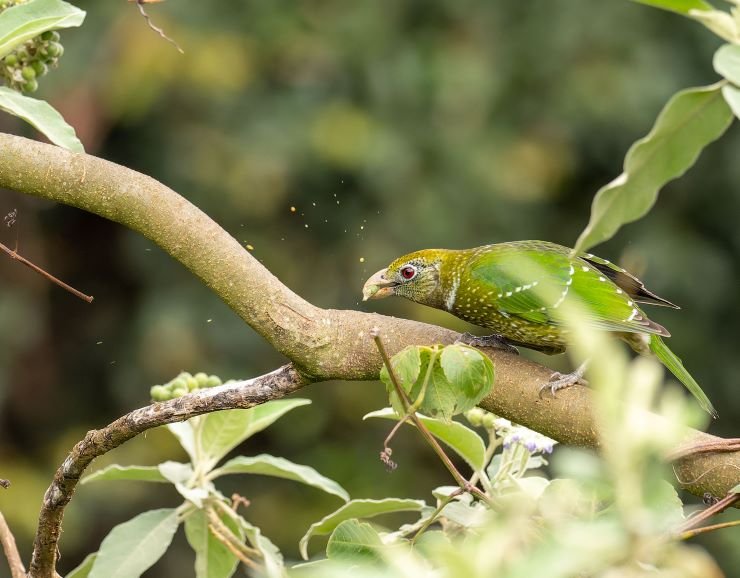 A Green Catbird [G. Jeffers]
Sulphur crested Cockatoos and Yellow tailed Black Cockatoos called loudly. The 'loudly' adverb is redundant in the case of cockatoos….

Forest Kingfishers were also seen flying; their large white wing patches easily distinguishing them from the similar Sacred.

A huge Wedge-tailed Eagle soared high overhead on thermals suggesting that the morning was beginning to wane and our drinks were waiting.

81 species were ultimately recorded during our little stroll and it was decided, without opposition that this site should be re-visited t in the future.

For those interested in the full list here is the link to the ebird entry for our walk.