After an unintentionally long hiatus here at Birds and Booze, we're back – though we're now a day late with our annual Thanksgiving recommendation. But if you're like me, perhaps you're still looking forward to a get-together with friends and family this weekend, or you're just planning to work your way through a mountain of leftovers in the coming days – both situations will require a good bottle of wine or three. Or if the big meal is already behind you, we still have December holidays and gatherings to look forward to, where this week's 2016 Goldeneye Pinot Noir from the Goldeneye Winery will serve you just as well as it would have on Turkey Day. And if you're just looking to stock your cellar, you can get ahead and earmark this wine for next year's Thanksgiving.
With its rich, fruity flavors and affinity for the autumnal table, tart and earthy pinot noir is the classic wine pairing for Thanksgiving, and a perennial recommendation by food and wine writers. Birds and Booze has somehow managed to avoid this bandwagon over the years with our past recommendations for Thanksgiving (which include a bourbon barrel imperial stout, a sour brown ale, an amber ale, and a red wine blend), but we're happy to jump aboard this time – even if the featured fowl on the label isn't a turkey but a handsome drake Common Goldeneye (Bucephala clangula).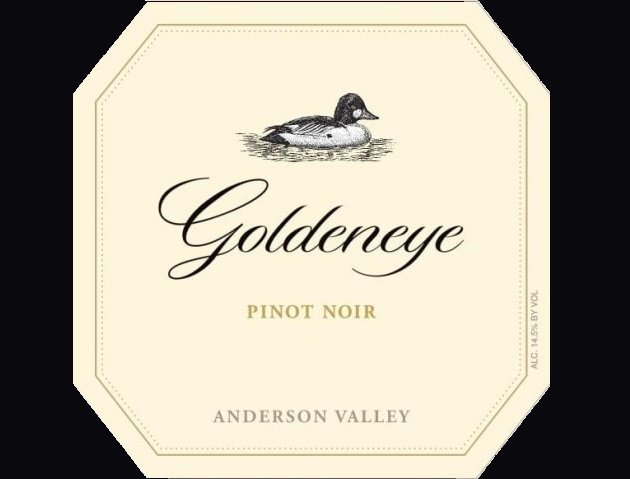 This 2016 pinot noir is made by the Goldeneye Winery of Philo, California, which was founded 25 years ago by the owners of Napa Valley's Duckthorn Vineyards, a specialist in Bordeaux varietals. The Goldeneye Winery and its vineyards are up the coast from Napa, in the rustic Anderson Valley of Mendocino County, a region with a reputation for producing balanced, nuanced pinot noir from this famed Burgundy grape, with a distinct terror. In this 2016 vintage from Goldeneye, the elegant bouquet provides all the red cherry and strawberry aromas one expects of pinot noir, shaded by spicy notes of licorice and clove, combined with hints of leather, dank forest floor, and oak. The palate is fruity but taut, with a juicy burst of ripe plum and cranberry framed by mild tannins and a dry and smooth finish.
Good birding and happy drinking – and happy Thanksgiving!
---
Goldeneye Winery: Goldeneye Pinot Noir (2016)

Four out of five feathers (Excellent).