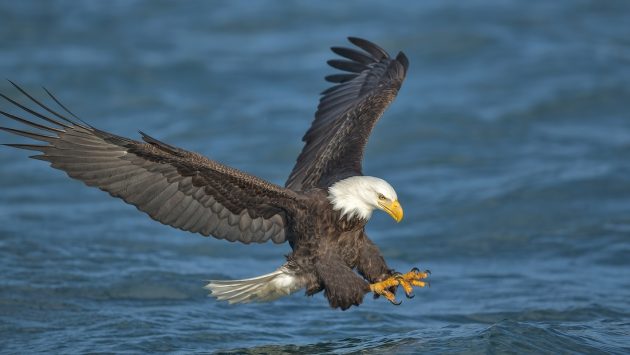 It was a cloudy day as I made my way to Tybee Island on the Georgia coast. As a fledgling birder from far inland, I was drawn to the tidal creeks, hammocks, salt marshes, and maritime forests. This area of unspoiled barrier islands would surely be a treasure trove of new birds for my fresh life list (probably just 50 or so at that time).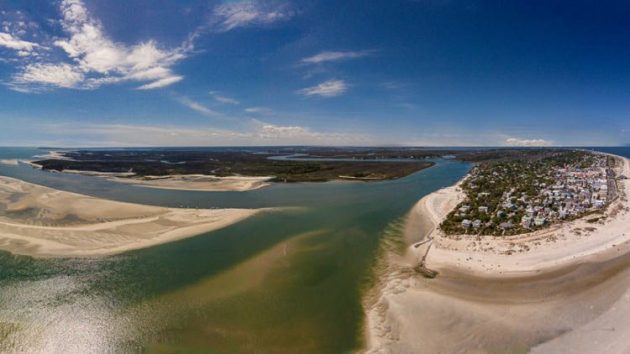 Georgia coast. Photo by © charissam.
I'd recently relocated to Savannah (Chatham County) to teach, and spent every weekend out in my new environment. Urban parks in downtown historic squares, a riverfront with cobblestone streets, and multiple wildlife refuges and state parks called like the Sirens. In particular, I was eager to see Little Tybee, Williamson, and Cabbage – a cluster of pristine islands once on the brink of disaster. It was my hope to catch a glimpse of a bald eagle's nest since the Southeastern recovery plan had a goal of counting 20 that year across the whole state of Georgia.
A decade or so earlier, a corporation purchased Little Tybee and Cabbage Island for phosphorite mining. Then, once the resource was depleted, the plan was to refill the area and 'develop' it. Then the EIS (environmental impact statement – a document required by federal law) hit the press. Mining could permanently ruin the freshwater aquifer and would likely destroy the entire estuary and its sea creatures via oxygen depletion. The public outcry was enormous and effective!
From that moment to this, the islands remain untouched thanks to the restrictions of the Coastal Marshlands Protection Act, actions by the Nature Conservancy, and ultimate management by the Georgia Department of Natural Resources.
Most impressively Chatham County had 27 eagle nests this year – the highest eagle residence county in the state! One of them was a rare ground nest located on Cabbage Island – the precious ecosystem that was saved by citizen action forty years previously. And, the total count for Georgia broke a state record at 218 active nests for the third year in a row.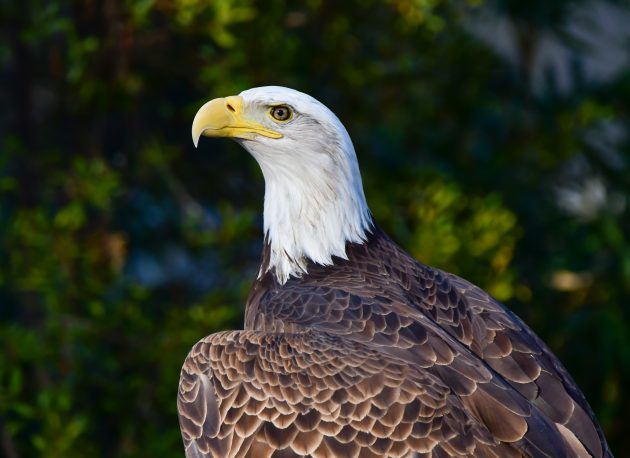 Bald Eagle. Photo by © Robin Edwards.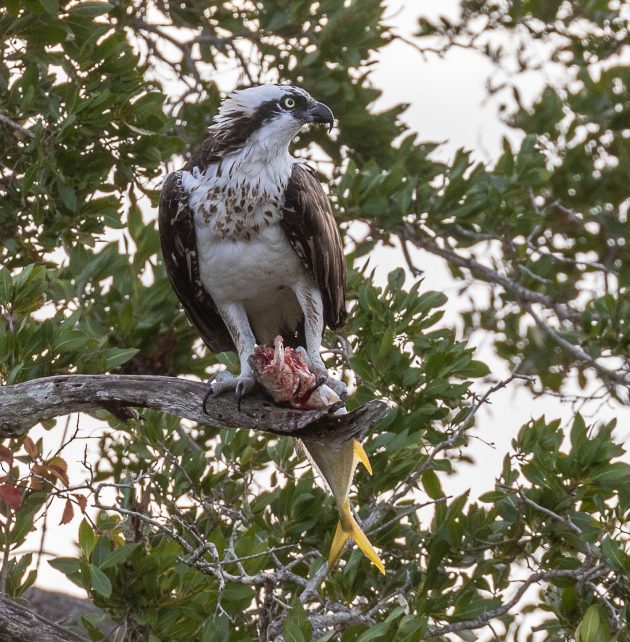 Osprey. Photo by © Mike Blevins.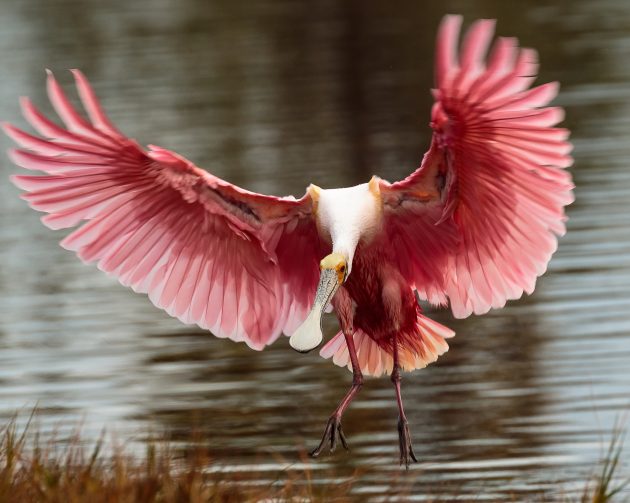 Roseate Spoonbill. Photo by © Mike Blevins.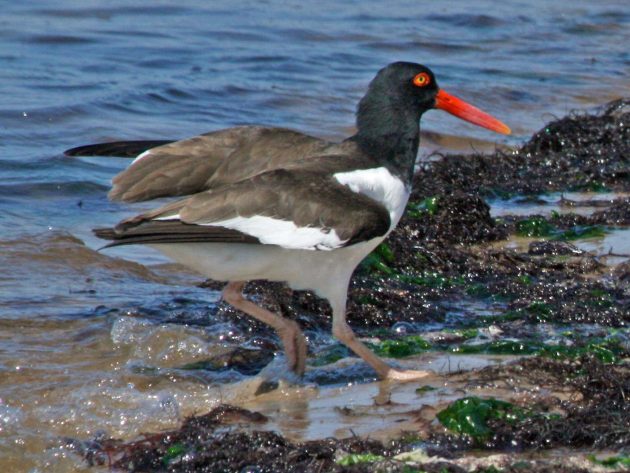 American Oystercatcher. Photo by © Dick Daniels.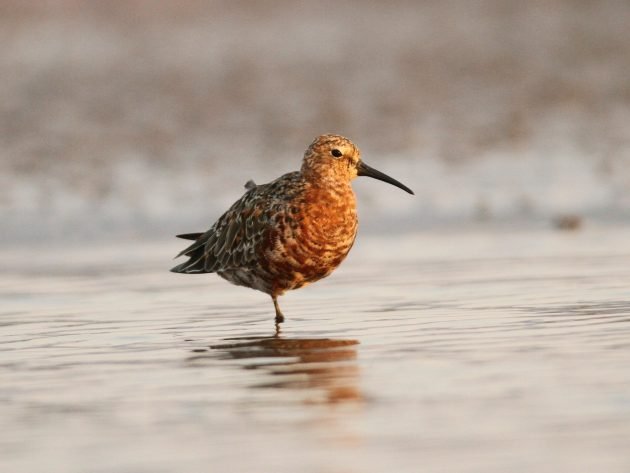 Curlew Sandpiper. Photo by © David Raju.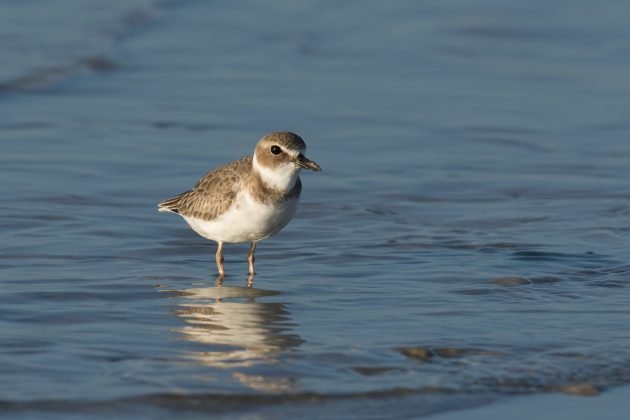 Wilson's Plover. Photo by © Russ.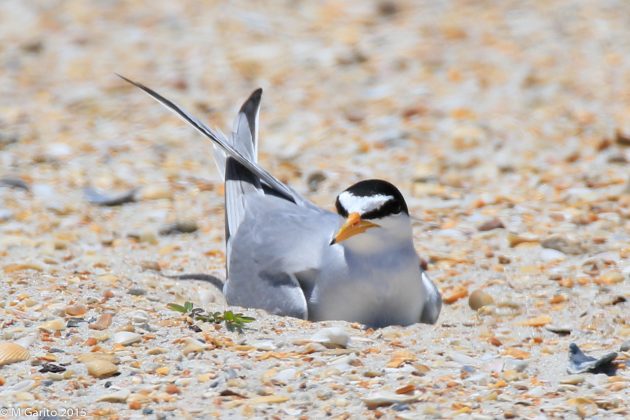 Least Tern. Photo by © Martha Garito.
On that first adventure in coastal Georgia, 30 years ago, I was lulled into a happy haze of binocular zooming and field guide page flipping. With the harsh sun and heavy humidity blocked by clouds and tossed away by the ocean breezes, it never occurred to me how completely un-weathered I was. The students had a good laugh on the following Monday when their teacher came to class with a wicked, lobster-hued sunburn. But, I'd added the birds above to my life list – a good trade in my young mind.
I returned to Savannah last spring and took a leisurely riverboat ride by the islands. There were Atlantic bottlenose dolphins frolicking in the water, and eagles perching in the pines! There's nothing quite like the power of collaboration to save the very planet we depend on for little things like freshwater and food supplies.
And, there's nothing like a crispy sunburn to permanently add SPF 1-million sunscreen and a floppy hat to my birding gear.
If you want to speak up for our parks and wilderness areas, check out the National Parks Conservation Association to sign current citizen action petitions. If you're interested in birding coastal Georgia, the Ogeechee Audubon Society and Skidaway Audubon are your go-to groups.
Remember your gear, even on cloudy days!
(Featured image – Bald Eagle. Photo by © Alan D. Wilson)