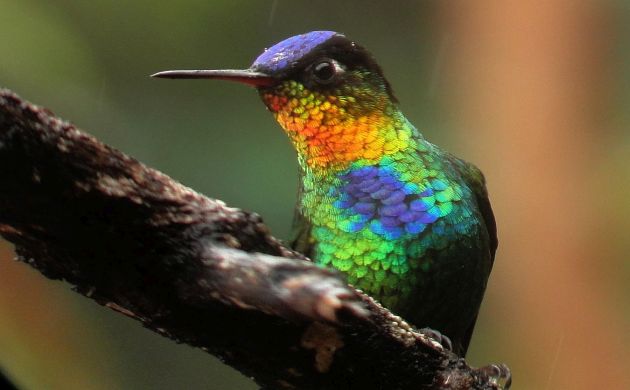 Of all those special days of the year, the birthday is the one that should really stand out the most. As opposed to collective holidays that celebrate something important for everyone, a birthday is that one day of the year that anyone, absolutely anyone, can claim as his or her own. And, because it's your own special day, you can also celebrate it as you see fit. As a friend of mine who lives in Ecuador always used to say (and I'm sure still does), "It's my birthday, I can do whatever I want!" On one of his birthdays, he expressed his autonomous joy by treating himself to a bottle of spirits as we motored up a river in the Peruvian Amazon. Whether by merit of birthday mojo or not, we were in turn treated to a sighting of a Jaguar at point blank range!
I'm sure we also saw some cool birds although the memories of his birthday species are understandably eclipsed by that of America's biggest cat. Although you would be very lucky to glimpse the spotted feline with the large head in Costa Rica, giving the birding birthday hypothesis a try is always worth a shot. That hypothesis (or gamble) is that "when you celebrate your birthday by looking for Jaguars in Costa Rica, you are going to see a lot of cool birthday birds". This usually works out because the only places to look for Jaguars are also places with high quality forest, places where there are lots of birds, including the rarest ones.
In addition to looking for Jaguars on your birthday, these are some other suggestions to make that special day a lovely, memorable one:
First and foremost, make sure that your special day coincides with time in Costa Rica– Yes! Birthday? Birding? Combine the two for a celebratory treat in this beautiful, birdy country. Plan accordingly and treat yourself to lots of lifers because every birder deserves new birds on his or her birthday.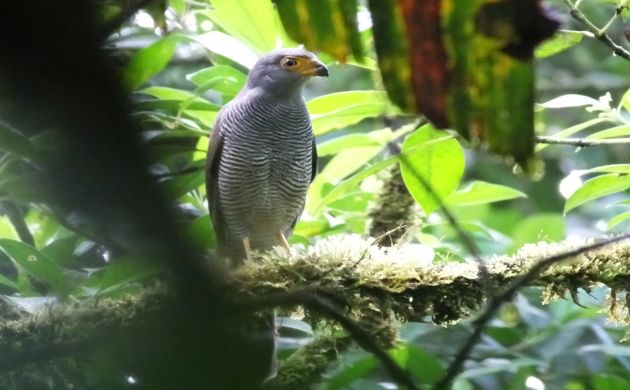 On one of mine, I saw my lifer Barred Forest-Falcon.
Get a cake from Auto Mercado– In the mood for cake? As long as you know where to find one, you can indeed enjoy some delicious birthday dessert. While local bakeries ("panaderias") typically feature some fine looking cakes, be forewarned that a lot of those cakes look way better than they taste. If you want to get serious about cake, pick one out from the bakery section in the Auto Mercado. Trust me, that's the place to go! Heck, if you want, you can even pick up some champagne. A stop at the Auto Mercado for water, snacks, drinks, and cakes is best done on your first or second day in Costa Rica, there's one just outside of Alajuela on one of the main roads that eventually leads to the birding hotspots of Poas, the Waterfall Gardens, Cinchona, and Sarapiqui.
Which birds do you want to see?– If any old beautiful tropical bird will do, in Costa Rica, it sort of doesn't matter where you go because there's always lots to look at. But, if you would rather lay eyes on something more colorful and exuberant than a saltator or Rufous-collared Sparrow, plan the itinerary to be in the right place for your special birthday bird. If it's a quetzal, be at Paraiso de Quetzales ("Quetzal Paradise" does live up to its name). If Scarlet Macaws are on the birthday list, pay a visit to Cerro Lodge. Bird around that wonderful area and you can up the birthday enjoyment with a few dozen lifers. Harpy Eagle? Well, let's just say that we can't count on it in Costa Rica but like the Jaguar, if you go birding in a place where it has a chance of showing, a smorgasbord of other fine species are bound to make an appearance.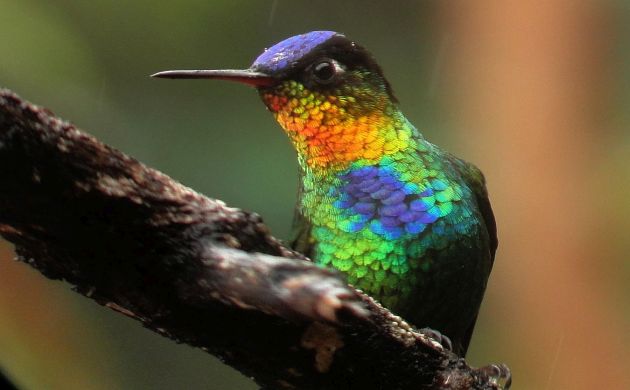 Fiery-throated Hummingbirds are an additional birding bonus at the Quetzal Paradise.
Photo opps– The photo-birders among us might prefer to spend their special day aiming lenses at many an avian subject. Fortunately, Costa Rica has several fine venues for bird photography, some of the best being oases for birds with feeder set ups that can bring in everything from toucans to chachalacas and tanagers. Some of the better sites are Laguna del Lagarto, the Fortuna Nature Trail, Cope's, Rancho Naturalista, Arenal Observatory Lodge, and Bosque Tolomuco. These aren't the only places for excellent bird photography but any of them would be  a wonderful birding birthday treat!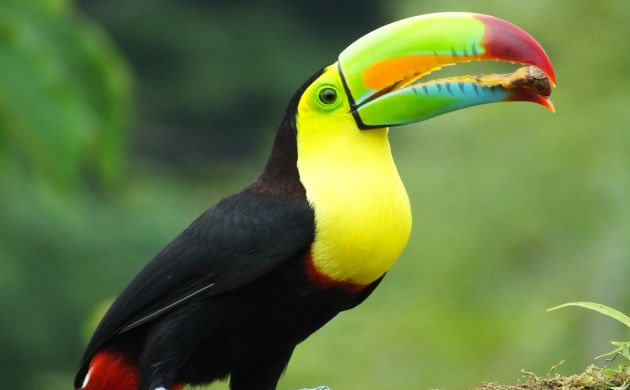 Keel-billed Toucan from Laguna del Lagarto.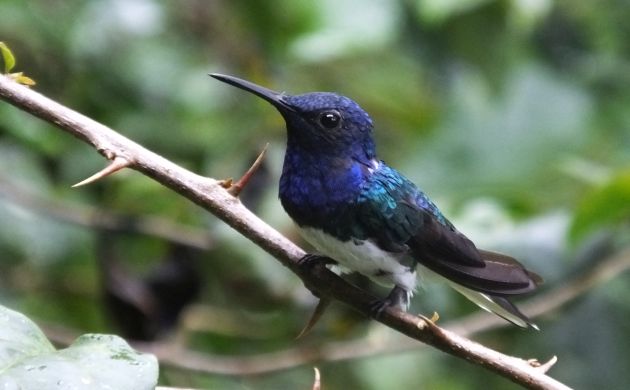 White-necked Jacobin from Rancho Naturalista.
Hummingbird feeders– Always sublime and an easy way to enjoy a birthday. Many to choose from in Costa Rica, some of the more active and exciting hummingbird feeders can be found at the Hummingbird Gallery just outside the Monteverde Reserve, the Catarata del Toro Reserve, Rancho Naturalista, and Bosque Tolomuco.
Tanager blitz– Sparrow-sized birds that are anything but sparrows. No brown feathers in this avian house! More like glittering, iridescent blues, yellow, reds, purples, and other colors that dazzle the birding eyes. In Costa Rica, although tanagers are almost everywhere, the highest number of species range through foothill rainforests in fast moving flocks. Fortunately, they do stop at fruiting trees, sometimes all at once, and some even come to fruit feeders. Some of the better sites for tanagers are the Arenal Observatory Lodge, SkyTrek, Quebrada Gonzalez, the area around San Vito, the San Luis Canopy, and El Copal perhaps most of all.
Emerald Tanager– fairly common and beautiful.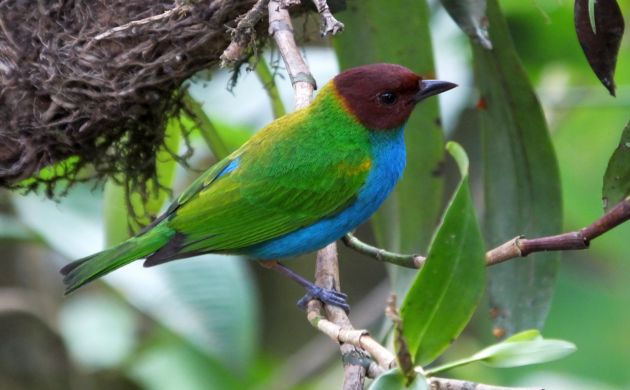 Bay-headed Tanager– ditto!
The day this post is published, I will be celebrating my day of birth by following one or two of the suggestions listed above. Although there won't be any lifers, I might still get a year bird or two, especially during tomorrow's bird count at the Locos por el Bosque Reserve. Best of all, I will be sharing birds with the best of people, and if they behave, I might also share some of my birding birthday chocolate with them.