When MyBinocularHarness contacted us at 10,000 Birds about reviewing their binocular harness I was skeptical.  I always thought that those who wear a binocular harness looked a bit dorky and weren't helping birders overcome the not-so-flattering view that many have of our pastime.  But I was volunteered to review the harness and several days later when the harness arrived in the mail I sighed and resigned myself to having to wear the darn thing for several outings in order to get an idea of how it worked so I could write an honest review.
When I strapped the harness on for the first time, with Daisy's assistance, and looked in the mirror I was disturbed.  The straps cut across my chest tightly and it looked like I had breasts!  While Daisy laughed at me I cursed the thing and swore I would never wear it out-of-doors, and also swore that if Daisy told anyone about it I would never talk to her again.  I also started struggling to get the harness off, and, in so doing, realized that the issue was that I hadn't loosened the harness at all.  Once it was loosened my man-breasts went away and I only looked about a half as dorky as I did before.  More impressively, the weight of my Swarovskis that normally pulls at my neck was gone!
The resistance the elastic straps gave when I pulled my binoculars into position by my eyes felt a bit odd while I was trying the harness out indoors but I decided to reserve final judgment until I actually used the harness for a couple full birding days.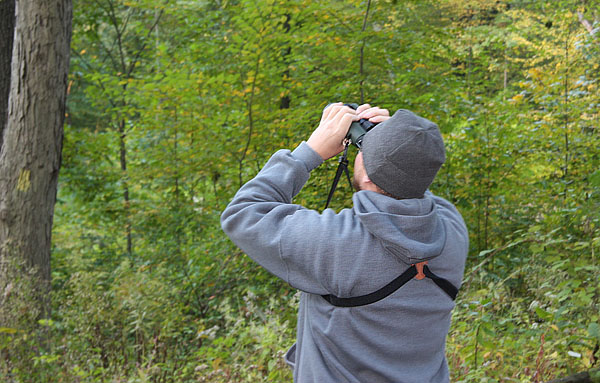 I must say I have been amazed!  The harness is easy to use once one is used to it and actually keeps my binoculars more handy than before.  At the end of a long day's birding my neck and back are nowhere near as sore as they used to be.  The harness is not as easy to take on and off as just a binocular strap is, but it is not like I am undergoing an epic battle each time I remove the harness or strap it back on me.  I didn't even notice anyone giving me any weird looks or making snide remarks, at least, no more than usual (wandering around city parks with spotting scope, binoculars, and camera tends to earn some weird looks).
There are trade-offs using the harness.  For example, my Swaros have a double-lens cap that threads through the binocular strap they came with nicely and keeps them dry when it starts to rain.  This does not affix to the harness anywhere near as neatly as it does to the strap so I go without the cap now.  Also, when taking off layers of clothing the harness can be a real pain, requiring one to unclip the bins, take off the harness, take off the layer of clothing, put the harness back on, and reclip the bins.  A process that normally takes seconds takes nearly a full minute.  Finally, honestly, one does look a little bit dorky when wearing a binocular harness.  Are these three problems worth suffering in order to reduce the physical suffering caused by warbler neck and back pain?  I think so, at least on days when I won't be undergoing major temperature shifts that necessitate constantly altering the number of layers I am wearing.
If the harness seems familiar but you have never heard of the company it might be because MyBinocularHarness has only recently started selling harnesses direct to consumers but has long provided harnesses to organizations and other companies for resale.
The binocular harness reviewed here is available from MyBinocularHarness for 17.95 USD and ships for free, worldwide.  It can be used for cameras as well, though I did not try it out that way because whenever I am birding I have both bins and camera and it makes more sense for me to use the harness for my bins.  All anyone from 10,000 Birds received from MyBinocularHarness was a single harness sent to me for review (but I'm not giving it back!).