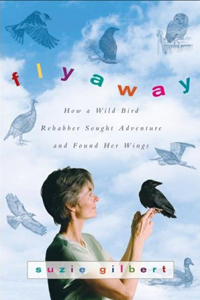 How does one end up with a Great Blue Heron in one's bathroom?  Or spending hard-earned cash on medication for a Wild Turkey with a "nasty wet rasp" coming from her chest?  Or chasing an American Goldfinch that refuses to leave a flight cage even though there is nothing wrong with him any more?  Easy, one just has to become a wild bird rehabilitator, a fulfilling, draining, exciting, depressing, inspiring, time-consuming, disturbing, enchanting, fascinating, and virtually-any-other-ing-one-can-think-of avocation.  Suzie Gilbert became a bird rehabilitator and all of the three scenarios described above happened to her, along with a whole bunch more, and all are lovingly described in her excellent new book, Flyaway: How a Wild Bird Rehabber Sought Adventure and Found Her Wings.
Gilbert, whose only previous experience as an author is an illustrated book for children called Hawk Hill, lives in the Hudson Valley of New York State and came to writing a memoir on being a wild-bird rehabilitator by a rather roundabout way.  In Flyaway she describes, briefly, how she went from being a rebellious student to an unhappy office worker and wife, to a stray-dog rescuer, to a divorced recluse in Maine, to the happy partner of a science writer and an employee at an animal hospital to being a volunteer at a wild raptor rehabilitation center, to becoming a mother of two children and founder of her own home-based, wild bird rehabilitation center, Flyaway Inc.  And then the good stuff starts, at least for us birder types who might have been thinking "Enough with these people, when do we get to the birds?"
Actually, that is not entirely true, considering that the opening chapter is a lively tale of the rescue of a Turkey Vulture which just might be designed to scare off the faint of heart from wanting to become rehabbers themselves.  It is the first of many well-written and entertaining anecdotes that keep the reader entertained but that also develop some of the themes that recur throughout the book.  What themes am I referring too?  Well, that rehabbing injured animals is hard work, that there are not enough rehabbers nor resources for the level of need, and that many people that are largely ignorant of the natural world can come to a greater appreciation of all things great and small through contact with an injured bird.
Somehow, despite the trials and tribulations that she endured and the trial-and-error method that many rehabbers end up relying upon, Gilbert kept rehabbing, mostly managing to live up to her motto of "Bring them back, then let them go."  Both are difficult to do: injured birds can be extremely difficult to rehabilitate and once a rehabber has put blood, sweat, and tears into bringing a bird back from the brink it can be emotionally wrenching both to physically and mentally let it go.  Repeatedly, Gilbert refers to her anxiety at the idea that the birds she has grown to care for deeply might wind up as prey for a hawk, and when she actually sees it happen she has to cover up the story to protect her children from finding out what happened to favored bird that they helped rehabilitate.
And though Gilbert sought constantly to protect her children throughout the book (what parent wouldn't?) her children often ended up comforting her when she has a setback with a patient.  Though some of the emotional scenes get a bit too sweet for my taste, as in "We walked up the hill to the house, three watchful, careful guardians of one another, each taking a turn being the shoulder to lean on," they do serve a point and a couple passages in the book did bring a certain moistness to this wannabe tough guy's eyes.
Near the end of the memoir, when Gilbert starts to burn out as a result, mostly, of the emotional toll of seeing so many injured and sick birds not make it, and she ends up on the couch of a psychologist, it became abundantly clear to me that wildlife rehabbers have way too tough a job for a volunteer and deserve way more support and appreciation for what they do, not only for the animals they care for but as a way for humanity to atone, to some degree, for the sheer volume of destruction we have brought upon the natural world.  If her memoir does nothing more than raise the level of awareness of and appreciation for the struggles of wildlife rehabbers among the general public then this book is a success.  I am sure that it will, and the fact that it entertains along the way is just gravy (no, not the turkey (read the book , you'll get it)).
Flyaway: How a Wild Bird Rehabber Sought Adventure and Found Her Wings, by Suzie Gilbert, illustrated by Laura Westlake, is a publication of HarperCollins and was released in March of 2009.  It is 340 pages long in hardcover and has a cover price of US $25.99.  ISBN 978-0-06-156312-6