I never would have thought that a film that focused entirely on North American sparrows could be so delightful.  But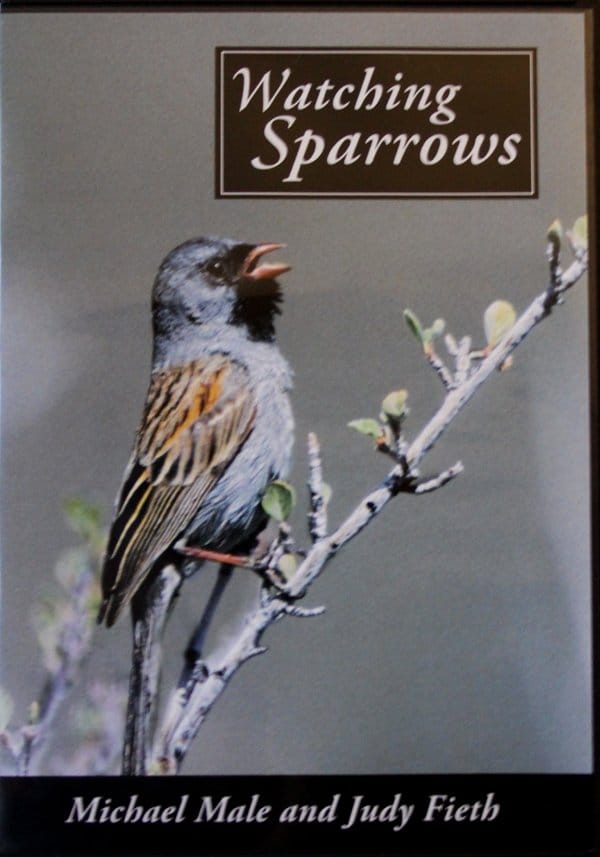 the new second edition of Watching Sparrows* by Michael Male and Judy Fieth, who have a whole series of bird films already produced or in production, not only kept me staring at the screen but drew in family members to see what I was watching, to say nothing of my cats, who were enthralled by the sparrows singing on screen.  And while I was the only one in the family to watch the film end-to-end it did get comments like "Wow, that bird is cool," "I thought sparrows were boring," and "Buh-buh-buh-buh-buh!!!!!"**
I don't want to give the wrong impression though – this film is made exclusively for birders who want to familiarize themselves with the behavior, appearance, range, and songs of the North American members of the family Emberizidae, the new world sparrows.  As such, it is neither for the faint of heart nor the non-birder.  After all, there is only so much sparrow that non-birders can take and this film is chock full of sparrows!  Of course, some sparrows go by different names so this film is also chock full of towhees, juncos, longspurs and Lark Buntings.  But whether you prefer Pipilo chlororus, care for Calcarius ornatus or are eager for any Emberizid in between you will be satisfied and sated by Watching Sparrows.
Micheal Male and Judy Fieth took three years making Watching Sparrows, criss-crossing North America from the high tundra of the far north to the pine forests of the southeastern United States.  You can tell by the quality of the footage that they share that the twosome spent a lot of time in the field.  I don't want to know what demon now owns their souls, but somehow they got great footage of Henslow's Sparrow deep in the grasses, amazing shots of Cassin's Sparrow doing its flight song, a very young Rufous-winged Sparrow just out of its nest getting fed by its parents, and the highlights go on and on and on ad infinitum.  The moving images are always good, often great, and sometimes sublime.
How exactly are the birds presented?  Well, each species gets its own segment, and the filmmakers alternate narrating duties.  There is an introductory shot of the bird that is accompanied by a physical description with pertinent field marks discussed.  Then comes a dynamic range map with breeding, wintering, and migrating ranges explained, often with some explanation of how the species is declining or increasing and a discussion of the birds' range contracting or expanding.  Every species account includes a wide shot and description of appropriate habitat.  For some species there are clips of interesting behaviors like copulation or feeding nestlings, and every species features shots of male birds singing, an impressive task in and of itself.  Several species, including Sage Sparrow, Brewer's Sparrow, Seaside Sparrow, Eastern Towhee, Botteri's Sparrow, and others, include descriptions and / or footage of different subspecies.
If you are a North American  birder or a birder who plans to visit North America for birding this film will prove to be an invaluable resource, serving as a video and audio field guide to the sparrows you will encounter.  I highly recommend it and hope to be able to use it someday to aid me in identifying some of the special sparrows of the southwest or the plains.  Though the film is excellently edited and narrated the sparrows take center stage, and, as a quote in the closing credits says, "Cheers to the sparrows for always putting on a good show."  I would just add "Cheers to the filmmakers for putting a good show on video!"  Buy this DVD. You won't regret it.
…
*The second edition is "re-mastered from the original film footage, renarrated, and improved with three-dimensional motion range maps for every species.
**That last is sixteen-month-old Desmond trying his darnedest to say "bird!"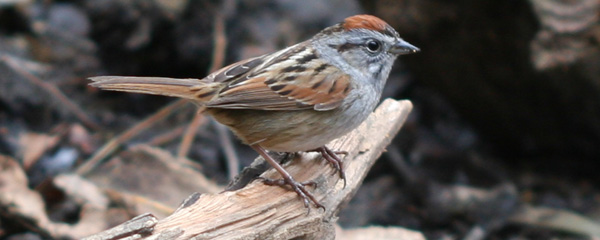 …
Disclaimer: I was provided with review copies of several films and Bird Films has also purchased advertising on 10,000 Birds.
………