In December in the northeastern United States you expect snow.  In New York City so far this year we have only had a dusting from the Halloween storm that wreaked so much havoc elsewhere and since then the weather has been mild.  In fact, yesterday when I spent the day birding the coast of Long Island and Queens with my frequent birding partner Seth, we both had to shed layers of clothes because it was so warm and sunny.  It was weird.
The lack of cold and snow has not deterred snow birds from showing themselves this year.  Already the birding world is excited by the host of Snowy Owls that have descended upon the United States and Snow Buntings and Snow Geese have been around for weeks.  But the mild weather means that quite a few birds that we would have expected to have skedaddled for warmer climes are still around, including a few Snowy Egrets.  Of course, all of these birds are actually named for their white plumage and not for their affinity with snow, though the first three are often seen when snow is on the ground.
But at the beginning of our birding outing the only snow bird that Seth and I had on our mind was the Snowy Owl that had been reported on Saturday in the dunes near Shinnecock Inlet in Suffolk County.  We were there at first light searching for the bird but it was nowhere to be found and several other birders in the vicinity also failed to find the bird.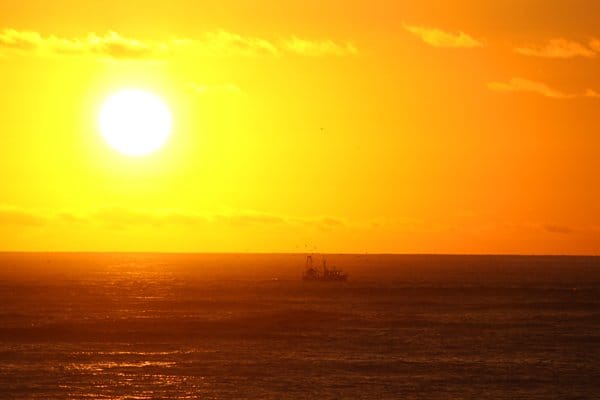 just after sunrise at Shinnecock Inlet
Consolation prizes included Northern Gannets off shore, a horde of Red-throated Loons, a pair of Razorbills, a couple Northern Harriers, a Lesser Black-backed Gull, and single flyover Snow Bunting.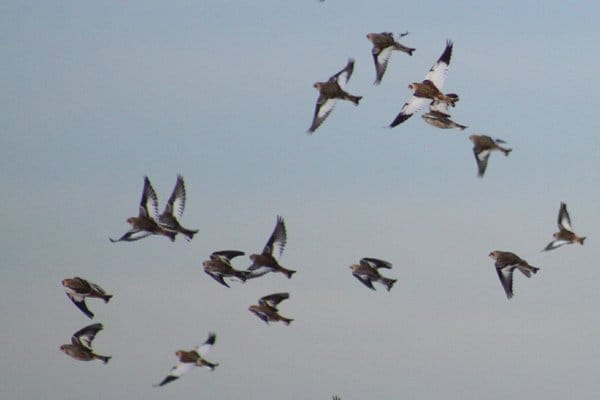 a portion of a flock of Snow Buntings from earlier this year
Then we received a report that a Snowy Owl had been seen at Jones Beach, which was back our west, the direction from which we had come.  Some more searching in the dunes failed to find our bird so decided to cut our losses and make the run to Jones Beach where we hoped the owl was hanging in despite what we imagined would be overwhelming pressure from photographers who often find accessible Snowy Owls far too tempting to approach.
Long story short: we drove to Jones Beach, found the bird, and watched it for awhile.  It was a Snowy Owl. That was nice.  We also learned that the bird had already been flushed once by overeager photographers (and after we left we heard that the bird had been flushed several more times by the same cause).  If you have a chance to see a Snowy Owl respect its boundaries and keep your distance!  Remember that every time you flush it the bird burns energy that it needs to survive.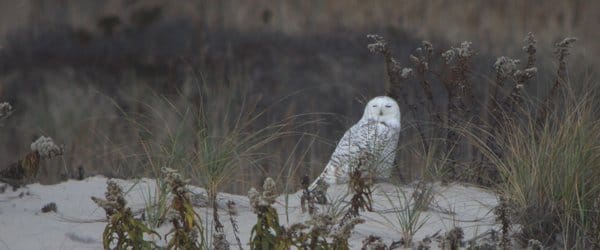 Snowy Owl at Jones Beach from which we kept our distance
I will now step off my soapbox and continue the tale, which includes Long-tailed Ducks, Bonaparte's Gulls, and a Harlequin Duck that I missed, to say nothing of American Oystercatchers, thousands of Brant, and lots of Horned Grebes.
Then Seth and I grew tired of Nassau County and decided to wind up our day back in Queens, at Jamaica Bay. Though our birding there started slow we kept finding more birds, with Northern Pintail, Pied-billed Grebe, and Green-winged Teal being some of the highlights before we got to the really good birds.  Eventually we ran into the Brooklyn Bird Club out on a field trip and they showed us the Eared Grebe that has been around for awhile that we had inexplicably missed earlier.  Then we headed over to the East Pond, stopping at Big John's Pond en route where a Barn Owl peered out of the owl box, and were pleased to find a distant American Avocet.  More to the point of this post, however, was the flock of Snow Geese and the single Snowy Egret that we found.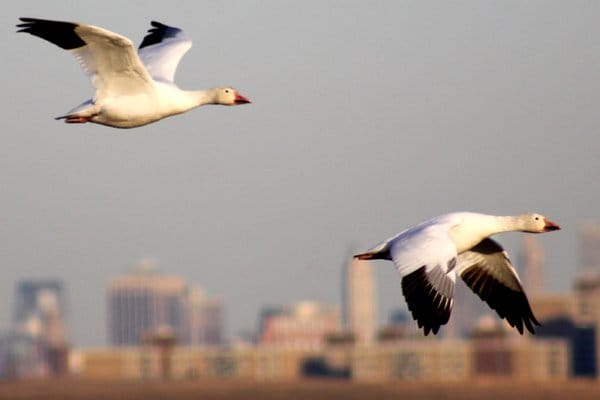 Snow Geese at Jamaica Bay earlier this year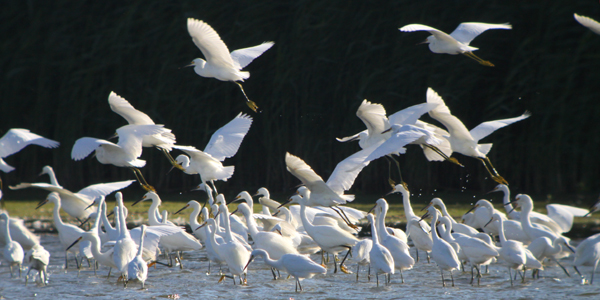 Snowy Egrets a little over a year ago at Jamaica Bay
Seth and I now lay claim to the title of the first birders in the world to see four species with "snow" in their name in one day.  That is, unless you have done it as well.  Have you?  Or have you seen more?  Snowy Plover and Himalayan Snowcock are both in the United States but both seem unlikely to have been combined with all four that Seth and I saw.  Snowy Cotinga is the only other snow bird I can think of in the Americas, though I am sure that I must be missing some.  Are there more snow birds in the rest of the world?  Have you seen a bunch in one day?  Let me know in the comments!
…