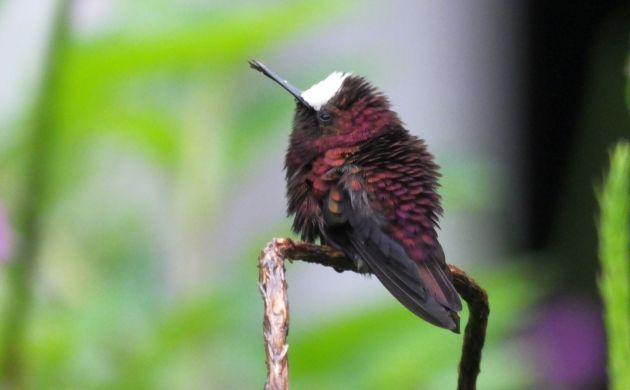 Complain on a birding trip to Costa Rica? What?! Not possible! Yes, and as much as I love taking in all of that biodiversity, I have to admit that the complaints are valid. However, there are solutions to every grievance and that's what this post is really about. Without further ado, the following are the five most common annoyances and gripes that birders have when doing their thing in Costa Rica, along with my personal solutions:
1. National Park Hours: This might be the number one complaint and with good reason. I share this gripe because we of course see more birds before eight in the morning, and from four to five in the afternoon. But oops, that's when the parks are closed! To get around that frustrating fact, I try to speak with the park station manager the day before to ask about an early entrance. The park guards are usually friendly and cool about it. Or, I bird somewhere near the park during top birding times and enter when it officially opens.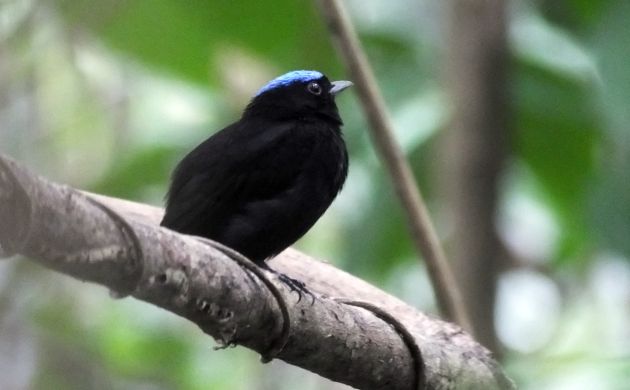 I saw this make Blue-crowned Manakin in forest near a national park.
2. Where the heck are the raptors?: Just about everybody who visits Costa Rica asks this question and I often ask it myself. People wonder where the raptors are because Common Buzzards or Red-tailed Hawks are pretty much a given if you venture outside in the northern temperate zone. Not the case in Costa Rica. Despite more than 50 kite, hawk, eagle, and falcon species on the list, nope, we don't see raptors all that often! That's because most are forest-based species and are naturally rare. Although you won't see droves of raptors (except during migration), the upside is that birders often see 20 or so species during a two week trip, and some people tick off more than 30 species. The solution to not seeing enough raptors is a fun one; birding more in quality habitat.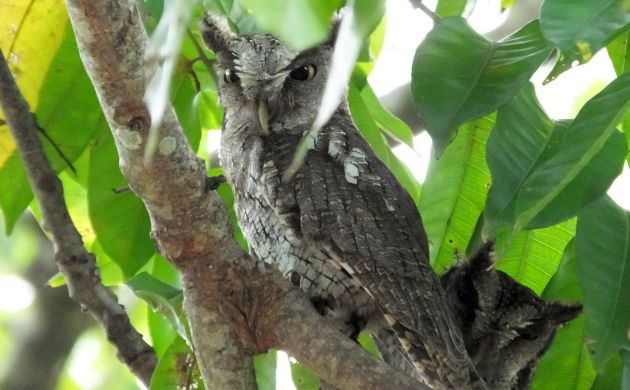 I didn't even include owls in the 50 plus list species of raptors. This is a pair of Tropical Screech-Owls from the Osa Peninsula.
3. Fogged optics!: As soon as you leave the airport near San Jose, unless you are coming from the southeastern states during the summer months, you won't help but notice the higher level of humidity. It gets even more humid out there in the rainforest, and that water vapor creeps on in to more optics than you think. If it happens, put optics in a dry bag or out in the hot morning sun. However, it's best to get waterproof bins before the trip to prevent fogged optics from happening in the first place.
4. San Jose Traffic: Ouch! As with most modern-day big cities, traffic during rush hour is a time-swallowing behemoth. Avoid the city and surroundings between 6:30 and 8:30 in the morning, and between 4:30 and 6:30 in the afternoon at all costs or suffer the consequences of seeing nothing more than an occasional Rufous-collared Sparrow during a traffic jam. Fortunately, the best solution is actually the easiest. Most birding time in Costa Rica is spent away from San Jose so no problem there. If you have to bird from the San Jose area, you will miss out on the traffic by leaving at five in the morning to go birding anyways. Instead of driving back to the city by the peak rush hour time of five in the afternoon, stay out in the field until dusk, eat dinner and go owling before you head back to the hotel.
5. The Trip was Too Short!: There's never enough time to see 900 species of birds. Once again, the solution to a short trip will help you see more birds. Either take a three week trip, or come back to Costa Rica for more birding.
 Stay long enough and you might get super close looks at a female Spotted Antbird.