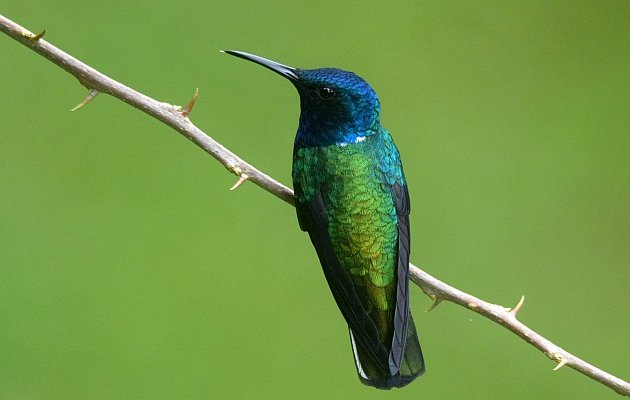 Thanksgiving has always been one of my favorite holidays. In the cold north of November Niagara, needing to spend the day indoors coincided nicely with weather that invariably involved snow. It might not have been the profuse snow of the main winter event but it was enough to grasp with bone-chilling fingers, to freeze the general surroundings.
There wasn't much in the way of birds in the yard, maybe a Cooper's Hawk winging through from the north, crows calling and House Sparrows chirping. Down at the river, now that was another story. That's where the birds were, thousands of gulls, rafts of diving ducks, Buffleheads and goldeneyes buzzing the cold, gray water. As birders tend to do, they long ago noticed that the Niagara River in late November is a major avian destination. Over the years, birders have followed suit and Thanksgiving Weekend at Niagara has become popular among birders hoping to get their gull game on.
It was cold but losing yourself in a blizzard of Bonaparte's Gulls was magic. The portal were binoculars, a scope staring down into the gorge and you could look for hours to find that kittiwake that had taken a wrong turn in Quebec, a Franklin's Gull that forgot to fly south, those cold hulks of the north; Iceland and Glaucous Gulls.
Despite the gull fest down at the river, I rarely went birding on Thanksgiving Day as it was a special time reserved for the treasure of sharing good food and laughs with family. Like watching gulls, that was also timeless, magic in a different sense. It was more during the days that followed Thanksgiving when we ventured over to the gorge for birding, crossed into Canada during easier times.
In Costa Rica, Thanksgiving isn't an official holiday but on account of the many people from the USA who live there, a birder can enjoy turkey, mashed potatoes and authentic stuffing at any number of places. Even so, I rarely celebrated this special holiday in Costa Rica. Maybe it was the distance from immediate family, perhaps just living in a place where it wasn't a holiday but I only enjoyed an honest Thankgiving in Costa Rica on two occasions. The first time was on a visit to the Osa Peninsula back in 1999 when I was invited to a random fantastic Thanksgiving dinner given by ex-pats. The second was the one I enjoyed just last week, ironically, during the year of staying away from people.
This 2020 Thanksgiving was one of the best because not only did we enjoy turkey with all the expected sides, we also enjoyed dinner at one of Costa Rica's few true classic birding lodges, Rancho Naturalista.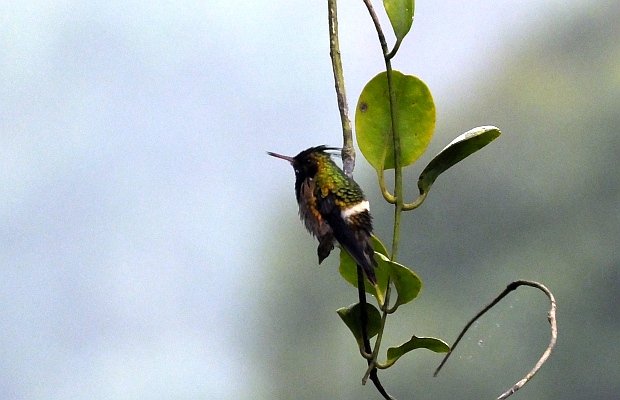 Situated in an area of lower middle elevation rainforest on the Caribbean slope of the Talamanca Mountains, "Rancho" has long been one of the go-to spots for birding tourists in Costa Rica. Many a visiting birder has seen their lifer Snowcap and Black-crested Coquette at the flowering hedges next to the lodge. Many have enjoyed the parade of oropendolas, tanagers, and hummingbirds that visit the feeders, and views of more forest-inclined species on the trails.
Not to mention, Rancho also has a cozy, welcoming atmosphere that makes a birder feel very much at home. With that in mind, when owner Lisa Erb mentioned the possibility of offering a stay with Thanksgiving dinner for our local birding club, I was happy to oblige. With Rancho following all safety protocols, our visit would of course include social distancing and masks. Those factors combined with socially distanced dining in an outdoor, well ventilated area didn't take away from the birding nor our dinner by any means. If anything, in addition to being the smart way to go birding with other folks, those factors also made us feel more at ease.
The turkey, stuffing, and all the rest were wonderful. As for the other birds, as expected, we were treated to close views of Gray-headed Chachalacas, two species of oropendolas and other species that came to the fruit feeders.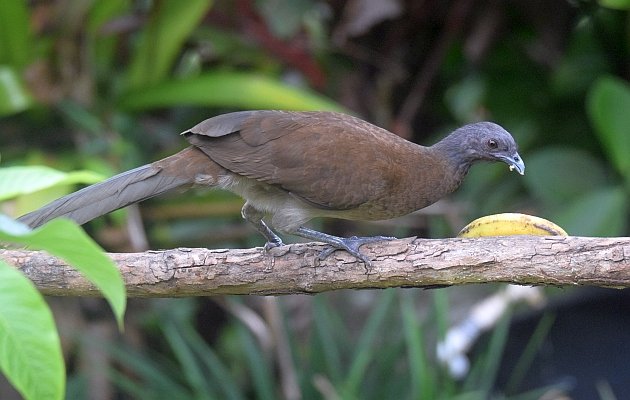 We also enjoyed several hummingbirds that buzzed at close range.
There were many White-necked Jacobins,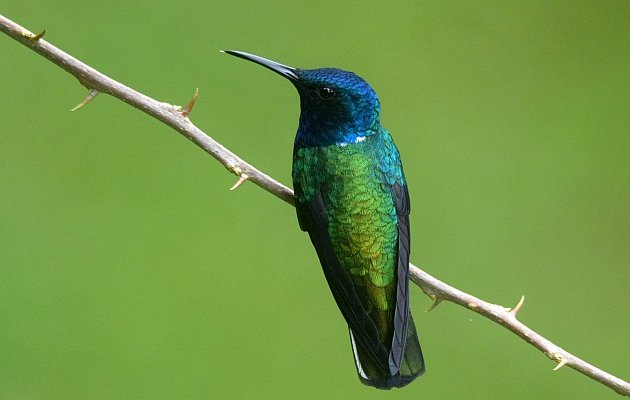 Green-breasted Mangos,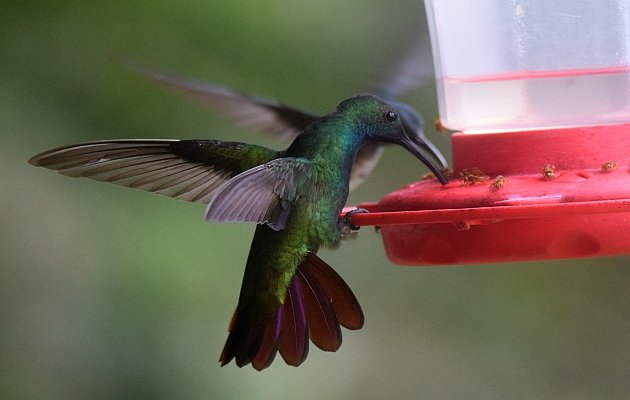 and Crowned Woodnymphs.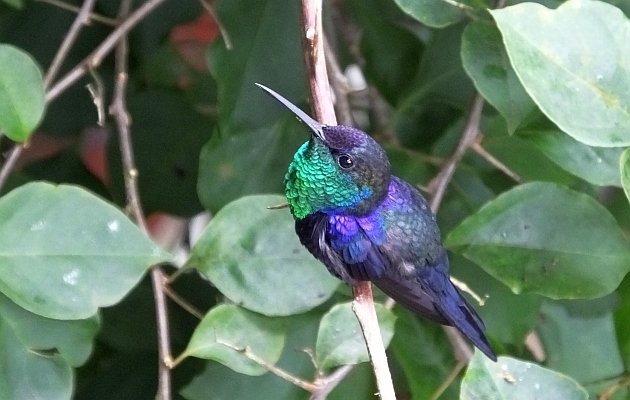 Birding in the forest was more challenging but careful steps and quick binocular action got us on to various tanagers, woodpeckers, and other species. The best of these was one of the avian unicorns of Central America, the Gray-headed Piprites. Actually a basal tyrant-flycatcher, this odd little bird with the funny name is rare and little known. It seems to show at a few scattered sites now and then but connecting with one is all about being lucky enough to be in the right place at the right time.
Fortunately for us, our trip to Rancho coincided with a piprites that has been present and hanging with a mixed flock for some time now. Even better, the power bird-guiding couple Harry Barnard and Meche Alpizar were there to help us find it. They have been keeping track of its whereabouts and knew just where it would likely show up. It took us a while to eventually connect with the flock but with views of Black-Hawk-Eagle, roosting Crested Owl, and other birds, we didn't have any complaints!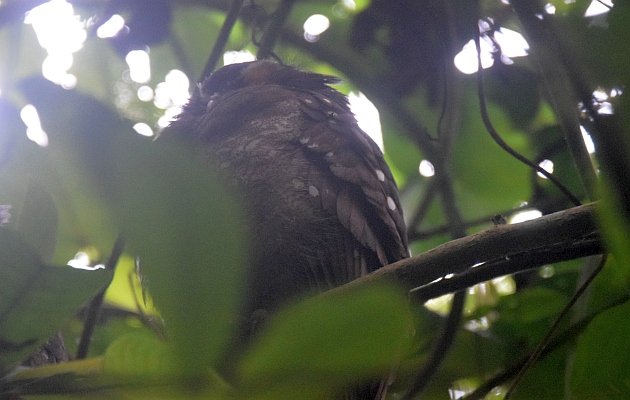 Crested Owl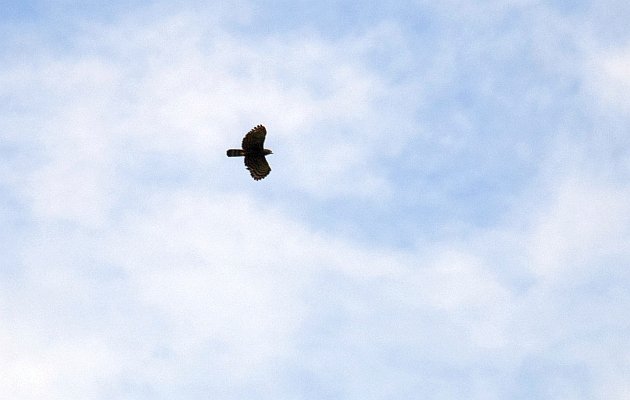 A soaring Black Hawk-Eagle.
Other highlights during our stay at Rancho included views of morning Snowcaps,
Green Thorntail,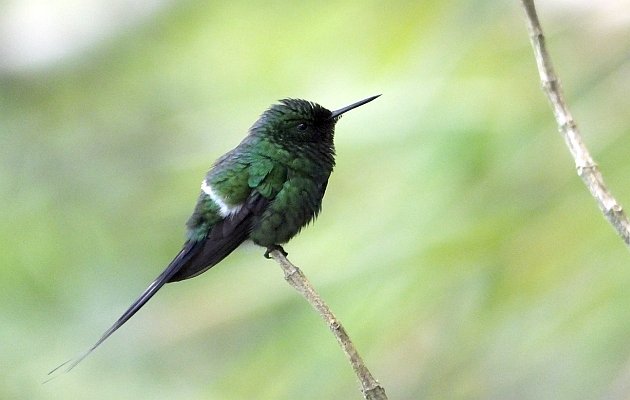 and a Sunbittern down by the river.
On our final morning, we nearly topped off the Thanksgiving time birding with a family of Lovely Cotingas. We reached their interesting middle elevation habitat after a fair drive on mountain roads but despite a few hours of searching and scanning, we had to conclude that the cotingas must have taken the day off. At least Brown-billed Scythebill and other birds were consolation. Of course, no matter what you see (and you always see a lot), a few days of birding at Rancho Naturalista are days of wonderful birding. I'm already looking forward to Thanksgiving 2021!