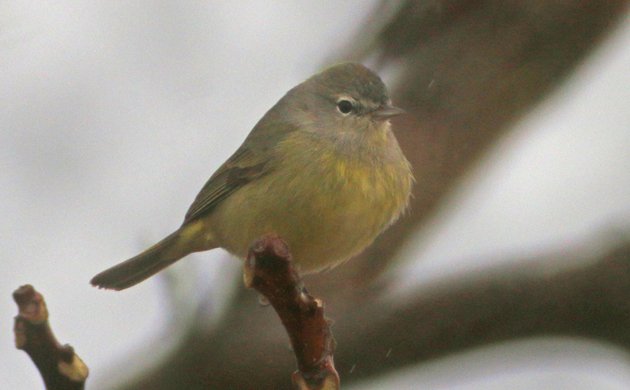 Eight days ago, on Sunday, 16 December, a whole big bunch of intrepid birders headed out across my fine home borough into abysmal conditions to conduct the 2018 Queens County Christmas Bird Count. In the predawn darkness as the wind and rain shook my car, I started getting text messages and emails from individual birders cancelling their participation and sector leaders letting me know about still more cancellations. Fortunately, each sector had at least partial teams, so I didn't need to try to reassign anyone on the fly, but our coverage was not going to be what I wished it was.
One last chug of coffee and I was out of my car, lugging my scope up onto the boardwalk by the Beach 59th Street Jetty, hoping for some good seabirds. What I saw was mostly rain and sea spray and general murkiness. Nevertheless, I put my eye in the scope and started to spot birds. Common Goldeneye, Black Scoter, Bufflehead, Ring-billed Gull, Long-tailed Duck, Lesser Black-backed Gull, Herring Gull, Brant…and, wait, what's that? A falcon-like bird coursing through the wave-troughs? It darted in and out of sight, obscured by spray one second and popping over a crest the next. A jaeger on the Christmas count? This is amazing! I have to try to document this….oh. Wait. It's not falcon-like. It's a falcon. A Merlin. Why would a Merlin be flying through the waves when there is barely light to see? A mystery that might never be answered but it would turn out to be the only Merlin for the count so I'm pretty happy I saw it. (Though, honestly, I would have preferred a jaeger.) Bob Dieterich arrived and we enjoyed a look at a second Lesser Black-backed Gull before we walked up the beach to the edge of our circle, slowly adding a few species here and there. I spent as much time using my lens cloth to keep my optics and glasses clean as I did looking for birds.
Well, I spent time cleaning my optics until I dropped my lens cloth into a puddle. Then I just dealt with looking at everything as if it were through a fishbowl, not the easiest birding conditions. Bob and I split up: he went back to get his car and bird the scrubby habitat behind the boardwalk while I went the other way (east) down the beach, hoping to find something of interest in what dune vegetation we have out in the Rockaways. An Ipswich Sparrow was a pleasant find, as was a Great Cormorant out on the water. A large flock of Sanderlings was scanned assiduously but there were no other species mixed in and no other shorebirds to be found at all.
Once I met up with Bob again some car birding in the remainder of the scrub habitat netted us a female Ring-necked Pheasant which would turn out to be the only one for the count. From there we split up again to cover portions of the waterfront and I was very pleased to find an Orange-crowned Warbler in some native plantings by a playground. I called Bob so he could join me and check it out and while I waited a second Orange-crowned popped up and chased the first! (One of the two is the header image in this post.) This is a spot I never visit outside of the CBC but it will definitely get more coverage moving forward.
We didn't add anything spectacular on the remainder of our stops so we headed to Bayswater Point State Park where we met the other half of the coastal crew, Seth, Mary and Brian. Bob was lagging behind so Brian and I went one way and Seth and Mary went another. Brian and I had another pair of Orange-crowned Warblers, amazingly enough, but Seth and Mary had a much more consequential discovery. They found a body. As in a dead human being. A victim of a homicide. (The alleged perpetrators have since been caught.)
Calling 911 and dealing with the emergency response took some time but it was something we obviously had to do as you don't leave a dead person unreported. We eventually headed to Edgemere Landfill for my favorite portion of the CBC in the coastal sector. The wind and rain had really picked up but we managed to add American Kestrel, twenty-six American Pipits, and four Eastern Meadowlarks to our burgeoning list. After Edgemere, soaked through to the skin after walking through all the high vegetation in the wind and rain, I only made one more stop, back at the coast for a seawatch because everyone had missed Northern Gannet in the morning. I could not find one and we would miss Northern Gannet for the count.
The compilation dinner at the Alley Pond Environmental Center was as lively as usual though with a smaller crowd, both because of those who had begged off the count entirely and because some people were simply exhausted after having spent the entire day exhausting themselves birding in the extreme conditions.
We managed to net ourselves 26,859 birds of 113 species. Both are respectable numbers, especially considering the weather. Below are some high-and-low lights from the tally:
The Valley Stream sector redeemed themselves for missing Pink-footed Goose on count day two years ago by finding one this year, a first for the count!
We set high counts for Lesser Scaup (649), Common Raven (5), Common Grackle (5,006), and Orange-crowned Warbler (7), and tied the high count for Bald Eagle (3).
The Douglaston sector had the count's 10th Iceland Gull, Valley Stream had our 12th Eastern Phoebe, and the Lesser Black-backed Gulls we had in the Rockaways were their 7th occurrence.
On the negative side we only had one Sharp-shinned Hawk and two Northern Harriers, which is probably attributable to the weather. And, for the first time in several years we missed Snowy Owl (and in the very year I added it to the checklist for use on the day of the count).
We also missed Pied-billed Grebe (55 previous occurrences), Northern Gannet (36), Killdeer (68), Black-bellied Plover (45), Fish Crow (65), Cedar Waxwing (39), and Eastern Towhee (36).
Worst of all, for the first time since I took over compiling duties, we did not beat Brooklyn. Wait 'til next year! Hopefully the weather will be much better!