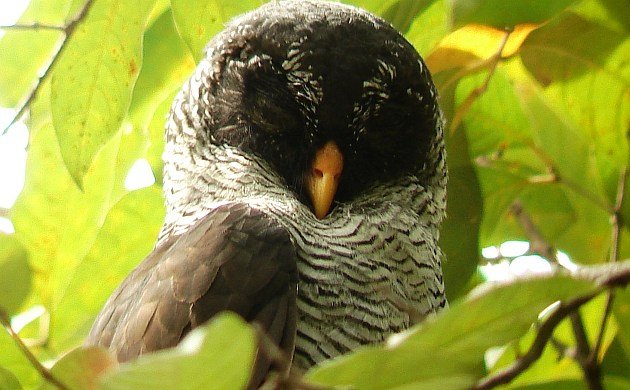 It's not always easy to get up early. For the early bird people yes but for those who relish some extra sleep, not really. Even when visiting a new place where the possibilities for lifers abound, days do arrive when a birder has to dig for enough will power to drag his or herself out of bed. The exhaustion of early starts and long hot walks adds up until the body demands an easy birding day in lieu of yet another exciting yet tiring birding marathon.
However, no matter how tired a birder may be, it's worth it to schedule in at least one day of pre-dawn birding. You don't have to go Big Day crazy and get out there at midnight either, nor even three in the morning. I'm talking about being out in the dark of the tropical night at a feasible four a.m. This is the pre-dawn hour and for night birds, it might be the best.
Four-thirty and even five can work but to be comfortable with time to look for owls and other nocturnal wonders, I would go with a four a.m. start. This has worked out during my Big Days where the rest of the night turned up very few night birds but four a.m. resulted in just about every possible owl.
Recently, the same tactic gave results while guiding at Cangreja and La Selva. Situated well off the beaten track and at the end of long, bumpy roads, Cangreja National Park is one of the less frequently visited protected areas in Costa Rica. Since the area is not birded that often and because I wondered if it might host the screech-owl taxon in Costa Rica currently referred to as Choco Screech-Owl, I opted for a pre-dawn walk on a road through humid forest.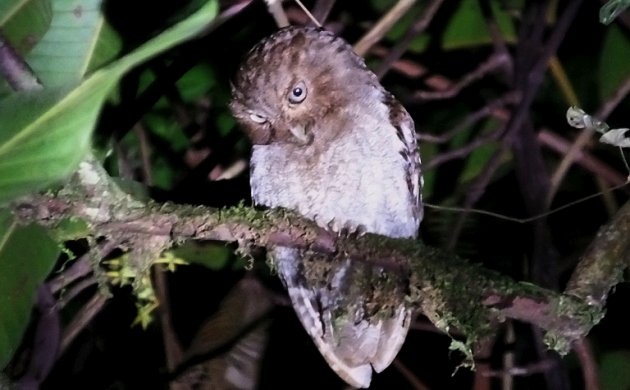 The "Choco Screech-Owl" from Costa Rica, this picture is from the La Gamba area and is shown on the Costa Rica Birds Field Guide app.
As is typical of tropical nights, the air was still yet replete with the buzzing sounds, clicks, and other calls of insects and frogs. The lack of vehicle noise was even better and it didn't take long to hear my first owls, a couple of Crested Owls that called from the interior of the forest.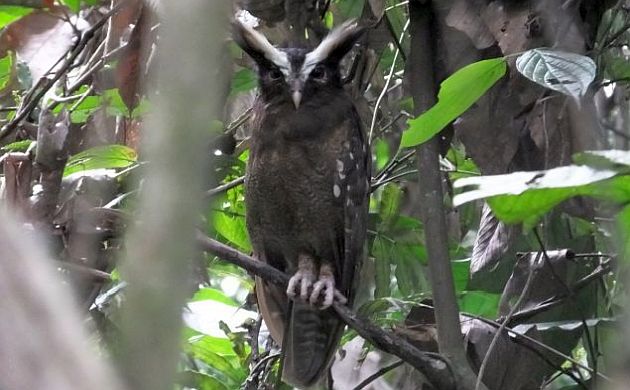 A Crested Owl from another place and day.
Mottled Owls, one of the more common owl species in Costa Rica, also called in the distance and the vocalizations of a Common Pauraque were added to the natural mix. I played the call of the screech-owl now and then but got no response. Happily, this was not the case for a Common Potoo!
One of these uber cool birds responded straight away to a recording of its song and then flew in to call from a typical potoo perch, right at the tip top of a dead snag. After watching it call for a bit, I began to walk back to the lodge and was treated to views of a couple of Short-tailed Nighthawks that swooped low over the road and the canopy of the forest. Follow this up with a beautiful sunrise and the beginning of the dawn chorus and it's hard to think of a better way to start any birding day.
At La Selva, we began the day around the same time but had fewer birds calling. Nevertheless, we still had some including two Middle American Screech-Owls, a distant Mottled Owl, and a Black-and-white Owl that flew in to perch high overhead.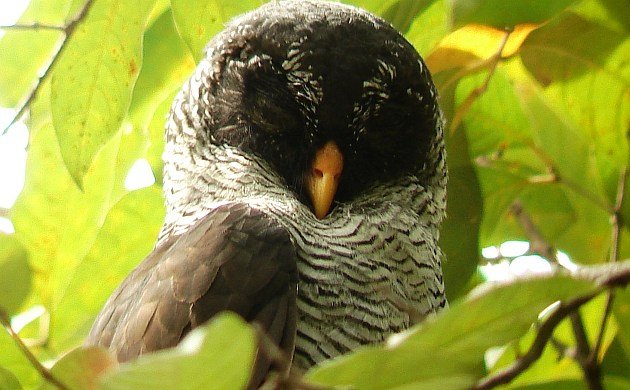 Black-and-white Owl from another day.
When planning your trip to Costa Rica (or anywhere else for that matter), instead of night walking after dinner, just go to bed early and set the alarm for four. That seems to be working out for me!