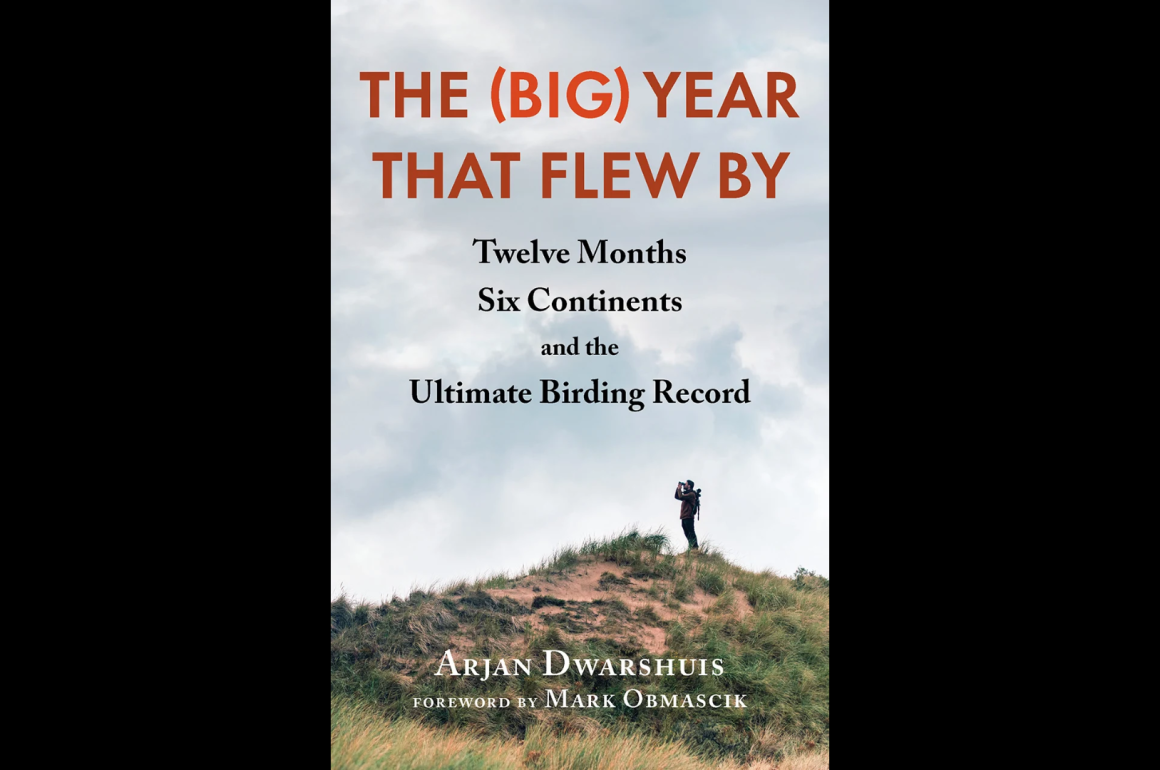 The (Big) Year that Flew By: Twelve Months, Six Continents, and the Ultimate Birding Record – which is the book's full title, or Arjan Dwarshuis's Big Year, as I prefer to call it shortly, is a highly anticipated and a long awaited travelogue of the author's 2016 race against time across 40 countries in his attempt to break the world birding record.

The previous record was set only a year earlier by Noah Strycker. Unlike Noah, who published his big year book maybe a year after his trip, Arjan's travelogue appeared in English more than 5 years after the trip. Another difference from Noah: I regularly followed the updates of where Noah was and which score he reached at the time. Yet, I was not aware of any of Arjan's big year updates in English, so I had no clue where he was or how many species he managed to see. And I wanted to learn about his travels in detail.

When I returned from my first passage to India and started my story to my best mate, he asked: No, no, don't skip anything, start from the beginning, from landing. I tried, but it simply doesn't work like that.  

I expected Arjan to describe more birding lodges in detail, but, if I remember well, only half a dozen or so were described in such a manner, the world-famous Kumul Lodge in the highlands of Papua New Guinea being among them. "This lodge owes its fame to a 3-yards-long, moss-covered bird feeder table. Every morning, this table is filled with pieces of papaya, mango, and banana. Because this is New Guinea, it does not attract tits, finches, and sparrows, but parrots and birds-of-paradise… as soon as a fresh load of papayas and bananas is brought out and thrown on the table, the forest comes alive."

After 3 months of South and Southeast Asia, Indonesia and Australia, Arjan's count stood at 2,060 species. He happily commented: "I am now well ahead of Noah's pace, while I haven't even started my journey through Africa and, last but not least, the most bird-rich continent of all, South America. Slowly but surely, I start to realize that breaking the world record could become a reality."

At that time Arjan had a brief visit to his homeland, the Netherlands, which boosted his morale, but also offered a chance to repack his backpack: "After three months of nonstop travel, I know exactly what is unnecessary and what is lacking. As I carry only hand luggage, I'm very limited in my choices. I exchange my heavy, clumsy poncho for a light rain jacket. I didn't use two of the three hard drives I'd carried, so they can stay at home."

"My Big Year is such a succession of new experiences that there is simply no time to think of other things. … After such a long period of intensive travel, it has become completely normal that my life revolves around only one piece of hand luggage, binoculars, a camera, and seeing as many bird species as I can."

When Arjan reached Suriname, his count stood at 3,646 species, with just under half a year left. For the next three and a half months, he will traverse South America, and when he leaves this continent at the end of October, Arjan hoped to have passed the magical number of 6,000 species. 

Brazil posed an enormous challenge logistically, so Arjan decided to include in the itinerary only the southeastern corner of the Amazon rainforest near Alta Floresta, a brief visit to the Pantanal, and to concentrate on the southern part of the Atlantic rainforest, where most of the endemic species occur. The Pantanal "is a bit like the savannas of Africa: an open area with large mammals, crocodiles, and large ratites. The safari 4×4s and lodges complete the picture. This is also the disadvantage of the Pantanal: Hundreds of thousands of tourists come here every year, so it is almost always bustling with activity. On the other hand, this is good news, because if a lot of money comes in, then the Brazilian government will be motivated to protect the area." Brazil was exceptionally favorable to his Big Year, providing him with 554 new species in twenty-two days.

"I've had so many incredible experiences. I have crossed the highest mountain ranges, the deepest oceans, the densest rainforests, and the hottest deserts. I have observed nearly two-thirds of all the bird species in the world, from the birds-of-paradise of New Guinea to the albatrosses of the southern oceans to the hummingbirds of the Andes Mountains. 

"Most of all, I've become aware of how incredibly privileged I am to have been able to do this. There is so much inequality in this world: The vast majority of people wouldn't be able to make this trip even if they wanted to. Travel, but also nature conservation, is a luxury. It's something that we rich Western people treat rather flippantly. Perhaps this is because we can afford to."

The (Big) Year that Flew By has about 250 pages consisting mostly of a random collection of readable field snippets describing encounters with more exciting birds. I wish there were more inter-connective tissue or other data in between – even after I finished reading it, the feeling that I wanted to learn of his travels in detail remained unsatisfied, the same way my best mate must have felt when I lead my story from one highlight to another, skipping the landing and everything. I guess, it will be some time till this record gets broken. In the meantime, I'd recommend this as some hot reading for the hot days of summer.