As birders, we tend to spend more time in wetlands than most of our peers, neighbors, and family members. Unless those non-birding folks happen to be duck hunters or love to go fishing, they tend to stay away from the marshes, the riparian zones, the bottom lands. Such sites being wonderful habitat for mosquitoes and other little biting nasties, we can't really blame them. I mean, let's face it, why would we expect anyone to want to hike through sticky mud in hot humid places unless there's a serious pay-off at the end of the swampy trail? The reward has to be a big one, and if you aren't venturing into the low, wet places to make money, mosquito-land swamp trekking is only going to take place when it stems from birding, herping, or some other passion-driven purpose.
For us birders, visiting a wetland is a no-brainer. The rewards usually outweigh the biting bugs and especially so because they are typically easy to come by. In wildlife refuges and reserves in many parts of the world, all you need is a scope, time, and the right overlook and you can walk away with easy, prolonged studies of ducks, herons, waders, grebes, and lots of other marsh birdies. Although the few big wetland sites in Costa Rica require a bit of a trek, sun screen, and boat rides, the wetland birding is just as rewarding and acts as a welcome break from the quiet challenge of rainforest birding.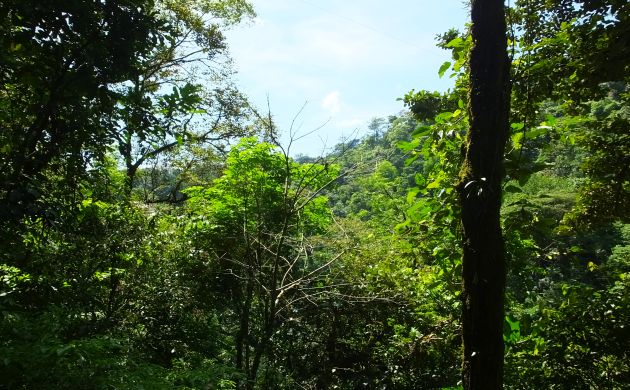 See the birds? Of course not, it's rainforest!
There are two main wetland areas in Costa Rica, one in the Tempisque River floodplain, and the other in wetland areas associated with Lake Nicaragua. I recently made a trip to the latter area and although the wetland sojourn was necessarily brief, in keeping with marsh habitats, it was wonderfully productive. Our trip began with a dawn departure from the densely populated Central Valley followed by a four and a half hour drive to the low-lying, northern border region. Being birders, we of course made a couple stops en route, one of which was an attempt to see a small very elusive creature known as the Lanceolated Monklet. Despite our focused efforts at the La Fortuna Waterfall Trail, the first target bird remained elusive but once we reached our primary destination, we sort of made up for the miss by laying eyes on some other choice species.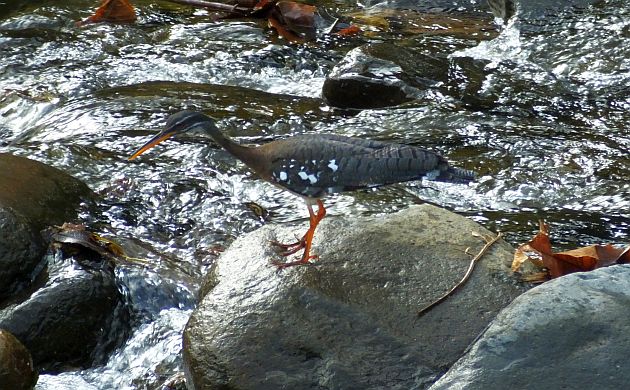 On the way there, we also saw King Vulture, Barred Hawk, and, this Sunbittern! 
Reaching that destination requires a 20 kilometer drive on a long, gravelly road that usually features a prodigious array of pot holes. However, much to our pleasant surprise, recent grading had transformed the moonscape on the entrance road to a smooth, if dusty, ride right on in to Cano Negro village. After checking in to the pleasant little cabins at Kingfisher Lodge, and getting a bit of rest, it was time for a first boat tour of the trip.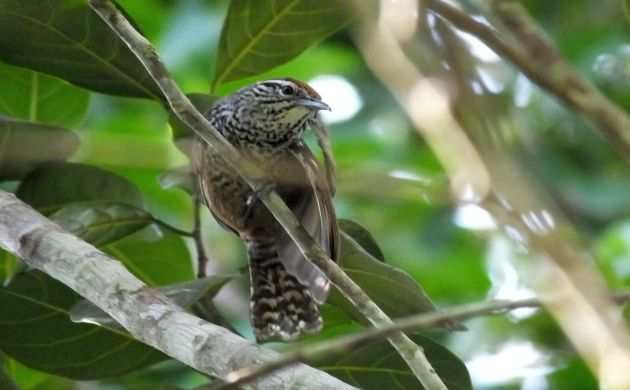 Fortunately, we managed Spot-breasted Wren before taking to the river. This area is the only place where this species can be seen in Costa Rica.
Once on the river, we watched the banks and were treated to the usual array of aquatic species, many of which also occur in Florida and other commonly birded places.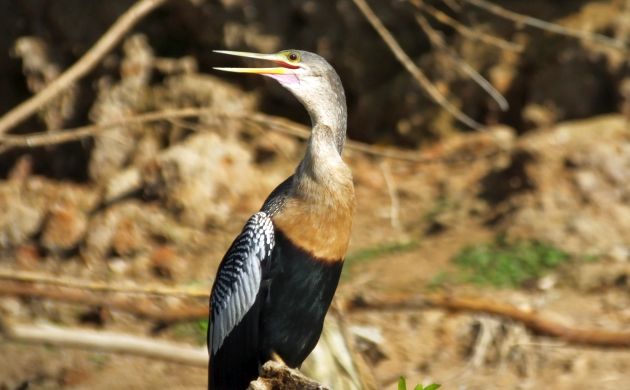 We were surprised at the numbers of Anhingas and Neotropic Cormorants. This one is an Anhinga.
While enjoying views of various herons and egrets, we were also treated to species not typically seen north of the border. These included several Amazon Kingfishers (the most common kingfisher species here) along with Ringed and Green Kingfishers, flybys of Olive-throated Parakeets, Mangrove Cuckoo, and our one and only Sungrebe.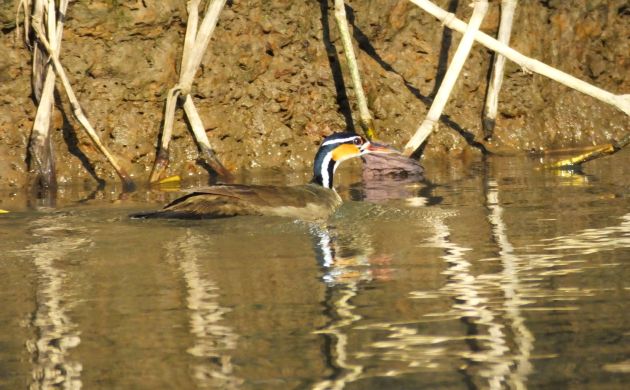 Along with the other two members of the finfoot family, the Sungrebe is a super cool weird bird. Grebe? Duck-Rail? It doesn't exactly sun bathe but the name still fits.
Further on, our trusty boat driver Antonio took us to the lagoons we had been looking forward to. Since the first one was rather dry, had few birds, and wasn't going to harbor target species like Pinnated Bittern or rails, we motored on to the other pair of main, birdy water bodies. We had to depart the boat for each of these spots but the scramble up the bank was well worth it.
The first harbored a bunch of shorebirds including Pectoral and Silt Sandpipers along with various waders, Limpkins, a couple of distant Snail Kites, and some ducks. While we scoped and scanned those birds, our main target suddenly appeared…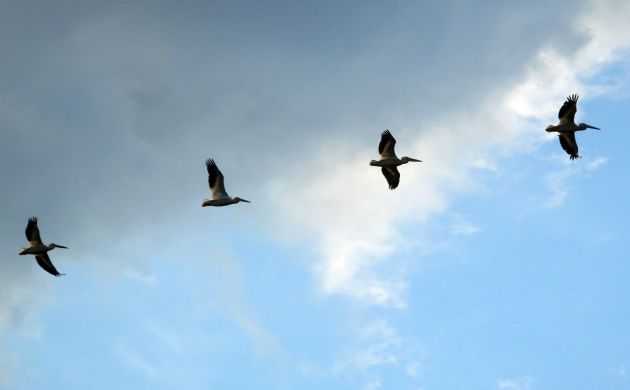 American White Pelican!
I know, big deal for folks from much of Canada, the USA, and Mexico, but for local birders, this big bird with a pouch is a major twitch (it was a country tick for each of us). Prior to 2015, there were scant records of this species in Costa Rica but perhaps in relation to population increases up north, flocks have made appearances at Cano Negro for the past couple of winters. This year was extraordinary in that a flock has lingered for two or three months. Hopefully, this rare sighting will be an annual occurrence in Costa Rica.
Although the pelicans gave beautiful looks by doing us the pleasure of flying where the late afternoon sun lit up their features, our productive birding day wasn't over yet. Antonio then took us a short way across the river to the other main lagoon, and this one turned out to be the main joint for Cano Negro waterbirds. The drying lagoon was filled with birds, including a flock of Wood Storks that foraged in a black and white feathered herd, dozens of egrets and other wading birds, a small group of Glossy Ibis, a few splashes of pink in the form of Roseate Spoonbills, and seven fantastic Jabirus! This was the highest number of this rare stork that I have ever seen in one place in Costa Rica. As a bonus, I also managed to get another country tick in the form of Long-billed Dowitcher by picking one or two out of a few dozen Short-billed Dowitchers.
This final, productive stop was the perfect way to end an afternoon of easy and exciting wetland birding. However, we still had one more site to hit before making the long drive back up and over the mountains. That came in the form of another wetland near Cano Negro known as "Medio Queso". This large marsh is an easy site to combine with a visit to Cano Negro, and is a short drive from the town of Los Chiles. If you can manage to connect with the one guy who gives boat rides, you might see Least Bitterns, crakes, and even Spotted Rail. Unfortunately, we weren't able to contact him in advance and he was already scheduled to take a couple out fishing so our birding was restricted to the dike. Although this kept the aforementioned birds frustratingly out of reach, we still managed excellent looks at Pinnated Bittern as it foraged, stretched its neck, and flew down the river, as well as good looks at the local, endemic Nicaraguan Grackle, and Lesser Yellow-headed Vultures.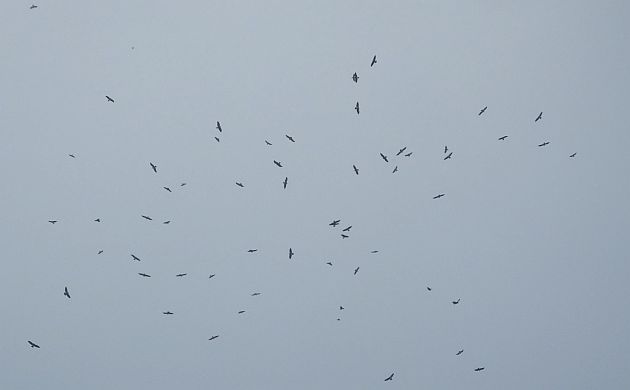 We also got onto fantastic raptor migration with hundreds of Turkey Vultures, Swainson's Hawks, and Broad-winged Hawks passing overhead.
After that final stop, it was time to head back home although we couldn't help but break for lunch in La Fortuna and pay a visit to the excellent Sendero Bogarin reserve at the edge of town so we could at least see one species of crake before finishing our two productive days of birding.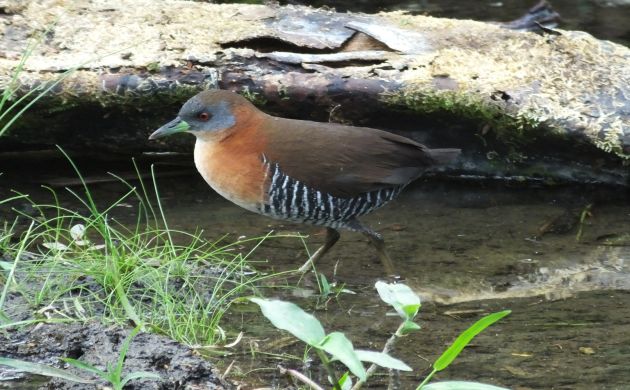 This spot might be the easiest place to watch White-throated Crakes anywhere on the planet.