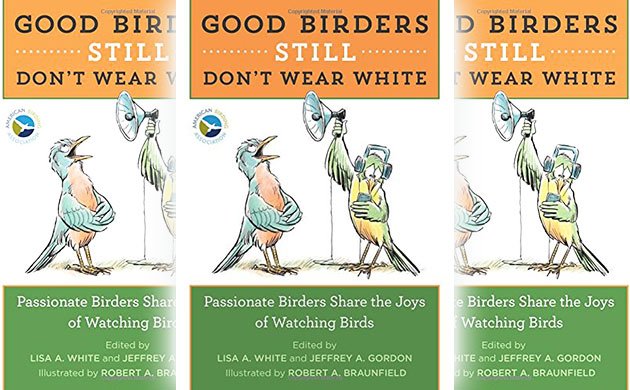 Good Birders Still Don't Wear White is the kind of book that every birder should–and likely will–own. Luckily, not everyone will need to pay for their copy. Our friends at Houghton Mifflin Harcourt gave us three copies to share with readers through a triple-tiered giveaway. Let's find out who the lucky winners were…
The first way to win a copy of Good Birders Still Don't Wear White was simply to subscribe to the 10,000 Birds free daily email newsletter, a prize in and of itself! From a pool of over 800 subscribers, Mary White emerged victorious. Mary, a certified Florida Master Naturalist and serious amateur photographer, recently completed a pilot Audubon birding naturalist certification course.
The second way to win a copy of Good Birders Still Don't Wear White was to share this blog post on Facebook while using the hashtag #GoodBirders. In this heat, the spoils randomly fell to Clifford Hawley. Cliff was raised in the Central Valley of California and discovered a love of birds at 14 when he found a male Vermilion Flycatcher in his yard. He lives in Sacramento with his wife and daughter, and enjoys county birding throughout the state.
The third and most demanding (not that the other options were actually demanding) way to win a copy of Good Birders Still Don't Wear White was to write a one-paragraph explanation of something that you think good birders do or don't do. Neil Gilbert definitely delivered:
Good Birders Drink Wine with Friends on Their Back Decks
Good birders should enjoy wine with their friends on the decks or patios at night. You see, birders have the deserved reputation of being early risers, a necessity for witnessing the dawn chorus and the peak of avian activity. However, nighttime lends the opportunity unparalleled in coolness to hear nocturnal migrants call as they wing overhead. To enhance the experience, I recommend acquiring a bottle or two of Merlot and inviting some non-birding friends over. You can listen for flight calls, regale your friends with all sorts of avian facts, and even bust out your spotting scope to show them migrants crossing the face of the moon. Doing this allows you to (1) hear nocturnal migrants, (2) drink wine, (3) enjoy the company of friends, and (4) educate people about birds and maybe even get someone hooked on birding.
Neil is a graduate student at the University of Alabama, where he studies avian ecology. He's been a rabid birder since the age of five, but probably hasn't been drinking wine with friends quite as long.
Congratulations to all of our winners and to all of you who still haven't had the pleasure of reading Good Birders Still Don't Wear White. Thanks to everyone who participated. We're working on our next big book giveaway, so stay tuned!