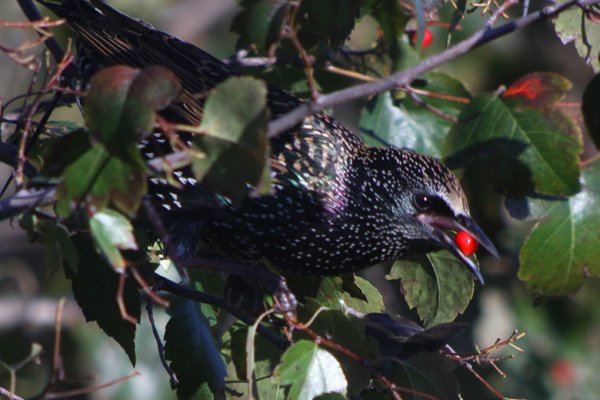 Greetings, 10,000 Birds readers! I'm thrilled to be contributing all the little tidbits I find to the Nature News beat. And there's little that's newsier (in the U.S., at least) at the moment than the NCAA men's Division I basketball tournament!
Birds have already begun making their presence known on the court. Among the "First Four" games, the LIU-Brooklyn Blackbirds faced the squad from James Madison University. At least one local European Starling decided to cheer on the Blackbirds at University of Dayton Arena in Ohio, flying around the court and even touching down on the hardwood before perching in the rafters. Despite this show of support, LIU fell to the JMU Dukes, 68-55.
The Liberty University Flames, represented by their American Bald Eagle mascot, Sparky, were also bounced from the tournament, while the Marquette Golden Eagles, Oregon Ducks, and Louisville Cardinals advanced from their first-round matches. The Round of 64 boasts a healthy contingent of teams with bird mascots.* Here's hoping one of them will end up in the Final Four!
*For the record, here are all the bird-related teams who made it to the tournament:
Oregon Ducks
Miami Hurricanes (represented by their American White Ibis, Sebastian)
Florida Gulf Coast Eagles
Liberty Flames (represented by their American Bald Eagle, Sparky)
Temple Owls
Iowa State Cyclones (represented by Cy the Cardinal)
Louisville Cardinals
LIU-Brooklyn Blackbirds
Creighton Bluejays
Kansas Jayhawks
Marquette Golden Eagles