John Burroughs should be as well known as Henry David Thoreau.  He was one of the preeminent naturalists of the late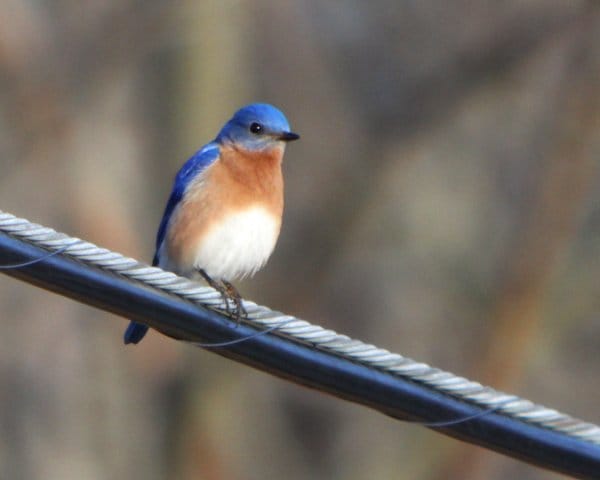 nineteenth and early twentieth centuries, a contemporary and friend of Walt Whitman, a companion of President Theodore Roosevelt, and a distinguished writer and conservationist.  His nature essays are a joy to read, especially for those who, like me, grew up in the Catskill Mountains of upstate New York which John Burroughs called home.  This post, however, is about his poetry, or, rather, one of his poems, "The Bluebird," which was first published in Harper's Magazine in June of 1903.
"The Bluebird" is about more then just the bluebird.  For Burroughs the return of the bluebird was one of the first signs of impending spring, and, as such, a joyous occasion.  Hearing and seeing a bluebird bring to his mind the process of tapping trees and boiling the sap collected down to syrup.  Not only that, but once the Eastern Bluebird arrives it is only a matter of time before the Downy Woodpecker, the White-breasted Nuthatch, and the American Robin start setting up territories and working to attract a mate.  Add to that the intrinsic beauty of the bluebird's "azure coat and ruddy vest" and it is no wonder that Burroughs wrote a poem extolling the bird that to him meant "all the soft, wooing influences of spring on the one hand, and the retreating footsteps of winter on the other."*
Before I go any further let me simply share his poem with you.
The Bluebird

A wistful note from out the sky,
"Pure, pure, pure," in plaintive tone,
As if the wand'rer were alone,
And hardly knew to sing or cry.

But now a flash of eager wing,
Flitting, twinkling by the wall,
And pleading sweet and am'rous call,–
Ah, now I know his heart doth sing!

O bluebird, welcome back again,
Thy azure coat and ruddy vest
Are hues that April loveth best,–
Warm skies above the furrowed plain.

The farm boy hears thy tender voice,
And visions come of crystal days,
With sugar-camps in maple ways,
And scenes that make his heart rejoice.

The lucid smoke drifts on the breeze,
The steaming pans are mantling white,
And thy blue wing's a joyous sight,
Among the brown and leafless trees.

Now loosened currents glance and run,
And buckets shine on sturdy boles,
The forest folk peep from their holes,
And work is play from sun to sun.

The Downy beats his sounding limb,
The nuthatch pipes his nasal call,
And robin perched on treetop tall
Heavenward lifts his evening hymn.

Now go and bring thy homesick bride,
Persuade her here is just the place
To build a home and found a race
In Downy's cell, my lodge beside.
There are no deep meanings in this poem.  Burroughs says what he means and you can tell that he really means it.  He is happy the bluebird has returned and he hopes that it will nest by his house in "Downy's cell," that is, the abandoned hole of a Downy Woodpecker.  Considering how many people now build or buy nestboxes in the hope that bluebirds will take up residence it is clear that Burroughs is not alone in this sentiment, though in the early 1900s it seems likely that there were less people specifically beseeching bluebirds to nest by their homes.  The simple language, with no words over three syllables, combined with the straightforwardness of the text makes the poem accessible, much like Burroughs tried to make the meanings of the natural world accessible to his readers.  Even the mild anthropomorphizing in the poem seems meant to help the masses connect to the bird.  What "bride" wouldn't be homesick after a winter away?
What I like most about "The Bluebird" by John Burroughs is that it shows how simple language and text meant to be taken literally can combine to create a poem worth remembering.
…
*From his essay, also called "The Bluebird" that appeared in his famous collection of nature essays, Wake-Robin.
…
If you liked this post and would like to browse the entire archive of poetry posts on 10,000 Birds please check out our Bird Poems page.
…