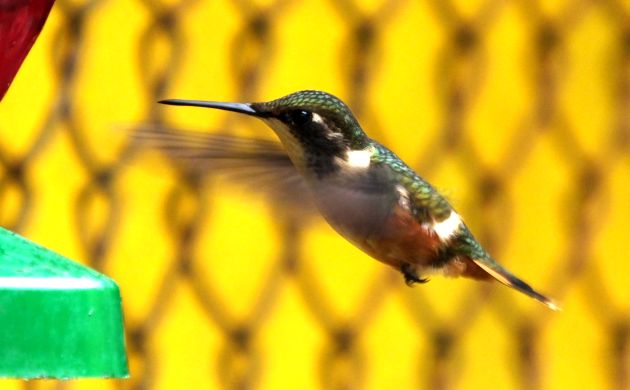 For birders around the globe, last Saturday was important. It was October 6, Global Big Day part dos and birders in Costa Rica were stoked. Although more than twenty thousand people around the globe who share the hobby or passion or obsession for watching the feathered ones also shared a collective day of birding on May 5th, we just had to do it again for fall migration. This was only natural because since millions (make that billions!) of birds migrate one way in spring and then the other way in fall, us birders really do deserve two Global Big Days. They should really be holidays or official race days where roads are closed to non-birders, police escorts ensure that no one gets in the way of vehicles moving between hotspots, and official espresso stands are situated near the most popular birding sites. A "Tour de Birds" if you will. Organic chocolate goodies could also be served but some menu items would be banned from the Big Day birding kiosks. Items like turkey sandwiches for example because sneaky, sleep-inducing tryptophan is the last thing any birder needs during Big Day mode. Extreme? Yes, but then again so are Global Big Days!
A birder can of course celebrate open days of constant birding however he or she wishes, in Costa Rica, the birding community did so on October 6th with dawn to dusk birding in several corners of the country. Thanks to a fair degree of participation in the right places, I daresay that we birders in Tiquicia did quite well in garnering a total of 650 plus species. In fact, in terms of percentage of possible species identified, we were only surpassed by Argentina (felicidades para los observadores de aves de Argentina!). In Costa Rica, my two person "Team Tyto" did especially well with a final total of 236 species. This was the second highest total for the country and if we would have done more owling, we would have had even more species!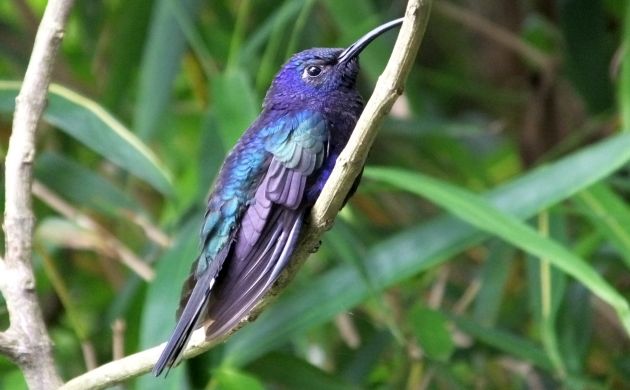 Violet Sabrewing, one of the species we saw.
We birded from one side of the mountains up and over to the other, even visiting the Pacific Coast for a late afternoon mix of Whimbrel, Osprey, and Semipalmated Plover. With so many birds seen or heard during a memorable, fantastic day of birding, highlights were inevitable and many. These were three of my favorites:
The Cotinga
There's more than one and all are super cool, almost unreal birds including the species we saw on October 6th, the Snowy Cotinga. It happened near the end of our time at the edge of La Selva Biological Reserve and we almost missed it. I was just about to get in the car when I caught movement above, looked, and quickly yelled "cotinga!" as a male swooped into the top of a tall tree. This happened in probably less than a second. Although several cotingas are famous for perching right on the tip top of a tree, our GBD bird sneaked into the canopy vegetation. No matter, I knew it was there and that careful scanning should find it. Sure enough, thankfully, after a tense ten seconds, there it was, a patch of snow white in the green. A moment later, we were watching it in the scope, checking out its beady black eye and marveling over its cartoon-like appearance.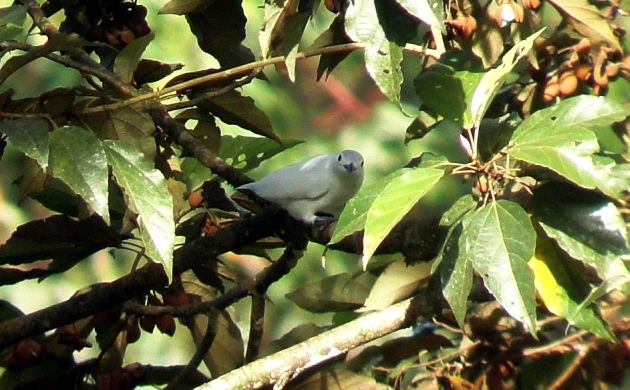 A Snowy Cotinga from another day.
The male is honestly as white as snow and looks more like a caricature of a bird or something from polar locales than a species in need of hot, humid, lowland rainforest. It occurs from Honduras to western Panama and can be fairly common in areas with extensive mature rainforest but usually, it's a rare find, especially so when you only have two hours to look for it. Not that unexpected at La Selva but not exactly common either and since we had gone cotingaless when looking for it on more than one occasion, our best October GBD bird was a satisfying encounter.
The Woodstar
This small hummingbird was a mid-day highlight. We had stopped at the Volcan Restaurant, a cozy place run by an older couple located 2,000 meters up the southern slopes of Poas Volcano. I have brought many a client to this site to take in the hummingbird display while enjoying home-cooked country fare. GBD didn't leave us with enough time for a sit down meal but the right hummingbirds were present including a female Magenta-throated Woodstar. We watched her buzz nearby at arms length as the bird fed on sugar water while one of the owners told us about "her hummingbirds". "I love them!", she said. "I love them and that's why I put the feeders up here to keep them away from the cats! I make sure they always have food and clean the feeders every day. Look how beautiful they are, the big purple one, the tiny ones! I could watch them every day, all day long."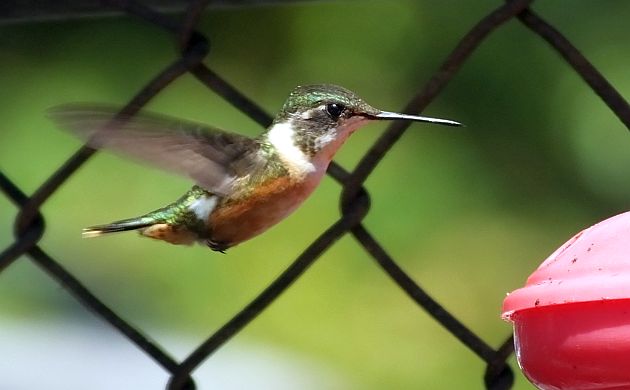 The woodstar is one of the tiny ones.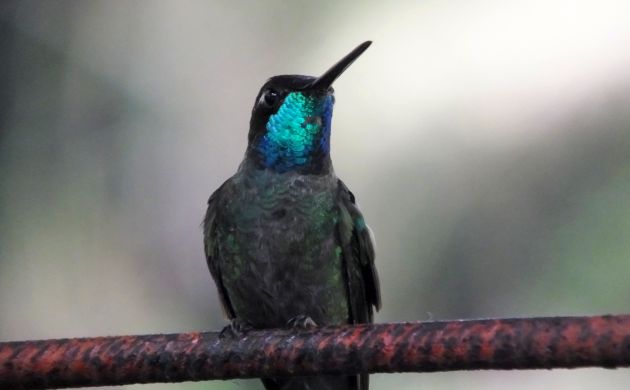 This was also our site for the Talamanca Hummingbird, one of the big ones. 
The Nighthawk
Serendipity always comes calling on a Big Day. There's just too time spent birding in birdy places for it not to happen. The funny thing about it is that you just never know when or how it will happen. Predictable, even guaranteed to occur the longer you bird but impossible to say exactly when or in what way. Will it be a perched potoo? A massive mixed flock? Maybe a vagrant Palm Warbler? On Team Tyto's October GBD, the bird born on wings of serendipity was a nighthawk. Not the kind that flutters in evening summer skies of the north but a Short-tailed Nighthawk, a tropical bird that looks and acts more like a big, long-winged bat.
We tried for the Short-tailed Nighthawk at the start of our GBD but it never showed in a "good" expected site for it.  "Trying" means watching the rainforest canopy right at dawn or dusk, right at the time when it just starts to get a bit too hard to see. That's when this nighthawk comes out to play and is why it's such a challenge to photograph in flight. Unlike the Chordeiles nighthawks that flutter high overhead, the Short-tailed quickly zips near and above the canopy of humid forest and hardly seems to call. I thought we had missed it but GBD luck was with us, right at the end of the day while driving at dusk near the Pacific Coast. That's when the distinctive long-winged, short-tailed shape of this nightjar appeared against a post sunset sky and joined our list.
It was a fine day for living, for looking into that high blue sky to scan the vultures and listening to the motmots hoot with the break of dawn. And how not? It was a beautiful day of focusing on birds, dawn to duck and then some. Honorable mentions go to the bold Ornate Hawk-Eagle that soared into view and onto our day list at Dave and Dave's, the Bat Falcon that finally flapped overhead right at the end of the day, the twenty species of hummingbirds doing their glittering thing, and last but not least, a critically important can of Red Bull! Next time, we'll shoot for 300 plus species.