For many, the name "Antigua" conjures visions of posh resorts and crystal coves in the Caribbean. For me, the word will always take me back to the charming, challenging colonial capital of Guatemala.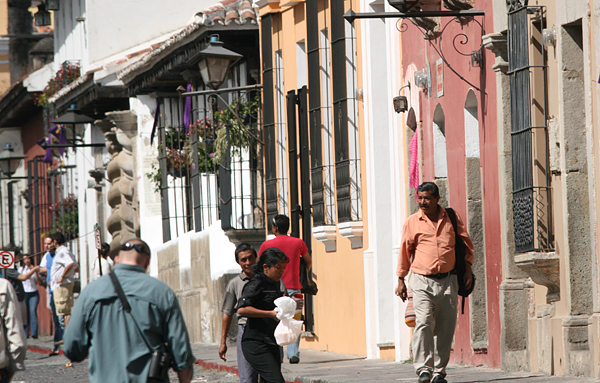 Antigua is a gorgeous little city about 45 kilometers from Guatemala City. Its inimitable character derives from its rich history as the former seat of the military governor of the Spanish colony of Guatemala, a territory which actually encompassed much of Mesoamerica. A series of destructive earthquakes ravaged much of the city's distinctive edifices, designed in a style that blends Spanish, Moorish, and indigenous influences. They also sent the bureaucrats to the less tectonically-challenged region, the current capital of Guatemala City. But enough amazing architecture was left behind to make "Old Guatemala" one of the biggest tourist draws in the country.
Antigua is enchanting. Its labyrinthine cobbled streets are inscrutable to the casual guest. Equally unreadable are the cheerful facades, every one brighter and more beautiful than the last. Peach gives way to turquoise which yields to canary but this obvious eye candy obscures the inner life of the city. Antigua keeps its secrets safe behind pastel walls. Once you're behind them, whole worlds open up.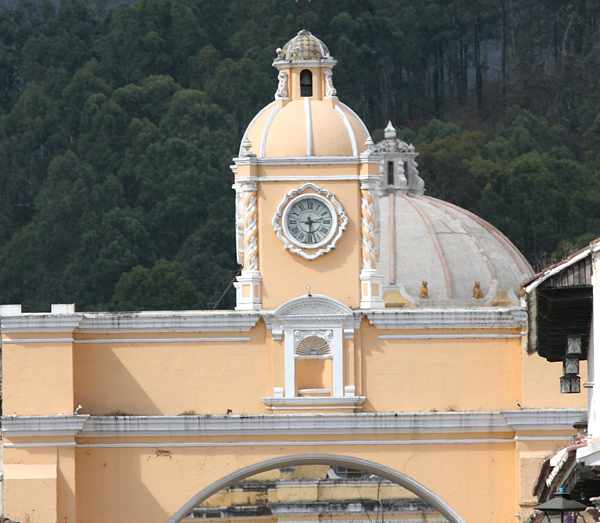 Santa Catalina arch
Our group stayed at the Hotel Los Pasos, a lovely hacienda with fine amenities but at least a couple of rock-hard beds. We also had the privelege of attending an exquisite INGUAT (Instituto Guatemalteco de Turismo) awards dinner at the Hotel Casa Santa Domingo. From its modest exterior, one would be hard-pressed to imagine how tastefully opulent this luxury hotel is. At least this one was! I've been around and visited my share of "fancy" places but I'm not sure if I've every been as impressed with a hotel as I was here.
Much of the allure of Santa Domingo and Antigua in general comes from the plentiful remnants of centuries of Catholic cultural sway. Santa Domingo was built on, and has imaginatively integrated, the ruins of an old convent. In fact, this hotel includes an archaeologically-significant museum of Colonial religious artifacts. Everywhere you visit throughout Antigua are historic churches and convents. Even today, this town is renowned for its pious observance of Catholic holidays, particularly Lent and Easter.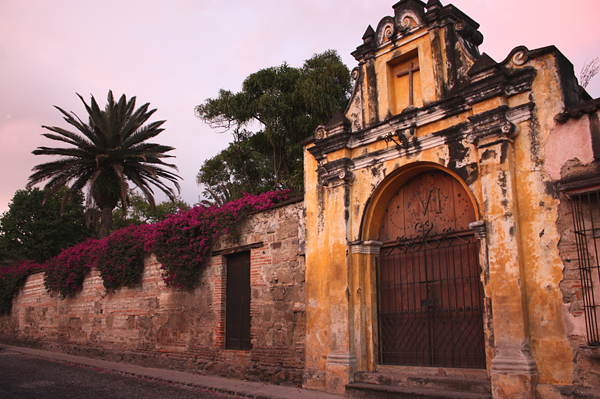 Antigua is intense. From its Parque Central to its bustling markets, its warren of roads to its Miami Vice palette, this city is like no other. Centuries of elaborate architecture serve as constant reminders that this was once one of the most important cities in the New World while Volcán de Agua, slumbering since the 16th century but still looming and ominous, never lets one forget that this is no Caribbean port of call but instead gorgeous Guatemala. For further clarification, be sure to visit Finca El Pilar for some serious birding habitat.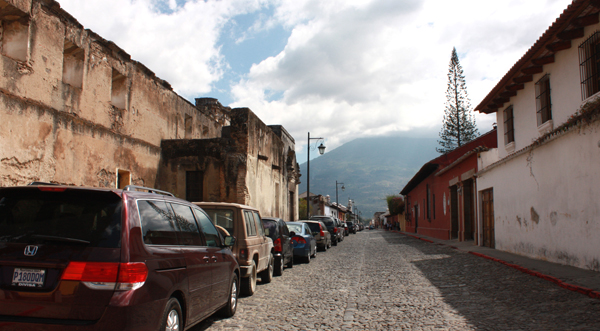 I'd like to give credit for the last two photos to Mel Pineda, a skilled guide and field acoustician I had the pleasure of traveling with during the last Guatemala Encounter. Mel has a gift for birding by ear and even leads groups on blind birding tours. After seeing how much he hears on the trail, I've realized how much I've been missing by maintaining such a visual focus in the field.