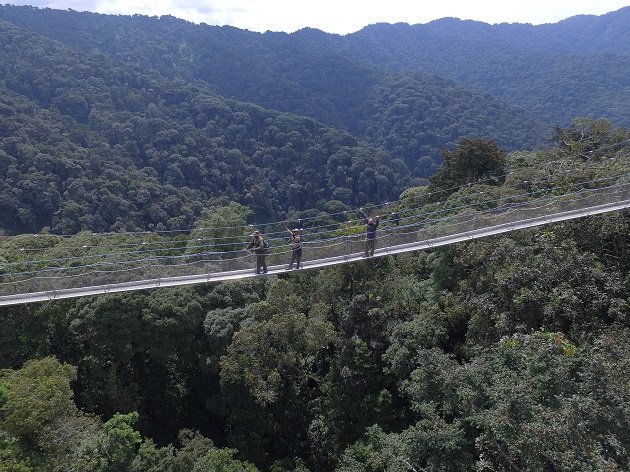 The beginning of the northern summer is a good time (as any) to dream of some of the most biodiverse places on Earth. No, I am not talking of Brazil or Columbia, they are not just in the tropics but more importantly, they are officially huge. When you compare the species richness not per country, but per square kilometre, that is when you get a more realistic picture, and then those tiny tropical countries rightfully stand out in the spotlights.
Mongabay.com has done exactly that. This portal has compared data on the percentage of a total global number of species of birds, amphibians, mammals, reptiles, fishes and vascular plants per unit of area, creating a biodiversity index. And the results are indicative, representative and nothing short of surprising: Brunei, The Gambia, Belize, Jamaica, El Salvador, Costa Rica, Rwanda, Equatorial Guinea, Panama and Haiti top the list. And now you finally know where to travel next.
My mind now wanders off to one of those, to Rwanda – one of the smallest African countries, about the size of Massachusetts or Slovenia (for those familiar with Neotropical birding, it is half the size of Costa Rica), but with 701 bird species.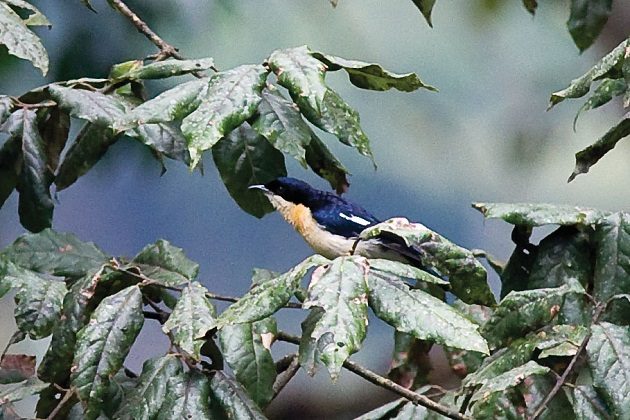 Male Albertine Violet-backed Hyliota in Nyungwe, with atypically large wing panel, by Gael Vande Weghe
Officially, there are no in-country endemic species, but you are advised to give a special attention to the Violet-backed Hyliota Hyliota violacea. In his book The Birder's Guide to Africa (3), Michael Mills noted not only differences in plumage (has white on a folded wing), but also voice and habitat choice, suggesting that the Albertine ssp. violacea (illustrated) should be split from the Violet-backed (ssp. nehrkorni spreading all the way to West Africa). At the time being, the Albertine Hyliota is known only from Nyungwe in Rwanda, but keep in mind that both races seem to be present in this area (Gael Vande Weghe, pers. comm.). If the Albertine Hyliota becomes a new species, it also becomes the first endemic of Rwanda, but that requires a more complex phylogenitic study of Hyliotas.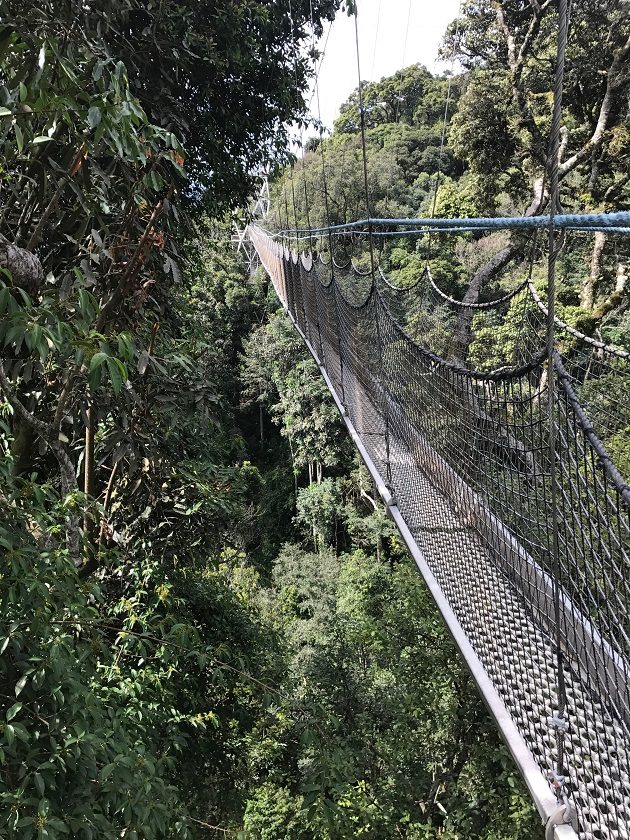 Nyungwe National Park, photo Rwanda Development Board
Nyungwe National Park encompasses almost 1,000 km2 of montane forest with over 250 tree species, stretching from 1,600 m / 5,250 ft to 2,950 m / 9,700 ft elevation. Beside birds, Nyungwe offers habituated Chimpanzees, the only canopy walk in East Africa, accommodation ranging from inexpensive guest houses to five-star lodges and the tarmac road Huye (Butare) to Rusizi (Cyangugu) cutting through the forest, allowing easier access to higher altitudes than in any other similar habitat in the region, together with good roadside birding. Add to this the fact that the road is being serviced by public transport.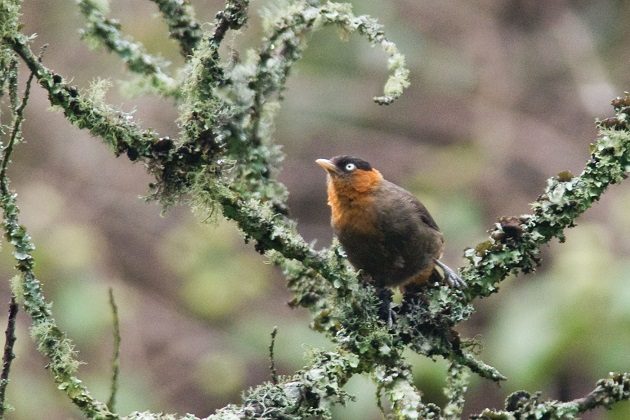 Red-collared Mountain Babbler in Nyungwe by Gael Vande Weghe
Nyungwe is also a place that offers the best birding in the Albertine Rift Endemic Bird Area, apart from the out-of-bounds sites in the Democratic Republic of the Congo (1). Among the 310 bird species recorded in Nyungwe, which reflects the wide habitat diversity and altitudinal range, 27 are Albertine Rift endemics, more than at any site in Uganda and currently second only to the guerilla-infested Itombwe Mountains in the DRC. These include Red-collared Mountain Babbler (this is the only safe site in the world where it occurs), Kungwe Apalis, Shelley's Crimsonwing, Albertine Owlet, Handsome Francolin, Rwenzori Turaco, Mountain Sooty Boubou, Rwenzori Batis, Yellow-eyed Black Flycatcher, Archer's Robin-chat, Rwenzori Hill Babbler; Red-faced Woodland, Grauer's Rush, Neumann's and Grauer's Warblers; Masked Mountain Apalis; Rwenzori Double-collared, Purple-throated, Blue-headed and Regal Sunbirds; Stripe-breasted Tit and the Strange Weaver (mostly 2).
There are direct flights from London to Kigali by, among others, RwandAir, Etihad and Qatar Airways. When you land in Kigali, take a bus for Kamembe or Rusizi (Cyangugu) and ask to be dropped off by one of two information centres in the forest, Uwinka (the headquarters) or Gisakura (about 3–4 hours on mostly good tarmac roads). You cannot go on your own and are obliged to hire one of half a dozen local bird guides (they need to be booked in advance) for any of the six well maintained walking trails.
Best timing here is the dry season, June to September, when most birds are breeding (3). Get a copy of the Birds of East Africa (2004) by Stevenson and Fanshawe – definitely the best guide for the region. The country is surprisingly tidy, safe (in 2015 it ranked 5th globally and 1st on the continent in Gallup's Law and Order Index), and with the constant improvements in the tourism infrastructure Rwanda is gaining a reputation as a birding destination and that popularity is likely to grow (3). Now when you know where to spend the long weekend – what are you still waiting for?
Many thanks to Ildephonse Kambogo and Gael Vande Weghe.
Sources:
2 Rwanda by Nigel Moorhouse, Fat Birder