On Saturday, for the second weekend in a row, my plan to get on a boat

and search for seabirds off the tip of Montauk fell through.  Last week's villain was a flat tire and this week the problem was a predicted lack of visibility at sea, a product of too much heat and humidity.  The decision to skip the pelagic was made Friday night but none of us wanted to sweat through the predicted near 100-degree heat and unbearable humidity without at least trying to see good birds.  Fortunately, Seth had a back-up plan in mind which was quickly agreed to, and early in the morning Seth Ausabel, Dave Klauber, Bobby Rosetti and I were packed into Seth's car and heading to Cupsogue Beach County Park to look for seabirds, shorebirds, and larids.  The ride out east was uneventful except for our discussion of birds seen and wished for, birding destinations visited, and a symposium on how lightning works which some of us found more interesting than others.
Our first stop was a brief pullover to check out the small Purple Martin colony in Westhampton.  It was a quick stop and we didn't stay to enjoy the birds because we had other species to see, but the martins were my first year bird of the day.  Our next stop, the bayside at Pike's Beach where we planned to scan the sandbar for terns and shorebirds, would actually involve us getting out of the car, something we were all eager to do after the long ride east.  Sure enough, as expected at near high tide, once we got out of the car, assembled scopes, unpacked gear, and slathered on sunscreen and bugspray, the small sandbar was packed with birds.  The best of the birds on the sandbar were two Royal Terns, another new bird for me for 2010.  We hadn't even arrived at our destination yet and I already had two year birds!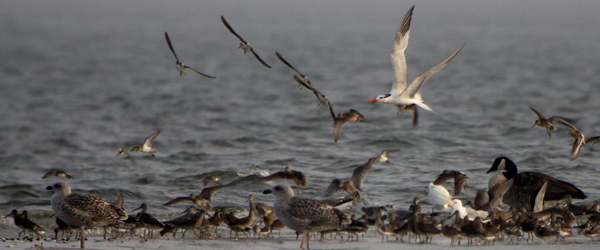 try to identify all the birds in this picture if you dare*
We rather quickly ran through all of the birds at Pike's Beach and piled back into the car and drove the short distance to Cupsogue Beach County Park.  We were among the first people to arrive, and took advantage of the lack of crowds to scope the ocean from the wooden walkway that leads to the beach.  The haze that made us avoid the boat made figuring out what we were seeing a bit more difficult than usual.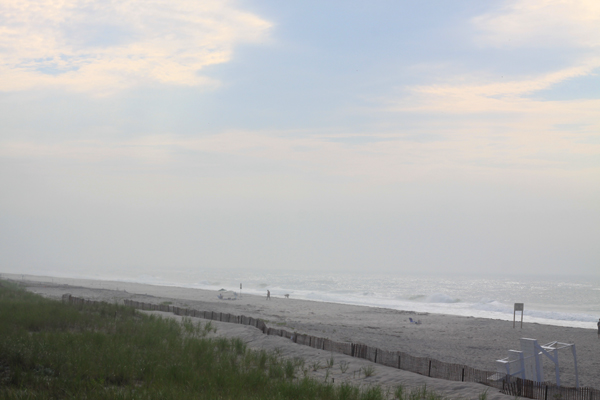 Can you figure out where the sky ends and the ocean begins?
Our willingness to strain our eyeballs by seawatching was rewarded with views of between fifteen and twenty Cory's Shearwaters, a good count from shore, and my third year bird of the day.  I even managed to digiscope one through the haze even though the range and viewing conditions made the picture virtually worthless.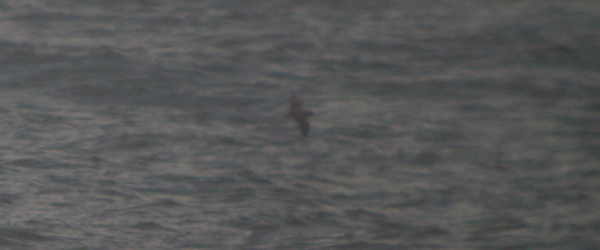 worst-ever picture of a Cory's Shearwater
Bobby, no fan of seawatching on this particularly hazy day, had left ahead of us to get to the bay side to scan through gulls (which he apparently likes!) and see what he could see.  As Seth, Dave, and I walked west from the parking lot along the four-wheel drive road we saw him walking towards us, waving to go back, as if there were no birds to see.  Our plan though, was to walk out to where he had been scoping gulls, hug the shoreline as we walked back east, and then, as soon as the tide dropped enough to let us get across the deepest channel, cross over to the mostly-underwater mudflats to see what we could find.  Bobby reluctantly agreed to our plan and walked back out with us to where he had been scoping through gulls.  He then set up his scope and started scanning again as Seth, Dave and I started walking east, looking at terns and shorebirds as we went.  I lagged behind a bit because of my propensity to photograph everything, so I heard Bobby say something like "Hold on a second guys, pelican."
Of course he was kidding because, well, there was already an American White Pelican hanging out at Jamaica Bay and there is no way that two pelicans would both show up in the state at the same time and show themselves to me when, after five years of birding New York, I had never previously seen one.  Also, he had just scanned through the area extensively and found nothing.  But Bobby insisted he was not joking and convinced me to look through his scope, in which was this: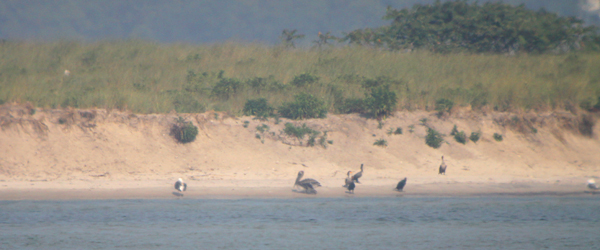 Brown-freaking-Pelican! Sweet!  A new state bird, a year bird, and a great find by Bobby!  Both species of pelican in one week in New York State!  Whoo-freaking-hoo!
So, yeah, it was pretty darn cool.  We watched it for as long as it stuck around, which, due to the boat traffic in the area, wasn't very long.  After less than ten minutes the big Brown Pelican flew off to the ocean and left we four very happy birders behind.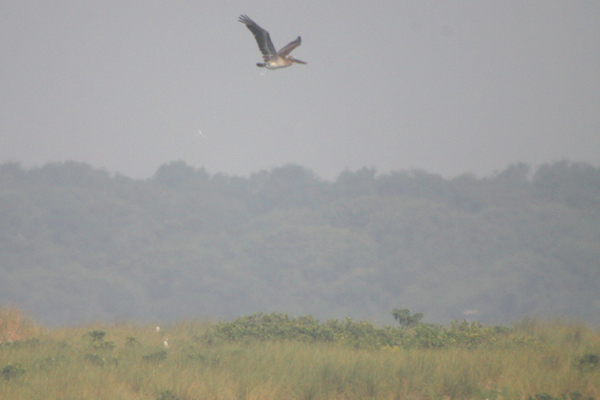 Mind you, at this point it was only about 9 AM, so we still had plenty more birding to do…come back soon to see what we found next!
*Just don't expect me to confirm our deny your identifications as there are way too many species in that photo.