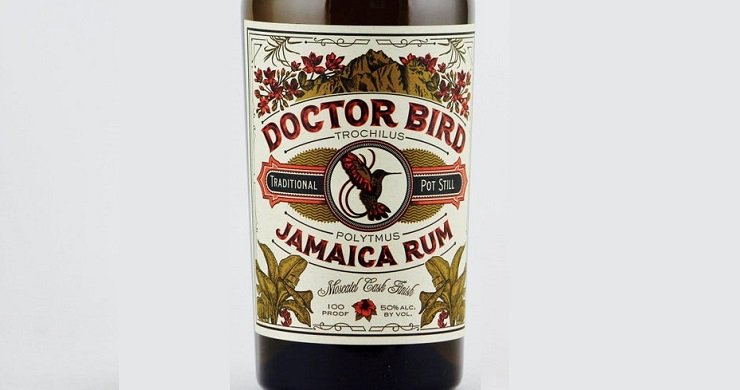 In the midst of a global pandemic, medical professionals have been heralded as heroes, with some even rising to the status of pop culture icons – even as some supposedly advanced nations have been plummeting into the depths of anti-science superstition lately. But one nation that bestows physicians with the respect they deserve is Jamaica, where the national bird is a hummingbird known as the "doctor bird" – the Red-billed Streamerbird (Trochilus polytmus). I can think of no higher honor.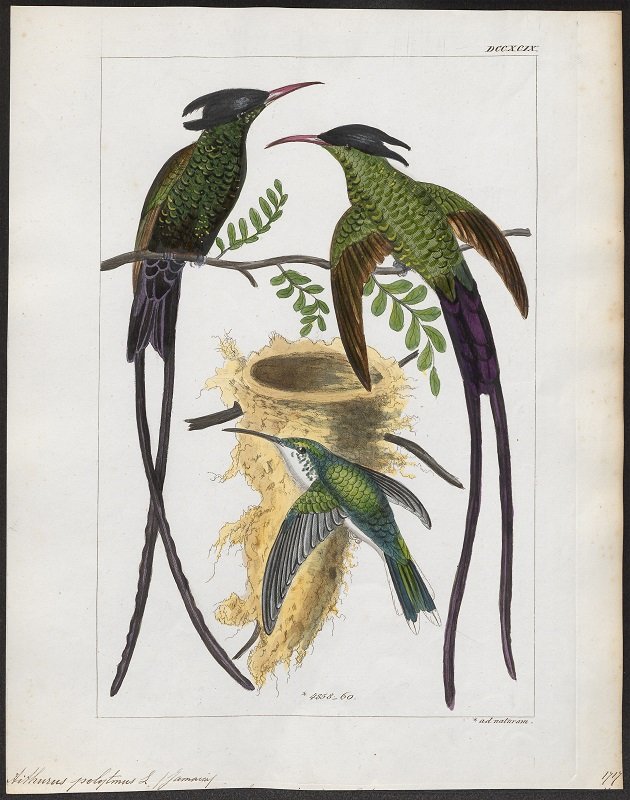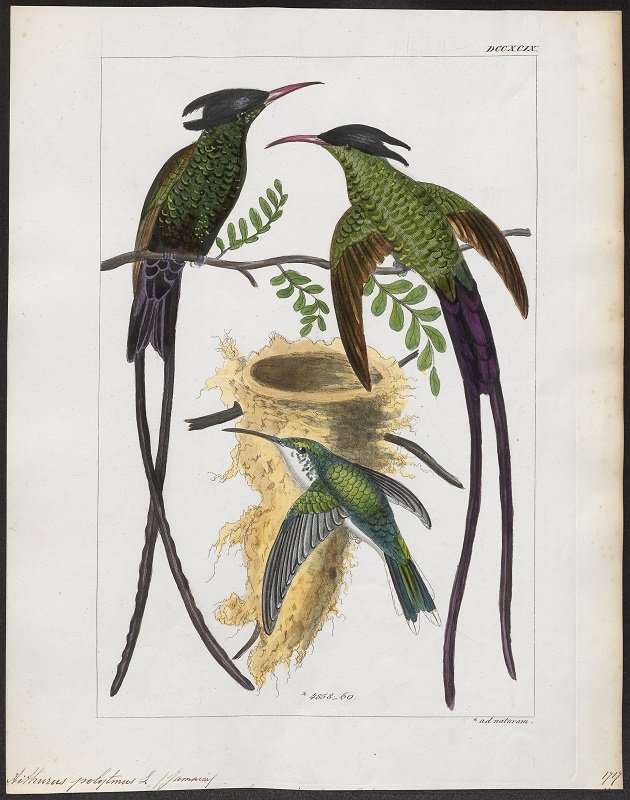 Aïthurus polytmus, a family of Red-billed Streamerbirds depicted in a print dated between 1820 and 1860 from the Special Collections of the University of Amsterdam.
It's uncertain how the endemic Red-billed Streamerbird acquired its unusual colloquial sobriquet. Adult male "doctor birds" boast an impressive pair of black rectrices that form long, streaming "swallowtails" that far exceed the length of their bodies otherwise. It's sometimes said that these long, dark feathers resemble the tails of a Victorian doctor's knee-length frockcoat, with the bird's black cap – which it can raise into a crest – completing the old-fashioned medical look as a top hat of sorts.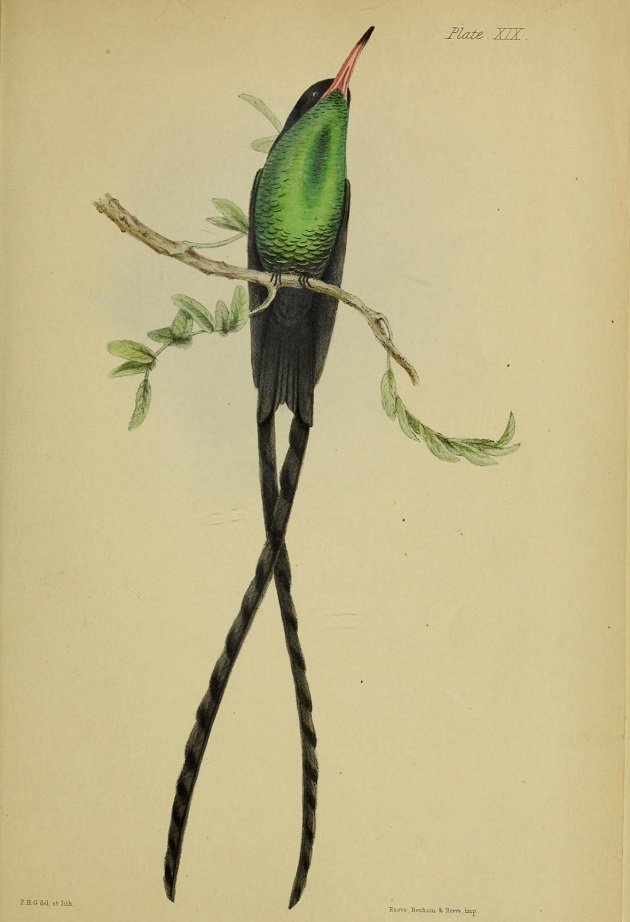 An adult male "Doctor Bird", as depicted in Illustrations of the Birds of Jamaica by Phillip Henry Gosse (1849).
Others believe the Red-billed Streamerbird's eponymous bill resembles a doctor's lancet – perhaps one stained crimson with blood – which it uses to pierce nectar-rich flowers with surgical precision.
Whatever the origin of its name, the "doctor bird" has long held an important place in the identity and folklore of Jamaica. The indigenous Arawaks of the island reputedly called the hummingbird the "God bird" and believed they were spirits of the reincarnated dead. Superstitions about the Red-tailed Streamerbird's supernatural powers continue today and it's considered bad luck to kill one. Which is no easy feat if the words to an old Jamaican folk song are to be believed: "Doctor Bud a cunny bud, hard bud fi dead" ("The Doctor Bird is a clever bird that cannot be easily killed").
Doctor bud a cunny bud
Hard bud fi dead
Lick 'im down him get up
Hard bud fi dead
Shoot 'im down 'im fly away
Hard bud fi dead
Doctor bud a cunny bud,
Build 'im nest a low limb
Hard bud fi dead
When 'im biling dun
Wah bed fi lay down
Wah bed fi lay down
Besides the Red-billed Streamerbird, Jamaica is also famous for reggae, Red Stripe, and rum. While Red Stripe is Jamaica's most famous beer, there's no doubt that rum is the true national drink, as it is in so many Caribbean nations. So, what better mascot for a bottle of Jamaican rum than the Red-billed Streamerbird, the national bird?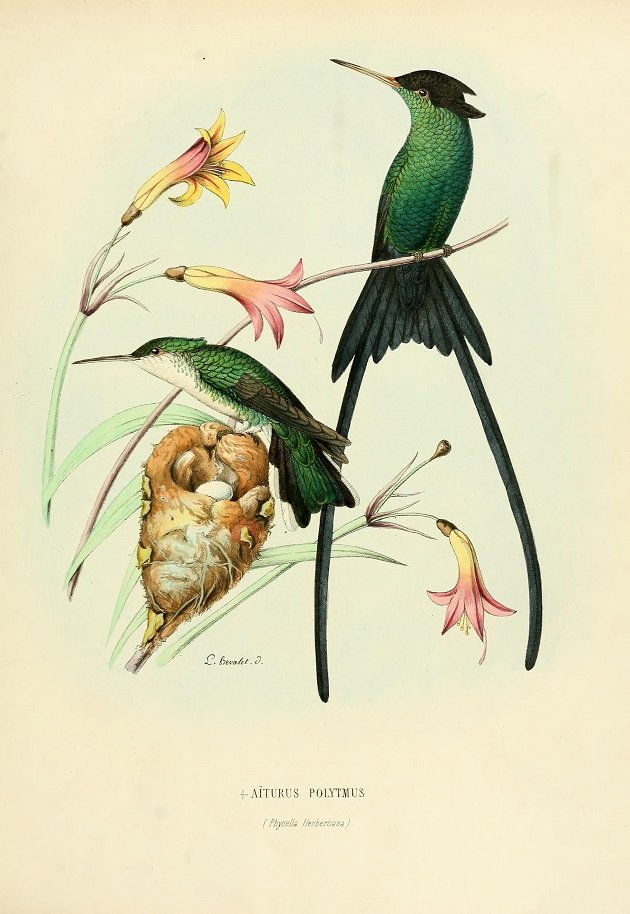 Aiturus Polytmus from Histoire naturelle des oiseaux-mouches, ou, Colibris constituant la famille des trochilidés (1877) by Louis Victor Bevalet.
Well, even though it's blended in Detroit, Michigan, Doctor Bird Jamaica Rum from Two James Spirits gives us just that. Located in Detroit's oldest neighborhood Corktown, Two James goes to great lengths to import genuine pot still Jamaican rums to its Motor City facility, where they're blended, then finished in Muscatel barriques. It's a remarkably international effort to produce a spirit that conveys such singular Jamaican pride, with a lovingly antiqued label that showcases a colorful depiction of the famous "doctor bird".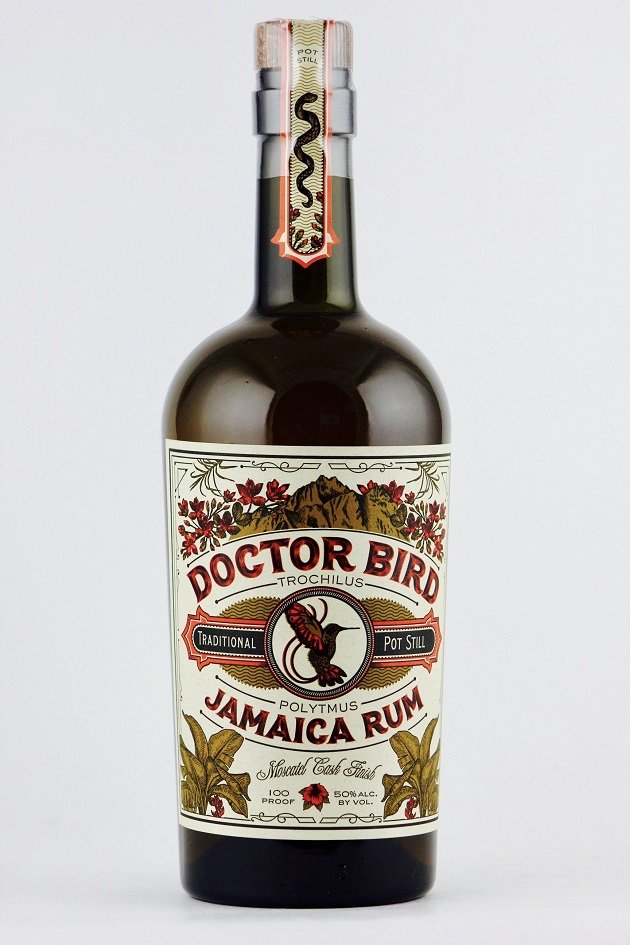 Traditional pot distillation is more expensive and less efficient than more modern methods, but it yields a decidedly full-bodied rum with rich, bold flavors. These qualities are very much in evidence Doctor Bird Jamaica Rum, whose flavors may very well be a revelation to those used to lighter rums for tropical summer cocktails. Made with Jamaican sugar cane and bottled at a very potent 100 proof (50 percent alcohol by volume), this golden-hued rum is unabashedly fruity, with aromas of ripe banana, lemon peel, cooked pineapple, and sweet butterscotch in the pungent bouquet, followed up by some spicy, woody notes. The palate is rich and oily, with caramel and coconut, culminating in a surprisingly dry finish.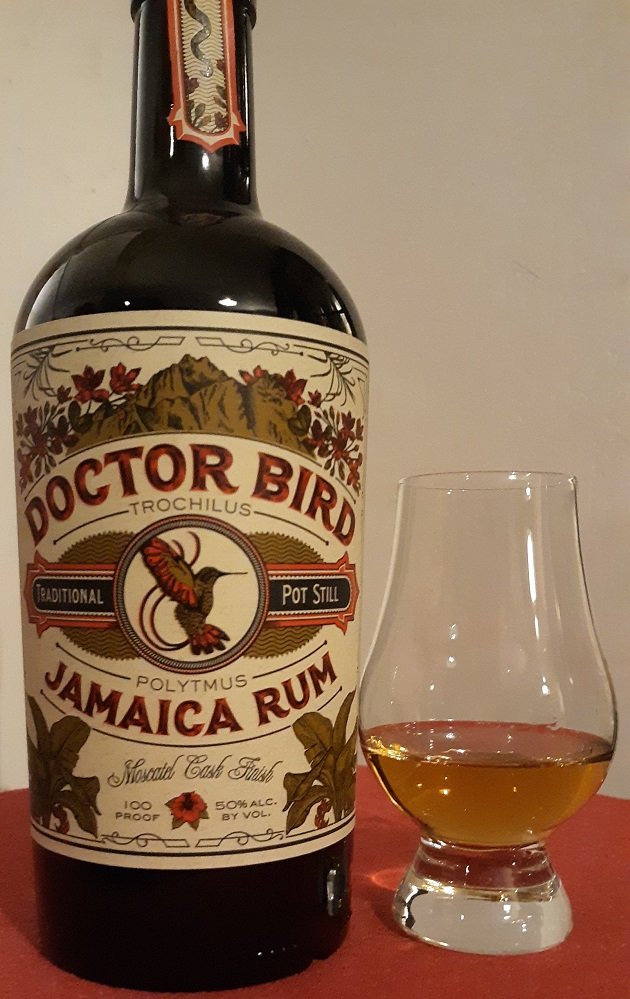 As we race toward winter and the end of 2020, many of us in more northerly climes will begin to take down our hummingbird feeders for the year, giving up hope once again of attracting some forlorn, late-season rarity that failed to find that life-saving sugar water we so thoughtfully hung in our backyards well into November. Well, after you've poured that sugar water down the drain, I recommend searching out a bottle of Doctor Bird – a very different kind of sugar water – as a consolation to get you through what might be a very long winter.
Good birding and happy drinking!
---
Two James Spirits: Doctor Bird Jamaica Rum





Four out of five feathers (Excellent)