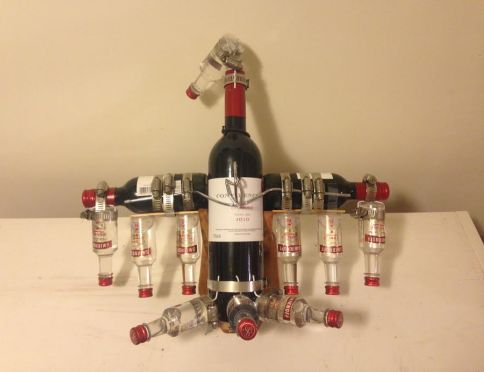 Question: What's one of the best things about being a wildlife rehabilitator? Answer: The presents you get from friends who are trying to distract you from all the stress in your life.
Case in point: Vino Vodka Vulture.
My friend Jon Walsh is a lawyer, writer, sailor, hiker, and fix-it guy. Depending on the circumstances, he can either repair things or tear them down. Not only that, he manages to decompress from all the stress in his own life by creating artwork you can drink.
Here is his latest creation. He fashioned a wooden stand with right angle uprights, each cut to accommodate the end of a very nice red wine bottle torso. He then supported the two half-bottle wine wings with an L-bracket, and attached a piece of fairly thick wire coat hanger to the top of them to keep them upright (as well as to serve as a handle). The Smirnoff  feathers, as well as the head, are attached with radiator hose clamps. The two brass fittings by the feet – more for ornamentation and functionality – were taken from some spare brass curtain rod holders laying around his toolkit.
I happen to love vultures, but after awhile working with them makes me think of vino and vodka. Bingo!
At first I thought the Vino Vodka Vulture's creator was destined to become a millionaire. But then I brought out the scale, and discovered the whole thing weighed 7 pounds (in rehabber terms, 3 1/2 female Red-tailed hawks). The cost of shipping could easily eat through the profits. But this is not to say that custom jobs might not be available for pickup.
Art should nourish the heart, the soul, and the stress level. Concerned about the unsteady state of the world's birds? Want to celebrate a successful recovery/release? This one's for you.