On this blustery day I spent my morning walking across Queens.  Well, not all the way across Queens, but across a goodly portion of it, and it was definitely worth the slightly sore back, cold body, and soaking feet.  I was out of the house at about twenty after seven and caught the Q46 bus east on Union Turnpike to the Q65 bus running north on 164th St. to Kissena Park.  Regular readers might recall Kissena Park as the place where very obliging Ruby-crowned Kinglets delighted me awhile back, but today kinglets were in short supply (I managed to dig up one and one only) and sparrows were on the agenda.
But before I wandered through good sparrow habitat I had to check out the pond at Kissena Park, and was I ever glad I did!  Northern Shovelers were on the pond in abundance, which was rather surprising as I have never seen them there before.  They were joined by a drake Wood Duck and two drake Green-winged Teal, two more species I had not seen on the pond before.  Of course, the usual Mallards, Canada Geese, and domestics were on the pond as well, in addition to a Great Blue Heron and a Double-crested Cormorant.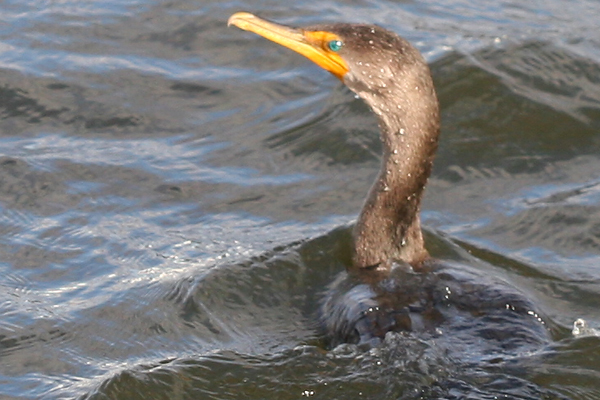 Double-crested Cormorant at Kissena Park
In the scrubby habitat on the pond edges American Goldfinches foraged, and a Field Sparrow gave itself away with a couple of chip notes.  I was pleased with the Field Sparrow, but not as pleased as I was when I finally tracked down my first Fox Sparrow of the fall migration.  Other than Dark-eyed Juncos, White-throated Sparrows and Song Sparrows those were the only sparrow species I would find for the day.
Cedar Waxwings, American Robins, and European Starlings were feeding wherever a tree or bush still held fruit, but only one of those three species let me get anything approaching a decent photograph.  Can you guess which one?  A starling of course…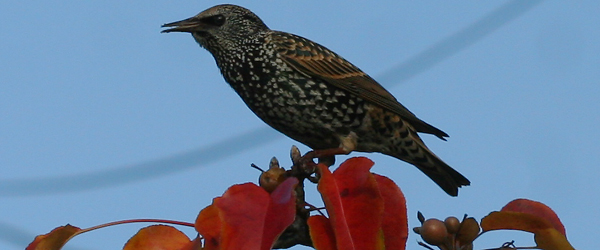 As I got to the western edge of the Kissena Corridor (a narrow strip of park that extends west of Kissena Park proper) I came across a big old flock of Mourning Doves.  I started counting and had gotten to 78 before a Red-tailed Hawk flew in and the doves went every which way.  By the time I got my camera on the hawk all I could get was an "artistic shot."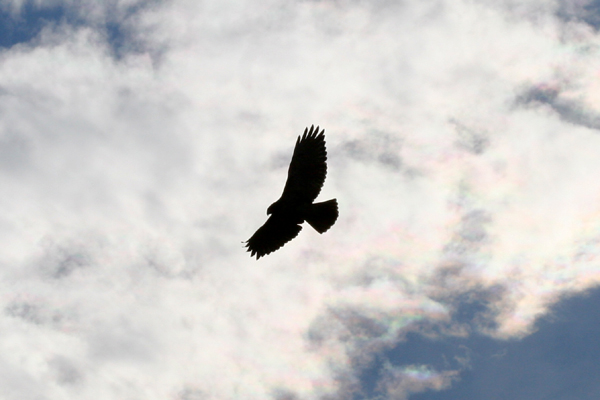 Nonetheless, I enjoyed the show when the hawk came down in a distant tree and a mockingbird and a Blue Jay decided to goad each other into chasing the hawk away from their foraging spot.  The two smaller birds would take turns flying at the hawk until finally the jay swooped in from one side as the mocker came in from above and the hawk flushed and flew off in search of quieter hunting grounds.
The next park on my route was the Queens Botanical Gardens and it was packed with a host of folks doing some kind of exercises (maybe Tai Chi?).  The bird life was lacking so I continued on my way to Flushing Meadows Park where soccer players were predominant.  I did manage to track down a bunch of American Coots, some Ruddy Ducks, and a Pied-billed Grebe on Meadow Lake, as well as a whole hoard of gulls.  One gull in particular caught my eye, a juvenile Great Black-backed Gull, because it was picking up every object that washed up as if to see if it tasted good.  If another gull showed interest in its objects the juvenile would fiercely defend them.  I got shots of it with a corn cob and a baseball, but it also played around with a rock and some sticks.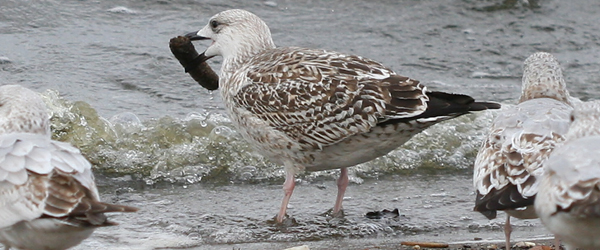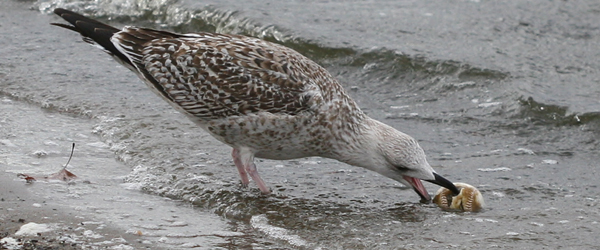 The worst part of my walk through the park was when I was distracted by a flock of Canada Geese flying by and neglected to watch where I was going.  My sneaker squelched all the way home after stepping in an ankle-deep puddle…but it was worth it, even if I didn't add a single bird to my Anti-Global Warming Big Year.