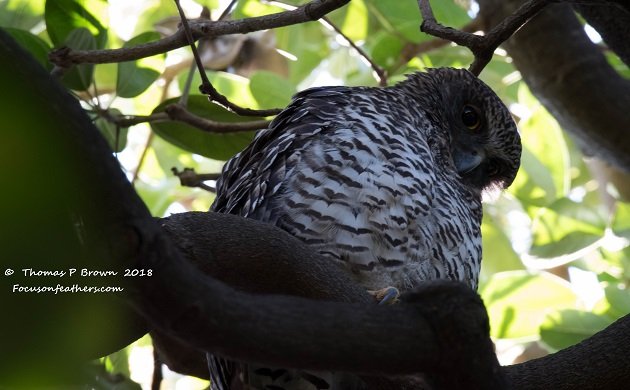 And the air miles, and highway miles just keep racking up.  This week finds us flying from Melbourne, Australia,  to Alice Springs, in the center of this incredibly large country. We then picked up our RV and then drove to Yulara, and the mighty, mythical, some say spiritual,  Ayres Rock. After 5 days in the "Red Center" called so, because of the amazing red color of the soil, we are then off to Sydney.
The first part of the week, Alice Springs to Ayres Rock, includes stops in Erlunda, Curtin Springs, Stuarts Well, a trip out to The Olgas, and then back to Alice Springs. This is truly the center if Australia, no matter what method you use to decided the actual location of dead center. For what it is worth, there are at least 6 different methods used, and all come up with a different location, but all with in 100 kilometers + or – of each other.
The bird life certainly changes a bit, with a complete lack of water, unless you are at a town, well, or station, as many of the ranches are referred to. But the diversity, that I have found to be Australia, remains. Emus roam the open areas, and surprisingly, various parrots, lorikeets or cockatoos can be found in most any major grove of trees. Wedge-tailed Eagles roam the skies, along with Brown Falcon, Black Kites, and Nankeen Kestrels. New birds that showed up, include the Pied Butcherbird, Black-faced Woodswallows, Gray-crested Babblers, Gray Goshawk, Australian Ringneck/Port Lincoln ssp, Mulga Parrot, Yellow-throated Miner, Torresian Crow, Mistletoebird and my favorite "center" bird, the Western Bowerbird. Speaking of the Western Bowerbird, I consider this very high on my all time list, and have only seen one, and got some of the greatest photos ever of this beautiful bird, which I promptly mislabeled, and deleted, gone forever! I am sure the tormented scream was heard thru out much of central Australia. I guess this a great reason to come back and find that bird again….we will call that the silver lining in a major screw up.
Speaking of Brown Falcons, here are a couple that were perched just outside Ulara. The third bird flew off just before I could get the shutter released.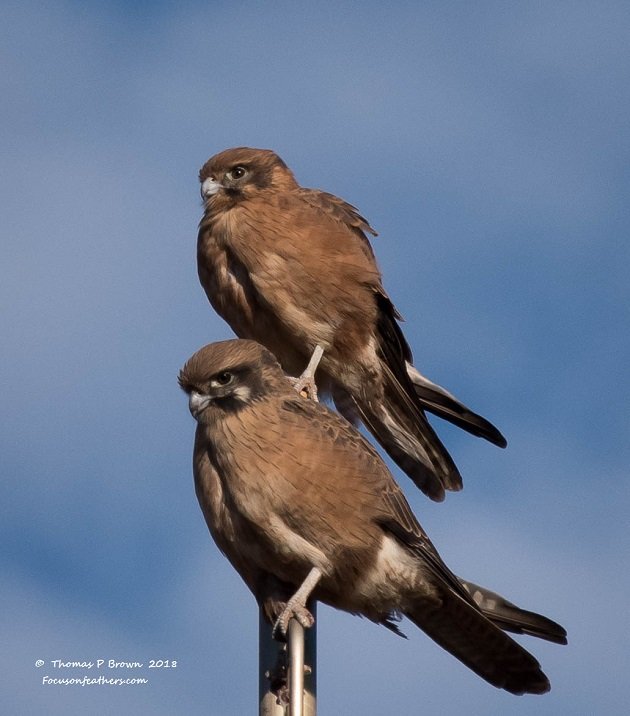 When we were at an amazing rock formation, called the Olgas, or Kata-Tjutas as the locals call them, this Nankeen Kestrel hunted all around me for well over 30 minutes before drifting away in search of better hunting grounds.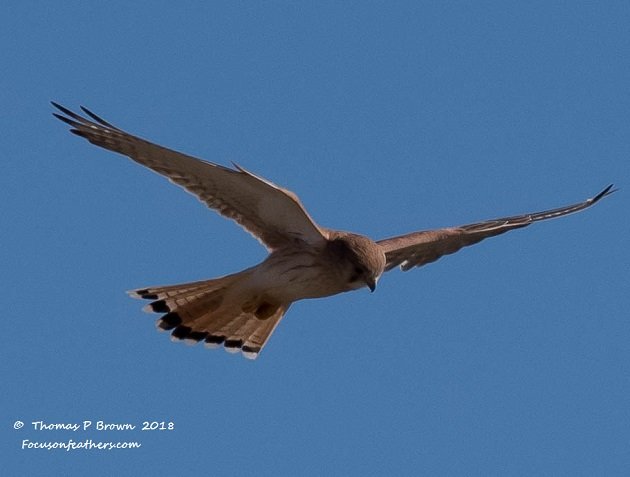 This Pied Butcherbird was right at the base to Ayres Rock.
This Wedge-tailed Eagle was sitting along side one of the roads, eyeing a small road killed Kangaroo.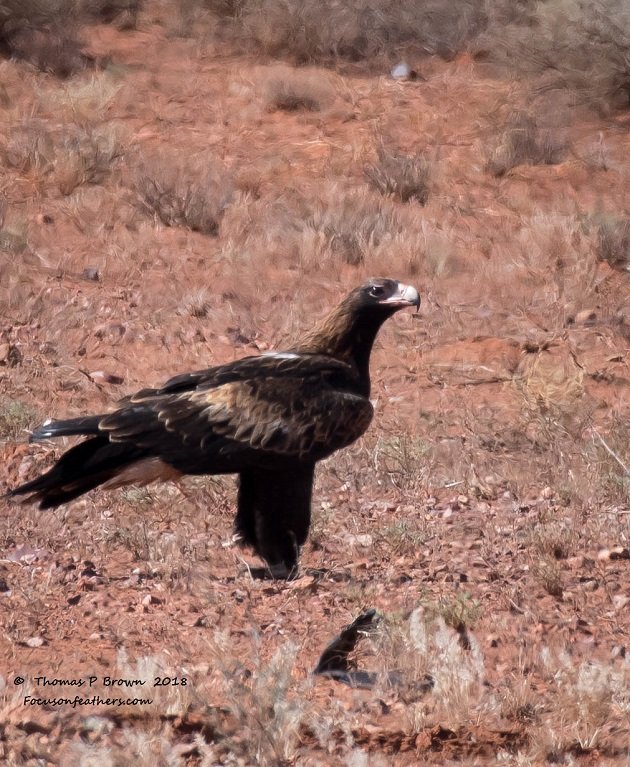 Later the same day, this Wedge-tailed Eagle was circling right over our RV, in Erlunda, where I was later shown the nest that this beautiful bird has previously used.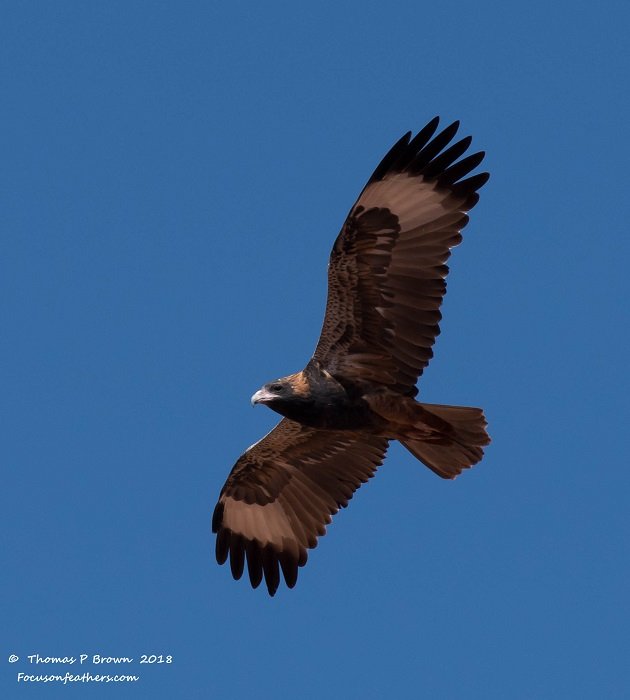 A common site at almost every treed location was the White-plumed Honeyeater.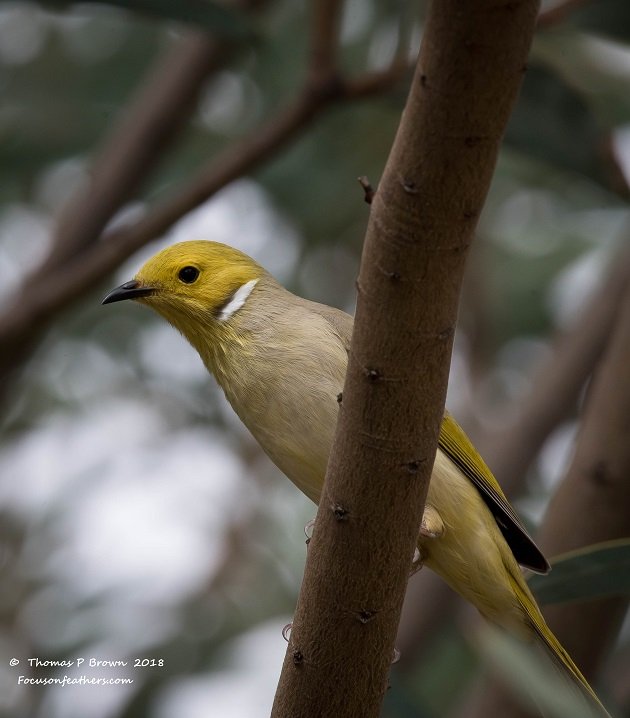 The second half of our week was spent in Sydney. I really only had one full day to bird, as I had some family obligations to fulfill, so I chose to see how much I could find at the Sydney Royal Botanical Garden. I had one huge target, one that I had missed while at Melbourne, the Powerful Owl. There were several reports that there was still one in residence, all I had to do was find it. I was standing at the gate, at 7:00 AM when the gate was opened, and at 9:15, I found my bird! It is featured at the top of this story, and here is another look at this incredible bird.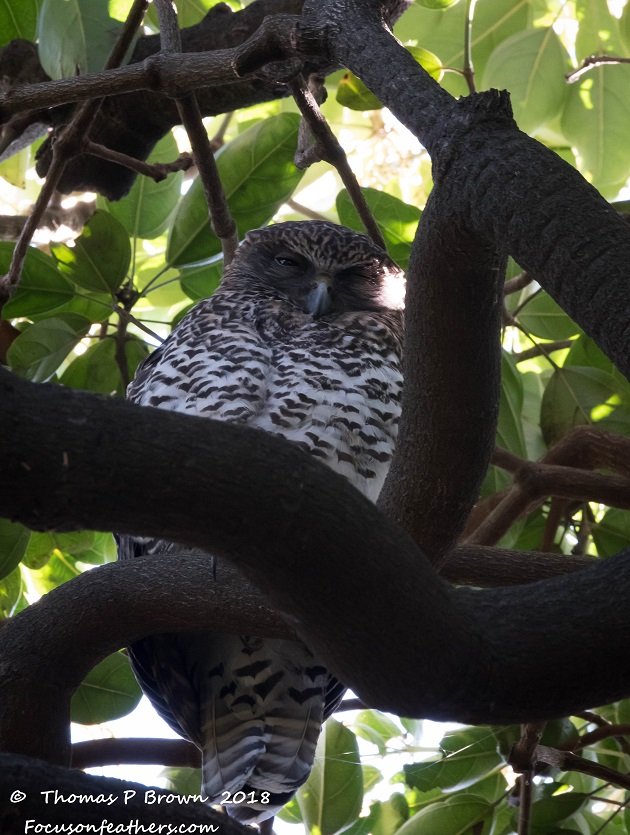 I had read about the work being done to help the Sulphur-crested Cockatoos, especially in the Botanical Gardens. Many of the birds were being wing tagged and GPS makers as well in order to track their movements. If this Royal Botanical Gardens in any indication, the work being done is working, as the place is really overrun with the birds. In speaking with some of the staff, they have gotten to the point where they are actually doing damage to many of the fragile plants in the gardens. He is one of the nine birds that I saw with wing tags.
To me, no bird is more iconic to Australia, than the Laughing Kookaburra. My first, was also found in the gardens.
After driving thru as much desert as we have lately, I was still absolutely shocked, when Jeanne cried out, "CAMELS"!! Sure enough, and group of 8 camels was not to far off the road, about 35 kilometers from Yulara.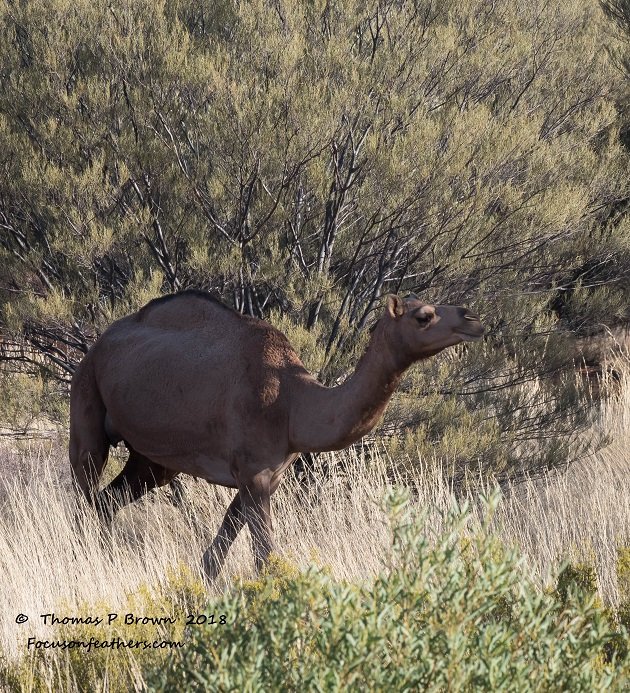 In part two of this posting, I will cover our visit to Cairns, pronounced "cans" and two amazing days of birding. A day with Murray Hunt on the Daintree River, and a visit to the Great Barrier Reef, and standing all alone on Michaelmas Cay.